Updated Missing woman, Caboolture South
Police and family of Amy Schulkins are continuing their search for answers following the disappearance of the 36-year-old in the Moreton area over a month ago.
Amy's parents, Allan and Lee Schulkins, along with her wife Rebecca Schulkins are seeking answers to her location.
"My wife Amy has been missing since late Saturday, December 30," Rebecca said.
"We just want to know Amy is safe."
Rebecca said their children were also missing Amy.
"Dakotah, Mika and Matilda are beside themselves with worry. Zoe and Jensen are very sad, but being little, are optimistic and don't fully understand," Rebecca said.
"I love you so much. Please come home."
Amy's last known whereabouts were at 11.30pm, when she was seen in her white 2001, Nissan Patrol, Queensland registration 257VTN, travelling along Morayfield Road onto Lower King Street in Caboolture.
"If you need a break from everything, that's okay. We love you and just want you home," Amy's parents Allan and Lee said.
"Please let someone know you are okay."
Amy is described as Caucasian, around 165cm in height, with short brown hair and blue eyes. She has a distinctive arm sleeve tattooed in memory of a family member.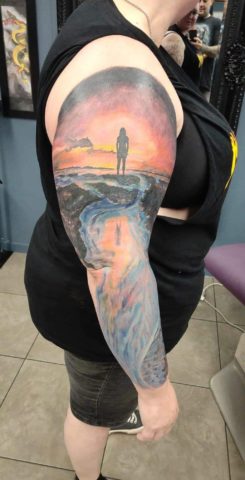 Investigators are continuing to appeal for anyone with dashcam vision who was travelling along the Bruce Highway or the D'Aguilar Highway, north or south between 11.40pm on December 30 and 1am on December 31, to come forward.
Anyone who has any information, no matter how minor they think it may be, is strongly urged to contact police.
A Facebook page dedicated to finding Amy that was set up in early January now has more than 26,000 members.
Detective Senior Constable Michael Amey said Amy's bank accounts have not been accessed since that night and her 2001 Nissan Patrol had not been found.
She visited two other houses that evening — one in Burpengary and one in Caboolture South.
Amy is described as 160 centimetres tall, having a larger build, with spiky brown hair and blue eyes.