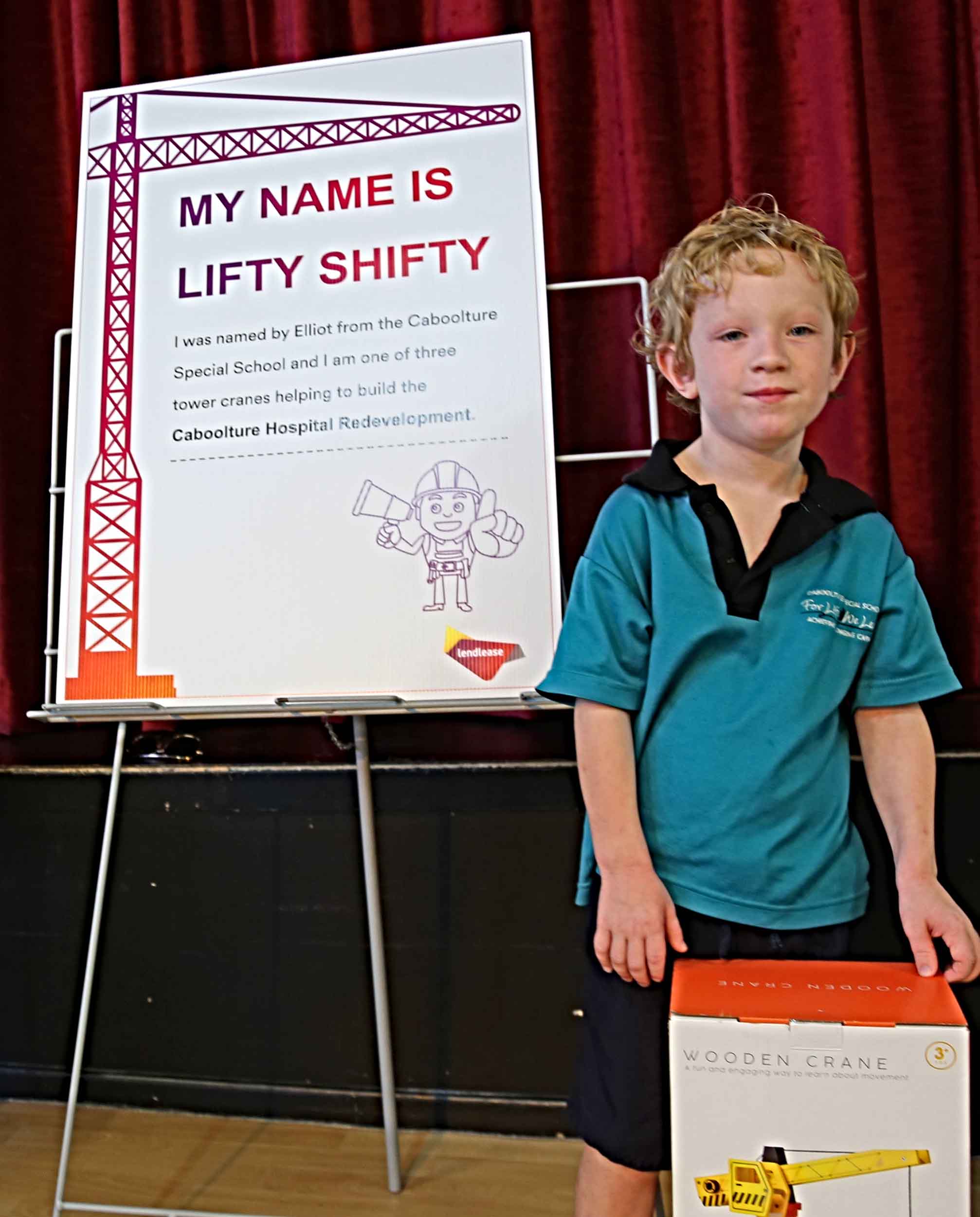 New name for Caboolture Hospital crane 'Lifty Shifty'
Local six-year-old student, Elliot, has won $1000 worth of books for Caboolture Special School, after suggesting the name 'Lifty Shifty' for one of the tower cranes to be installed at the Caboolture Hospital Redevelopment construction site.
The 'name the crane' competition, run by Caboolture Hospital and Lendlease, is a community engagement activity that shares the story behind the construction activity taking place in their neighbourhood.
Caboolture Hospital is undergoing a major expansion and redevelopment to build a bigger and better hospital with more health services and car parking for the community. By 2023, the $394.6 million project will deliver a new five storey Clinical Services Building, 130 new beds, a targeted refurbishment of spaces in the existing hospital, expanded health services and a new Multi-Storey Carpark.
Helping to build the hospital are three tower cranes which are due to arrive onsite over the coming months.
Elliot, along with his schoolmates, teacher and Principal Beth Devonshire attended the naming ceremony on Friday 4 December, where the crane's name became official. A cheque for $1000 was donated to Caboolture Special School to purchase books for the school.
On his entry form, Elliot wrote: "It is a fun name that will make people smile."
Caboolture Hospital Redevelopment Project Director, Sam Betros, said we all know the power of a smile and Elliot's justification perfectly aligned with the objectives of the Caboolture Hospital Redevelopment Project.
"The redevelopment project will transform Caboolture Hospital and ensure the community has access to more specialised services closer to home; it will also ensure the hospital is better equipped to meet the health needs of the local community.
"We hope that upon project completion, the new hospital facilities and expanded services put a smile on the faces of our patients and staff."
Elliot's schoolmates Emilia, who suggested the name 'Bob', and Kaitlyn, with the name 'Ayla', were both runners-up and prize winners.  'Bob' and 'Ayla' will work alongside 'Lifty Shifty' on site.
General Manager of Lendlease's Building business in Queensland and Northern Territory, Brad Protheroe, said while there were some very good names suggested, Lifty Shifty was a stand-out.
"I'd like to thank all the students that suggested names for the cranes.
"Our tower cranes play an important role in the redevelopment of Caboolture Hospital and by having strong, thoughtful and considered names, thanks to Caboolture Special School, we are well placed to commence main works onsite in early 2021.
"Current works onsite include excavation of the land along McKean Street in preparation for the construction of the New Clinical Services Building and Multi-Storey Carpark," said Brad.
About Caboolture Hospital Redevelopment
Caboolture Hospital is undergoing a major expansion and redevelopment to build a bigger and better hospital with more health services and carparking for the community by 2023.
The population of Caboolture and surrounds is expected to grow by 51% by 2031. This means our hospital must grow too, to make sure we can meet the current and future healthcare needs of our community.
The Queensland Government has committed $352.9 million to expand and redevelop Caboolture Hospital and $41.7 million to build a new multi-storey carpark.
This exciting project will see new facilities built and current spaces refurbished, covering a total floor area of around 32,000sqm.
Photo Top : Six year old Elliot winner of the Name the Crane competition
Photo above : Lendlease Construction Manager Mike Anderson and Competition Winner Elliot 2 web