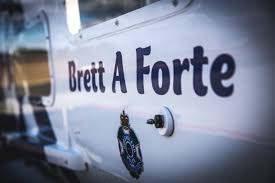 Fourth annual Brett Forte memorial match, November 7
On May 29, 2017, Senior Constable Brett Forte was tragically killed in the line of duty.
Since his passing, the Queensland Police Service has held a charity hockey match in his honour and to raise funds for Police Legacy.
This year will be the fourth annual Brett Forte memorial match, and it will be held on Saturday, November 7, at the Redcliffe Hockey Club.
Raffle tickets will also be sold at the event for prizes such as hockey sticks, hotel voucher and meat trays.
We will also be joined by Olympic gold medallists Angie Lambert and Liam De Young.
In previous years, the Brett Forte memorial match has raised thousands of dollars for Police Legacy.
Senior Constable Scott Barton, who plays in the game each year, said that both teams, the Redcliffe hockey team and the emergency services team, have had more and more people looking for the opportunity to represent in this match.
"This is a game that both teams look forward to each year and is always a very hard-fought match that is played in great spirit," Senior Constable Barton said.
Event details:
When: Saturday, November 7
Time: From 10.30am
Where: Redcliffe Hockey Club, 475 Oxley Avenue, Redcliffe
We would like to thank the community for their kind donations so far and for remembering a great bloke, Senior Constable Forte.
We hope to see you there!