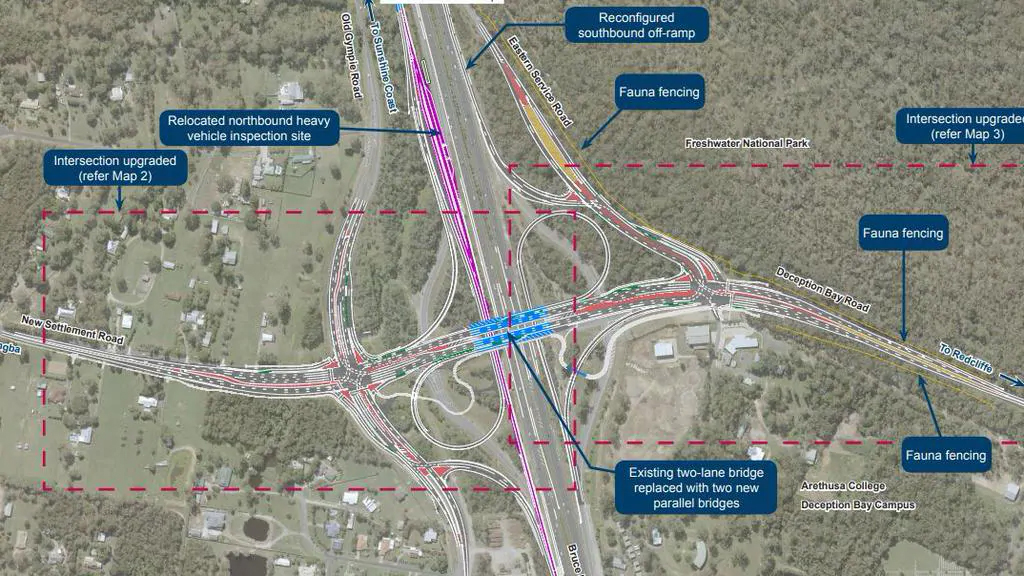 Deception Bay Road Interchange expected to be completed in early 2023
The Deception Bay Road Interchange upgrade project costing $163 Million expected to be completed in early 2023, meanwhile motorists will experience some delays traveling in the area.
A time table of events during the project includes motorists experiencing lane closures, detours, traffic disruptions and reduced speeds.
Two signalised intersections on Deception Bay Rd, one west of the interchange at Old Gympie Road, and one east at Eastern Service Road, will also be upgraded.
The length and capacity of the one and off-ramps will be increased and a shared pedestrian and bike path will be added to provide a safe crossing point over the highway.
According to Queensland Transport and Main Roads the project will be set on  improving the interchange would make it quicker and safer for residents, visitors and businesses to get to their destinations.
Initial works, during the next few weeks, will include construction of site accesses, fencing, installing roadside barriers on the highway and reducing the speed limit to 80km/h through the project area.
Vegetation will also have to be cleared from the project area along with minor earthworks and drainage works.
The existing two-lane bridge at Deception Bay Road, over the highway, experiences heavy congestion during peak periods," Mr Scales said.
The interchange upgrade will improve traffic flow by replacing the existing bridge with two new, wider and longer bridges, plus longer and wider entry and exit ramps, and two upgraded, signalised intersections on Deception Bay Road.
Metering signals will be installed at entry ramps to balance traffic demands with capacity as traffic enters the highway.
New infrastructure for pedestrians and bike riders will also be included to safely cross the Bruce Highway and connect better to local paths.
The construction program involves first building one of the new bridges parallel to the existing bridge over the Bruce Highway,
Once this is complete and operational, traffic will switch over onto the new bridge and then the existing one will be demolished.
Once it is demolished, construction can begin on the second bridge."
During construction there will be various temporary traffic changes to enable to construction of new entry and exit ramps.
Motorists can expect localised traffic changes including reduced speed limits, road shoulder and lane closures, minor detours, changes to traffic flow and short-term traffic disruptions,
Speed limit reductions on the Bruce Highway can also be expected.
The majority of the works are expected to occur during the day with limited night works.
Motorists can stay up to date with traffic and project information at tmr.qld.gov.au
The project is expected to be completed in early 2023.
The $163.3 million upgrade project is jointly funded by the Australian and Queensland governments through an 80:20 funding arrangement. The Australian Government is contributing $130.64 million and the Queensland Government is contributing $32.66 million.