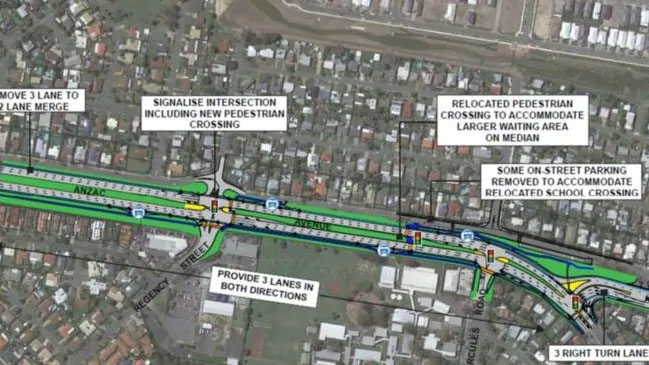 Big upgrades to Anzac Avenue in Kippa-Ring begins next week to ease congestion
A major road project at Anzac Avenue to add an extra lane, between Nathan Rd and Klingner Rd, in both directions, will start next week.
To help improve traffic flow, an additional lane will be constructed both ways on Anzac Ave where there are currently only two lanes.
The project has been timed so the works near Hercules Rd State School, on Anzac Ave, will be completed during the Christmas school holidays.
Construction will mainly be taking place at night to avoid impacts to daytime peak traffic loads,
Traffic flow and commuting times are expected to improve following the delivery of the project, with safer access for pedestrians and local school students.
Part of the project includes a modified signalised intersection and dedicated pedestrian crossing at the corner of Anzac Ave and Hercules Road – which will increase safety for students.
A new signalised intersection will be installed at Regency St.
The majority of the works are proposed to take place between 7pm and 5am.
The project is expected to take until the middle or end of 2021.