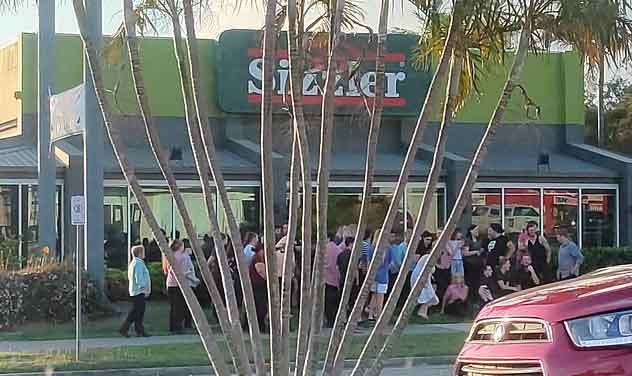 Big queues at Caboolture Sizzler as chain closes all its remaining restaurants in Australia
Long, morning queues formed outside Caboolture Sizzler restaurant, marking the day the American chain closed all of its remaining buffet restaurants after 35 years in Australia.
The crowd of more than 30 people had gathered outside the Caboolture outlet, just before it opened its doors at 7am on Sunday for the last time.
The Morayfield Road restaurant in Moreton Bay was one of just nine remaining Sizzlers in Australia.
Collins Foods, which owns the rights to Sizzler in Australia, in early October announced its intention to close its operations in Queensland, western Sydney and Perth, blaming coronavirus for killing the buffet menu.
The long queue at Caboolture looked more like a case of nostalgia, as eager diners mixed with Sizzler staff on their last-ever shift.
Cheesy toast and a $19.95 Endless Salad Bar with 60 all-you-can eat choices, from pesto pasta to pumpkin soup was among the choices on offer.
As recently as 2015, Australia was home to 26 Sizzlers but as of today, the California restaurant chain now has zero outlets Down Under.
A Sizzler spokesman said as many staff as possible would be offered opportunities with other Collins Foods' brands including KFC and Taco Bell.
"Other employees affected by the closure of Sizzler Caboolture have been offered appropriate redundancy and outplacement programs and support services to assist them to find new employment," the spokesman said.
The Sizzler building at Caboolture will be transformed into a storage business.
The building at 128 Morayfield Rd was purchased by Sizzler in 1999 for $980,000.
It sold in 2015 for $1.2 million and then again in June this year for $2.2 million.
The site is now owned by the neighbouring business National Storage.
Their plan is to expand their storage business at the site.