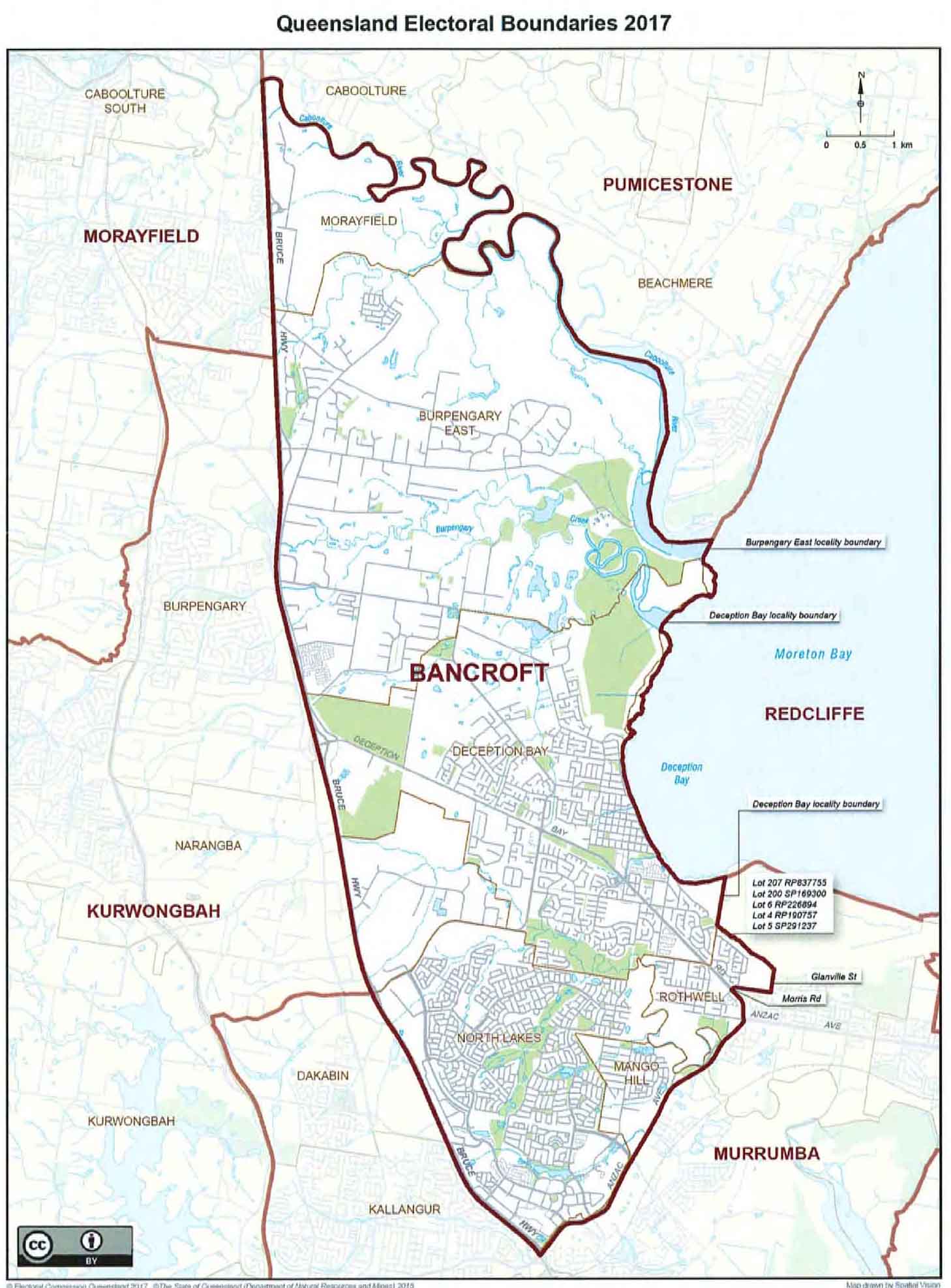 Queensland Election 2020 : Electorate Profile Bancroft
Bancroft is an electoral district of the Legislative Assembly in the Australian state of Queensland. It was created in the 2017 redistribution, and will be contested at the next Queensland state election.
Located in Northern Brisbane, Bancroft consists of the north and central sections of the existing electorate of Murrumba, including the suburbs of Burpengary East, Deception Bay, North Lakes and parts of the Narangba, Rothwell, Morayfield and Mango Hill suburbs.
From results of the last election, Bancroft is estimated to be a fairly safe seat for the Labor Party with a margin of 8.3%.
2017 Results: Labor recorded two-party preferred majorities in all 16 polling places used in 2017, above 60% in seven, its vote ranging from 51.9% at the Artisan Guild in Burpengary East to 67.1% at Deception Bay State School.
Below all candidates in order of the Ballot paper
Election Numbers
Pre Poll Votes for Monday 19 : 1462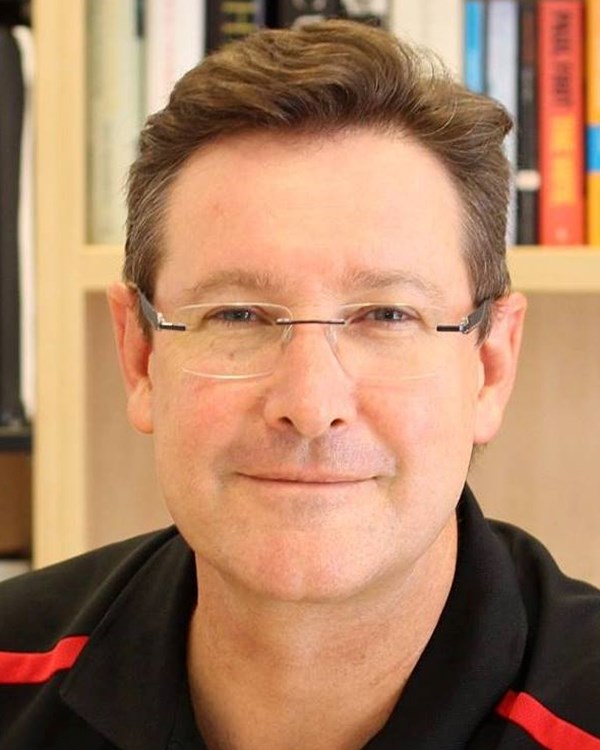 Labor Chris Whiting
Party Website https://www.queenslandlabor.org/ or via  facebook https://www.facebook.com/ChrisWhitingMP/
Hear Chris Whiting MP re-election pitch here.
Prior to being elected to Queensland Parliament in 2015, Chris served the communities of Burpengary, Beachmere and Deception Bay for 12 years as the local Councillor on the Caboolture Shire & Moreton Bay Councils.
Amongst his achievements as Councillor were the rejuvenation of the Deception Bay foreshore, introduction of traffic calming into Deception Bay, initiating the Burpengary Greenlinks park land project and drawing attention to the problem of climate change.  He was known for standing up for local residents, as well as his continuing volunteer work at local community groups including the Deception Bay Lions Club, the Burpengary State School Council, Deception Bay Community Youth Programs and The Abbey Museum. He has also been a member of Al Gore's The Climate Project.
He has a Bachelor of Arts (Honours) Degree and a Master of Journalism from the University of Queensland.  In his spare time, Chris loves to surf and also likes to restore antique furniture.
Chris is the Chief Government Whip, and member of the Transport & Utilities Parliamentary Committee. Chris lives in Burpengary with his wife Sian and three children, Guy, Rebecca & Arabella.
Barry Grant - Independent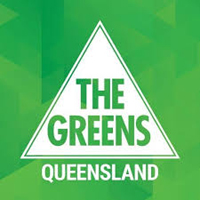 Ell-Leigh Ackerman - Greens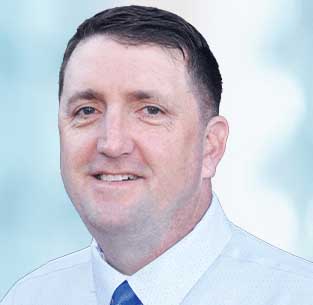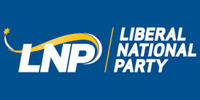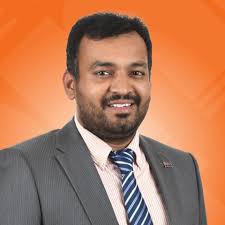 Nik Aai Reddy - One Nation
Party Website http://www.onenation.com.au/ contact via Facebook,
Nik Aai Reddy gives is election pitch here.
Nik is the Pauline Hanson's One Nation candidate for Bancroft, who is a family man with government experience and passionate about community service. He was an international student, a skilled migrant and is a very proud Australian. Starting out as an entry-level worker. He has worked in the Education sector, the Energy industry, and for both State and Federal Governments.  These roles have helped him to see many places where Government needs to improve.
Having previously run locally in the Federal Election,  he is aware of the many problems that our region is currently facing. Nik will listen to the people on the issues that matter for them, fight and make sure their problems get addressed.
The major parties have forgotten our needs as they are too focussed on political correctness. Vital infrastructure is not going ahead because intra-governmental disrupts between all levels of Government. And it is everyday Queenslanders that suffer from politicians playing the blame game.
Like many of you, Nik knows firsthand that the Palaszczuk Labor Government is just not working. Struggling businesses, increased unemployment, surge in crime, health and education in crisis, congested local roads and the cost of living continues to spiral. We deserve a strong local representative that will stand up for the people of Bancroft to improve our region.
"The people I speak too just want politicians to use common sense in the decisions that they make. That's what One Nation stands for. That's what I stand for. Let's get it right on 31 October 2020."
I hope to hear from you and I pledge to work tirelessly in delivering for Bancroft.
Polling Booths
Brisbane CBD : Brisbane City Hall, Sandgate Room - 64 Adelaide Street BRISBANE , Sandgate Room - 64 Adelaide Street BRISBANE
Burpengary : Burpengary Community Complex - 111 Station Road BURPENGARY 4505
Burpengary East : The Artisans' Guild - Cnr Old Bay & Maitland Roads BURPENGARY EAST 4505
Deception Bay : Deception Bay State School - King Street DECEPTION BAY 4508
Deception Bay North : Deception Bay Community Hall - Cnr Bayview Terrace & Ewart Street DECEPTION BAY 4508
Deception Bay South : Deception Bay State High School - Government Street DECEPTION BAY 4508
Deception Bay West : Deception Bay North State School - Old Bay Road DECEPTION BAY 4508
Mango Hill : Mango Hill Village Community Centre - Chermside Road MANGO HILL 4509
Moreton Downs : Moreton Downs State School - 101 Parsons Boulevard DECEPTION BAY 4508
North Lakes : North Lakes State College - Senior Campus Sports Hall - 1 The Corso NORTH LAKES 4509
North Lakes Early Voting Centre - Lease J4-8 Burke Cres North Lakes 4509
North Lakes North : Bounty Boulevard State School -195 Bounty Boulevard NORTH LAKES 4509
Returning Officer Bancroft : Bancroft Office -Unit 6/657 Deception Bay Rd Deception Bay 4508
Rothwell : Grace Lutheran College- Mewes Road ROTHWELL 4022
Results
Candidate
Count
Percentage

Declared: WHITING, Chris

Australian Labor Party (State of Queensland)

16301
53.60%

GRANT, Barry

1001
3.29%

ACKERMAN, Ell-Leigh

Queensland Greens

1820
5.98%

CARLSON, Phil

Liberal National Party of Queensland

8626
28.36%

AAI REDDY, Nik

Pauline Hanson's One Nation Queensland Division

2666
8.77%
Total Formal Votes
30414
96.76%
Total Informal Votes
1017
3.24%
Total Votes
31431
      Data from Official First Preference Count
About Percentage Counted
Percentage counted is based on the percent of enrolled electors counted in each count. In the Unofficial Indicative Count and Official Distribution of Preferences Count only formal votes are counted.
Voting Method:
Attendance Ballot
Voting System:
Compulsory Preferential Voting
Percentage of enrolled electors counted:
86.20% counted
Last Updated:
November 12 2020 9:13 AM
Elected Candidate
Elected Candidate:
WHITING, CHRISTOPHER GUY
What this electorate gets
The key election issues that decided the vote were roads, school upgrades, health services and crime.
The seat of Bancroft was created in 2017 following the redistribution – Mr Whiting won in 2017 – he was previously the member for Murrumba.
Roads
A Labor government will spend $1.5 million to start the planning stage of widening Deception Bay Rd between the Bruce Highway and Park Rd (3km).
Sports
Deception Bay Little Athletics will be another step closer to installing a synthetic running track if Labor is re-elected with Mr Whiting promising $1 million towards the project.
Federal LNP MP for Petrie Luke Howarth has already pledged $1.5 million towards the project.
Emergency services
Labor has promised to build a new fire station at North Lakes/Mango Hill – the first stage will be to acquire land.
An extra 150 new police will be allocated to the region including school-based police support officers.
More paramedics have also been promised
Education
Deception Bay State School will get a new $5 million school hall
North Lakes State College will get an upgrade for an outside school hours care program
Labor have also pledged to provide more teachers and teacher aides
Development
Both major parties promised to declare a Priority Development Area at North Harbour giving the green light to a $2.7 billion marina project that will create 7000 jobs.
Health
While Redcliffe hospital is not in the Bancroft electorate, it is used by its residents. A re-elected Labor Government have promised to put $6 million aside for the planning and design of an expansion at Redcliffe Hospital.
Labor have also said it would create more nursing jobs in the region.