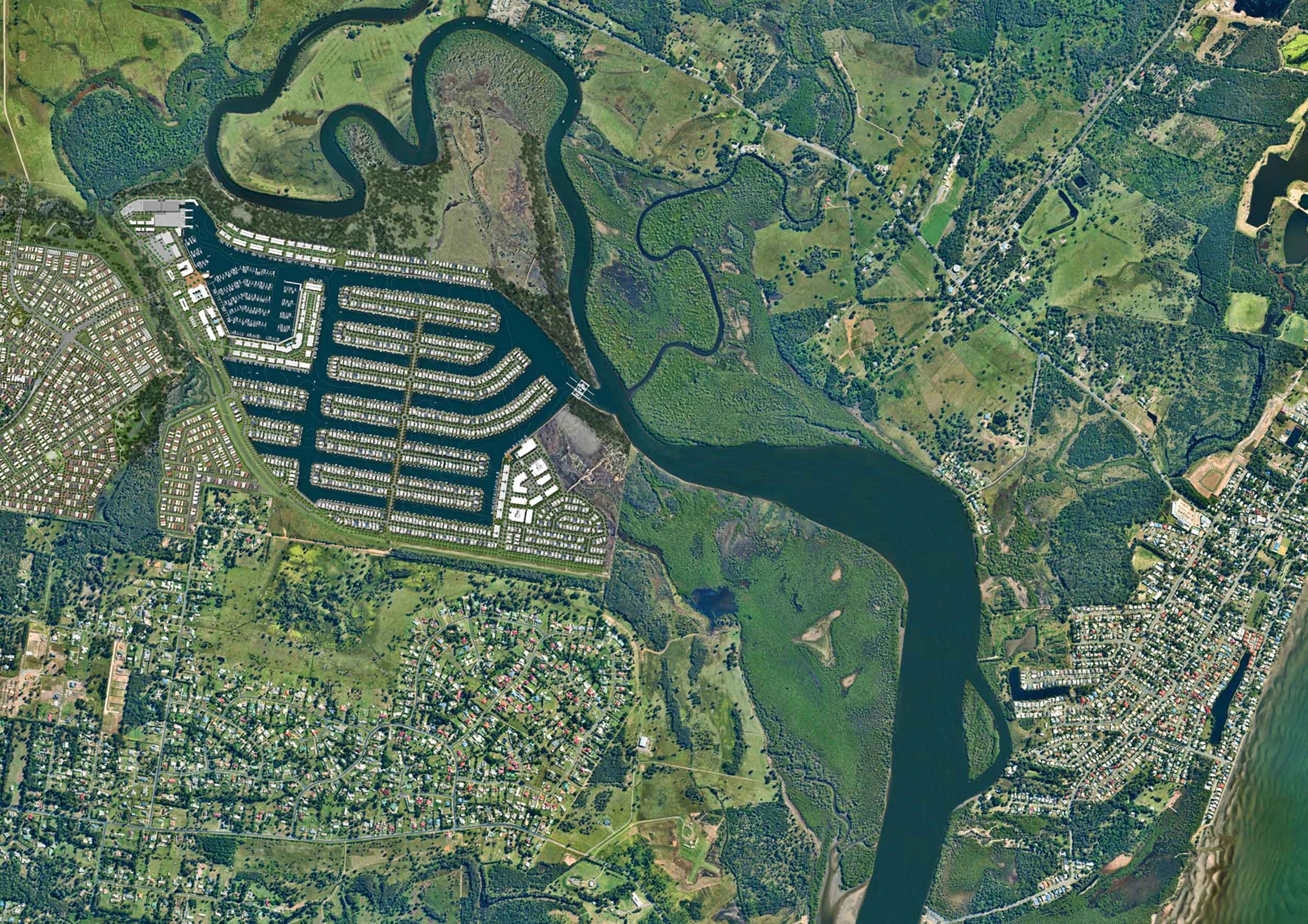 North Harbour to be declared a Priority Development Area (PDA)
A massive $2.74 billion marina and recreational precinct at North Harbour will be Queensland's next Priority Development Area (PDA) after the election for this game changing Moreton Bay project.
The declaration of a PDA at the North Harbour Marina Precinct in Burpengary East will also be the catalyst for an incredible 7,735 new Queensland jobs in a post COVID-19 employment bonanza.
This master planned community will represent the culmination of a long-held vision to create a world-class integrated development and deliver decades of prosperity to the Moreton Bay region, becoming a community for around 10,000 residents on completion.
North Harbour Project Director Bryan Finney warmly welcomed the bipartisan commitment to declare a PDA.
"This will be a major milestone for the project. Besides a huge win for jobs, other exceptional benefits for the wider community will include opening up 12km of prime riverfront land, as well as a vast new network of parkland and pathways. In its entirety, the project offers a multitude of tourism and recreational opportunities."
"The PDA will pave the way for North Harbour to become a state-of-the art marine industry hub. The North Harbour team has extensive experience with waterfront development and are well placed to attract a significant portion of Australia's $68 billion marine industry to the region." Mr Finney said.
The North Harbour Marina Precinct includes a 400-berth marina with associated marine industries and a substantial marina village with retail, tourism and entertainment uses. It will also provide 600 new apartments and 600 detached homes as part of the marina village, 800 dwellings in a waterfront estate, and an extensive 319 hectares of recreational and regional open space – the largest publicly accessible riverfront parkland in South East Queensland.
Mr Finney acknowledged the support of Moreton Bay Regional Council Mayor Peter Flannery, Division 2 Councillor Mark Booth and Mr Whiting. A request for the State Government to declare a PDA was made by Council after a unanimous vote last month.
Joint project developers North Harbour Holdings and Trask Land Corporation revealed a PDA declaration for the precinct will inject a massive $707 million a year into the Moreton Bay region.
Trask Land Corporation Managing Director David Trask said: "We are excited to be at the forefront of an important new chapter in the region's history.
"The North Harbour Marina Precinct is a vital project which will benefit this rapidly growing area for many generations to come. The timing of this announcement could not be better as it will also underpin our region's postCOVID-19 recovery.
"With key enabling infrastructure already in place, we are ready to create an exciting legacy project for Queensland once appropriate planning approvals are received."
Shane Newcombe, Chief Executive Officer of Moreton Bay Region Industry and Tourism, said: "North Harbour will be a game changer for this region – and not just through the thousands of jobs it will create and billions of dollars it will pump into our economy.
"It also has the ability to create huge opportunity for tourism, new business and industry. With those come security, diversity and confidence for those living and working in the Moreton Bay region," he said. "There can be no greater priority, particularly at this time."
Boating Industry Association (Australia) spokesman Neil Patchett said North Harbour would help to satisfy a growing demand for marina berths and facilities.
"More storage and maintenance facilities are desperately needed to accommodate the State's growing interest in boating and the increase in the number of registered vessels,'' Mr Patchett said.
"There are extensive waiting lists on moorings in places such as the Gold Coast, so North Harbour is very welcome on that front as well as its potential to support industry jobs in everything from boatyard skills, apprentices and trades to boat hire and services."
North Harbour Marina was first envisioned almost 20 years ago and has been one of South East Queensland's most rigorously planned and assessed projects with environmental excellence at the core of the project's masterplan.
In 2018, North Harbour was named Queensland's best residential subdivision in the prestigious Urban Development Institute of Australia (UDIA) Qld Awards for Excellence.
By 2035, North Harbour will be a world-class destination for recreation and tourism, sensitively integrated with regional open space, jobs, business and marine industries, all set amid modern community living and affordable, innovative housing.
To find out more and follow the story of North Harbour Marina, go www.northharbourmarina.com.au or email info@northharbourmarina.com.au. You can also follow us on Facebook at www.facebook.com/northharbourmarina.