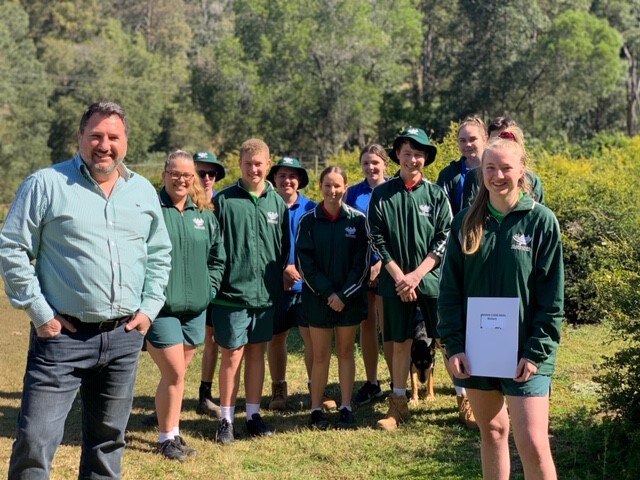 Second Glasshouse Christian College Student to Win Bursary
Member for Glass House, Andrew Powell, has today announced the 2020 winner of the annual Joyce Newton OAM Memorial Bursary.
Ebony King, a grade eleven student from Glasshouse Christian College, was named as the bursary winner during an agriculture class with her fellow students and family present.
The announcement was made even more special for Ebony as her mother is the agriculture teacher at the College and helped organise the event without Ebony knowing.
"This is the second year that I've awarded the bursary in memory of my friend and amazing community advocate Joyce Newton OAM, who passed away in 2018 after a struggle with Motor Neurone Disease," said Mr Powell.
"Joyce loved "civic society" – getting involved in our democracy, debating ideas, seeking to better our local community, our state and our nation!  As a former teacher, she sought to instil the same love in our future generations.  This bursary seeks to keep that interest and legacy alive!"
Organised in conjunction with Mrs Newton's family, the bursary incudes a $1,000 voucher to Concept IT at Maleny, acknowledgement of (and tabling of) the essay in Queensland Parliament and dinner for the winner and her family at Queensland Parliament.
"To enter, students needed to submit a one-thousand-word essay to my office on the importance of the New Bradfield Scheme to the state of Queensland," continued Mr Powell.
"Ebony King wrote a well thought out essay which highlighted the drought mitigation strategies that make up the New Bradfield Scheme and the way it has the potential to create long lasting employment opportunities, food security, hydro-electric power generation and reduced runoff onto the Great Barrier Reef."
Drought currently costs Australia an estimated $12 billion dollars each year.  Ebony addressed this in her essay and reflected that, with increased climate awareness and understanding of the economic impact of drought, most people would agree the scheme would be highly beneficial and a wise investment for Australia.
"It is my privilege to award the second Joyce Newton OAM Memorial Bursary to Ebony and I look forward to continuing the bursary and supporting local students for many years to come," Mr Powell concluded.