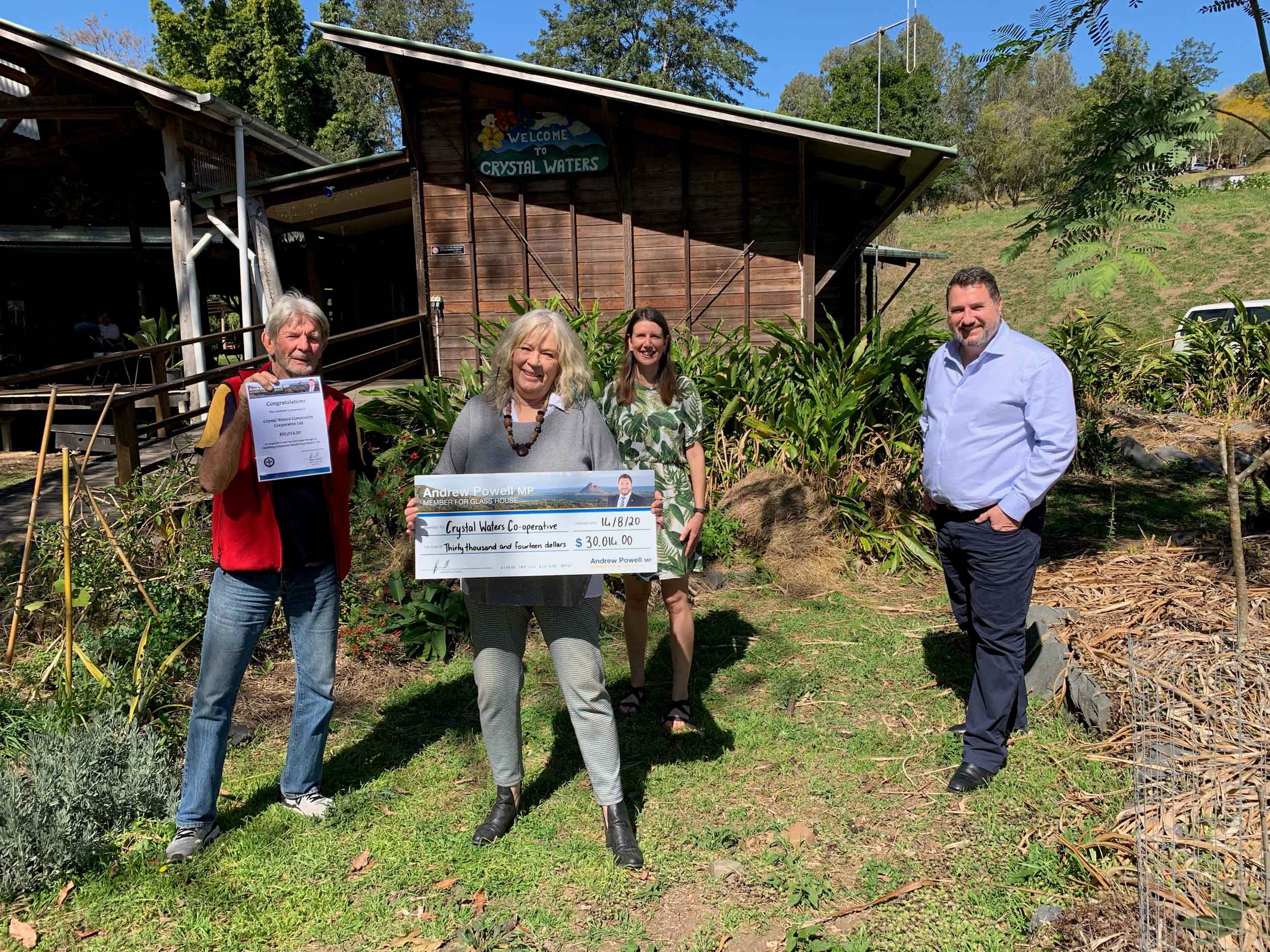 Gambling Community Benefit Fund Round 104 injects almost $200,000 into Glass House Electorate
Member for Glass House Andrew Powell is delighted to announce that Round 104 of the Gambling Community Benefit Fund (GCBF) has brought a total of $193,953 in grants to the Glass House electorate.
The GCBF provides sizeable grants to Queensland not-for-profit community organisations with revenue sourced from gaming taxes, distributing approximately $53 million per year to Queensland communities.
"What an absolute bumper round! I was thrilled to see that this round saw nine Glass House community groups receive significant amounts of funding" said Mr Powell.
"There's a few groups in this round who are receiving their second or third GCBF grant, as well as some organisations who will be receiving their very first grant.
"I always try to encourage as many community groups as possible to apply for these grants. Applications from the Glass House electorate are usually treated very well due to our abundance of small, volunteer run organisations."
"And if you've already received a grant previously, just apply again!"
In no particular order, the recipients from Glass House in Round 104 are:
Beerburrum School of Arts Association - $14,275 to install air conditioning and upgrade switchboard
Crystal Waters Community Co-op - $30,014 to upgrade facility and purchase equipment
Homestead Country Music Association - $19,499 to purchase audio equipment and hire a backing band
Maleny & District Horse and Pony Club - $14,440 to construct equestrian day yards
Maleny District Sport and Recreation Club - $35,000 to install a playground
Maleny Neighbourhood Centre Association - $20,138 to purchase and install IT equipment
Mooloolah & District Horse and Pony Club - $20,000 to purchase and install shed
Safe Haven Community - $35,000 to purchase a motor vehicle
Shed the Light Inc. - $5,587 to purchase IT equipment
Several organisations located just outside the electorate but instrumental in maintaining our communities' lifestyle also scored funding, including:
Beerwah & District Junior Rugby League - $12,775 to purchase a shed
Beerwah & District Memorial Golf Club - $35,000 to purchase a trailer
Caboolture Hockey Club - $26,000 to upgrade facility and purchase equipment
Multicultural Association of Caboolture and Surrounds - $4,315 to purchase marquee and storage fees
Kenilworth Bowling Club - $19,745 to purchase solar system and meter board
Landsborough Area Community Association - $6,475 to purchase a multifunction printer
If your community group is considering applying for the next round but aren't sure whether the amount you're requesting or reason you're requesting it for is reasonable, simply give it a go and put in an application.
"There is money in the bank waiting to go to a group just like yours. You've got to be in it to win it!" Mr Powell concluded.
Information on how to apply for a GCBF grant is available at http://www.justice.qld.gov.au/grants or by phoning 1800 633 619 during business hours. Applications for Round 105 have already closed, and applications for Round 106 close at 11:59pm on 31 August 2020.