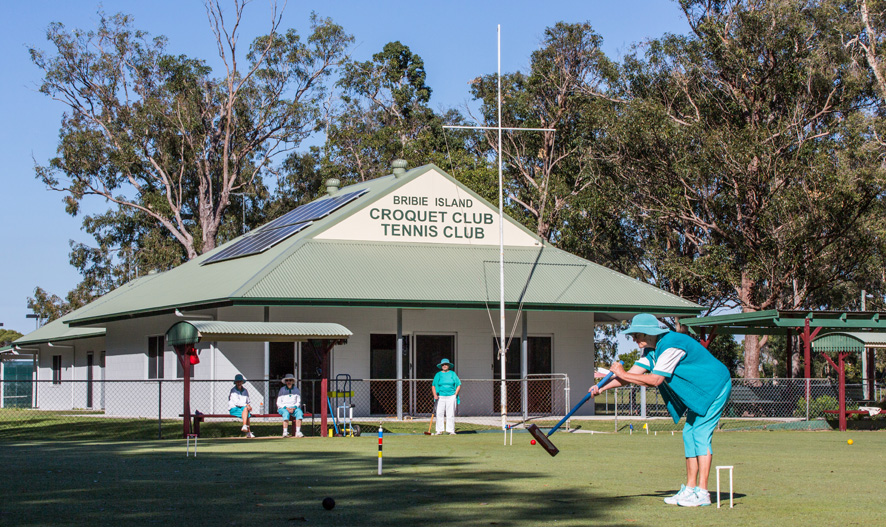 Bribie Island Croquet Club "The Sport of All Ages" Join Today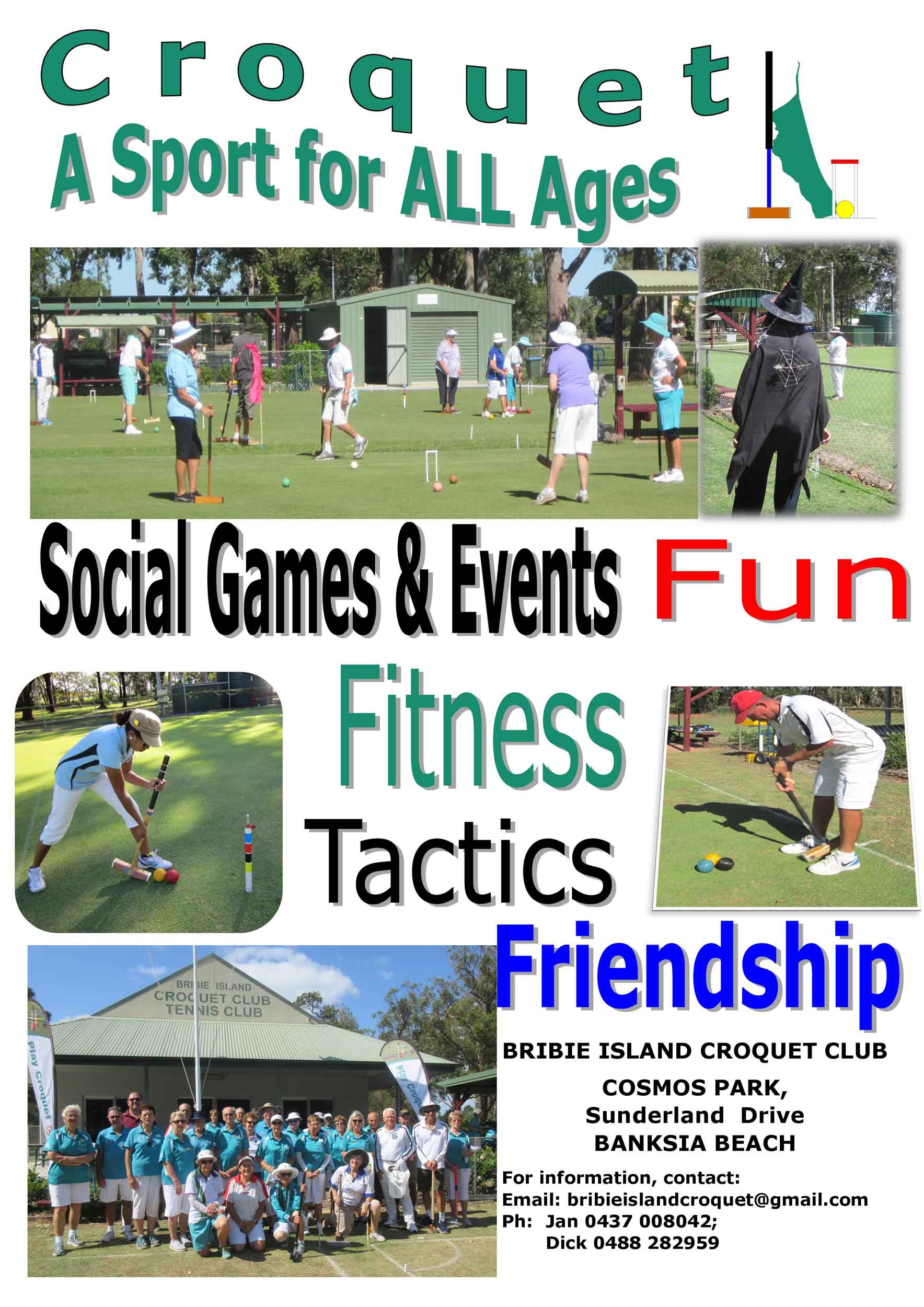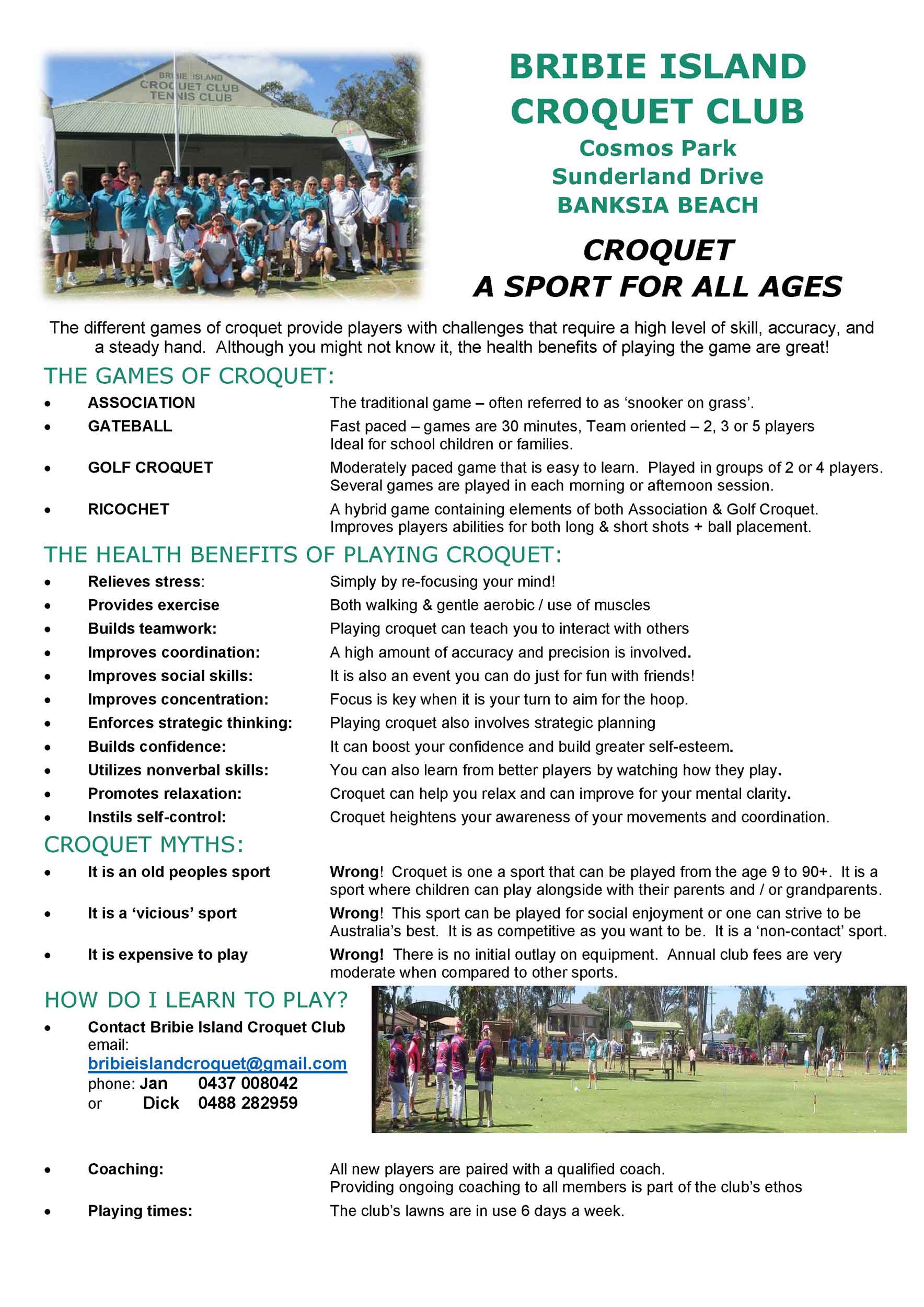 Happenings
DIARY DATES
• AGM – February 19th 2021 (again dependant on Covid restrictions)
SOCIAL DISTANCING Please remember this requirement - 1.5 metres (not 1.5 yards) from any other person.
That is roughly (at least) two arm lengths away from your nearest person.
Remember that the Club is under constant scrutiny and had the police visiting us on both Saturday and Sunday of the 7+ GC club Championships.
Our information is that passers-by (not neighbours) are reporting on us.
Then we had to cope with a report from park users during our GC doubles championships weekend that we were not social distancing off court!
Let us all be conscious of our joint responsibility.
No one wants our club closed by authorities.
MEMBERSHIP RENEWAL & HEALTH ADVICE FORMS
• Please return these ASAP to Lyn Beh!!! Sorry folks, this year it is not OK to just pay your fees!!!
COURTS
They will be unplayable for 2 days. Helpers & wheelbarrows will be required on Monday (approx. 10am).
If you can assist can you phone Dick B – 0488 282959.
• Court 3 may require additional work to clear the fairy ring (currently being treated with insecticide).
• Seats in the two central shelter sheds between courts 1 and 2, 3 and 4 have been replaced and repainted.
• Court 5 has been scarified, top dressed and fertilised. It is now ready for play.
• The seat backing in shelter shed on court 4 has been replaced.
• The roller's bearings have been replaced. It is now back in service.
• Attendance by prospective new members on a Monday afternoon is proving to be sound.
An invitation to the U3A players who had registered for terms 3 and 4 has been extended to participate.
Thanks to Jan Rees, Lynne Mellers, Lyndall Goodier who are the main coaches coaching this group.
If you know of anyone who would like to try out croquet, could you please let Jan Rees (ph 0437 008042) know, so that they can be included.
PLAYERS ON THE MEND
• Monica Ackland has returned to play, Lynda Davis, Sandy Fraser, Bill Howton and Peter Osborne are all recovering from various medical issues. We look forward to welcoming them back soon.
RECYCLING Do not forget that this scheme is still operative and earns good money for our Club.
Bottles and cans to Armytage St please.
BLUE CARDS Under the new Australian Croquet Association Coaching accreditation, all coaches (new and current) are required to have a Blue Card.
If you require this, Blue Card forms are in the clubhouse.
One of the requirements is certification of a document (your driver's licence) by a JP. Dick Byres will be available to do this on Friday, October 16th prior commencement of afternoon Golf.
Newsletter