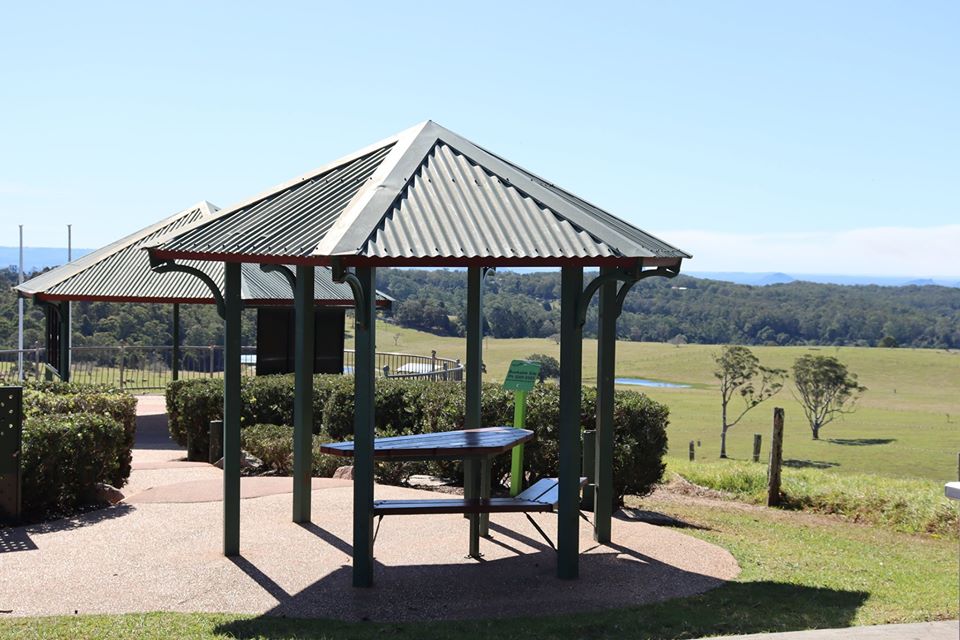 Featured Place of Interest is Mt Mee
The lookout at Mt. Mee is a must place to stop, have a cuppa and take in the amazing views of the Glasshouse Mountains and beyond.
There is a covered information area, picnic table, barbecue and amenities.
Check out the war memorial where a very well attended dawn service is held each year on Anzac day.
This stop is also very popular with motorcyclists out and about on their weekend rides.
Live, Work & Play in Moreton Bay
Now Mt Mee Lookout (Dahmongah) is one of the attractions:
With panoramic views of the Glasshouse Mountains, coastline and Brisbane CBD this small rest stop along the Mt Mee Road tourist drive offers grassed areas and a ceremony gazebo.
Park bookings
This park has the following areas available for bookings.
Wedding area
This scenic location with its own gazebo has magnificent views of the Glasshouse Mountains and east coast and is ideal for small weddings. 10m x 10m.
On Maps you will find Mt Mee at Mount Mee Road, Mount Mee 4521
You may also like to check out The Mount Mee Hall a beautiful timber heritage building with spectacular views of Moreton Bay
Sunset, sunrise or - for those brave enough to face the heat - any time of day, the view from the Mount Mee Lookout is something everyone should experience. Just over an hour's drive north-west from the heart of Brisbane, Mount Mee is one of the most beautiful sights in the Moreton Bay Region.
Hinterland Day Trip
Plan a day trip to this iconic spot in Dayboro to soak in the picturesque, homely countryside town living in the sheltering shadow of the D'Aguilar Mountain Range and vast open fields that roll from hill to hill. The drive north-west of Brisbane has some calming winding roads that are littered with stunning vistas, the mouth-watering Ocean View Estate Winery and Vineyard, tempting bushwalking trails and if you can spot it, an old quaint sawmill.
For those who are coming on the weekend, don't forget to drop by Pitstop Café with their locally grown coffee beans that are picked and grounded to make a coffee that's taste is only matched by the scenery around you. Full of retro memorabilia on the cliff's edge, this is certainly a pitstop you'll want to take.
If you're looking for a little more peace and quiet, the small local village of Woodford sits at the base of the Mountain and is the perfect getaway for anyone and everyone, but if you are looking for something a little louder, the annual Woodford Folk Festival is held there December every year.
Hinterland Walking Tracks near Mount Mee Lookout
For those who are looking for more than just a perfect view and maybe a little exercise, there are several walking trails to take. The shorter 1km Piccabeen Trail that has some interesting facts along the circuit about the logging industry, the slightly harder 3-4 hour Somerset Trail, and finally the massive 13km circuit through the scribbly gum and eucalyptus tree forest that has some fantastic views of Somerset Dam if you can make it the whole way.
Hinterland Weddings near Brisbane
With a landscape that is more beautiful than words can describe, it is the perfect place to have your big day and ceremony. Stunning backdrops morning and afternoon, close distance to the Brisbane CBD, Airport and Redcliffe, this piece of heaven will provide a breathtaking setting for your nuptials and photographs. With plenty of room for family and friends and other guests, there is little that can go wrong with this pristine wedding location.
When you are planning your next day trip with the family, significant, or looking for some solo time, make this your next stop.