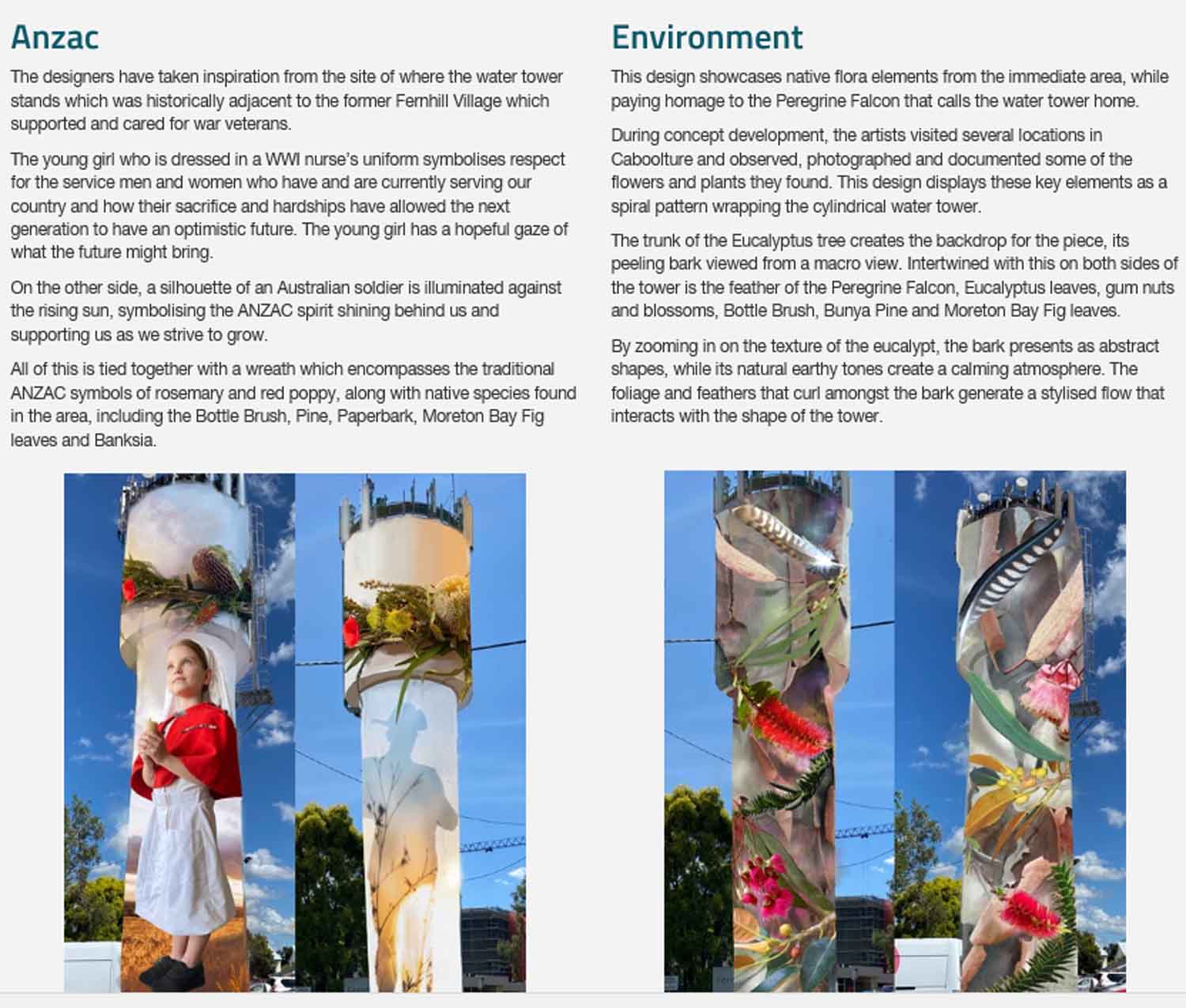 The Vote begins for a mural at the Caboolture Water Tower the ANZAC theme, the ideal choice
In keeping with on going beautification of water towers in the area, Unity Water have opened the floodgates of voting on the next stage with the Caboolture Water Tower the target of interest.
The public in the past have been keen to vote on their favourite.
The Caboolture Water Tower sits on land donated by the family of a former World War 1 digger to the Caboolture-Morayfield Sub Branch RSL which has been used as a home for veterans and their partners under various names of Fernhill War Veterans Home and now Bolton-Clark which is currently undergoing redesign.
Bruce Miller says "The ANZAC theme Mural consists of a World War 2 themed girl wearing a nurses uniform, she is looking up the tower", adding that "on the other side is a ANZAC soldier in silhouette, Up the top is a laurel wreath made up of local flowers and poppies".
Bruce Miller went on to say its preferred that the Water Tower Mural should keep a link between the land gifted by a soldier, the continuous use of it for a place to stay for former soldiers and their partners and as a ongoing legacy as part of the ceremonies held at the facility with marches that begin at that point as well and requests that you visit the unity water web site at paragraph 2 below and vote for the Anzac theme mural.
Please note that voting closes on 24 May.
The sub branch has put considerable effort into the design of the Anzac theme mural and of course is our recommended design.
Please pass this on to your fiends and get them to vote.
The more votes we get the more likely we will be to get the Anzac Theme accepted.
Over the past few weeks Unity Water have been working with Brisbane based artists, The Brightsiders, who have designed two artwork concepts to incorporate the great ideas received from the community.
Unity Water have no doubt that whichever design wins, the creation will be a beautiful addition to the local community!
Voting is open from 11 May and closes on 24 May, 2020. The winning artwork will be announced on 3 June, 2020.
To have your say in the winning design go to https://www.unitywater.com/community/community-artwork-program/king-st-water-tower.
If you are passionate about a specific design we encourage you to spread the word, if you're on Facebook, follow Unitywater and share our post to encourage votes.
The unity water website link is https://www.unitywater.com/king-st-water-tower