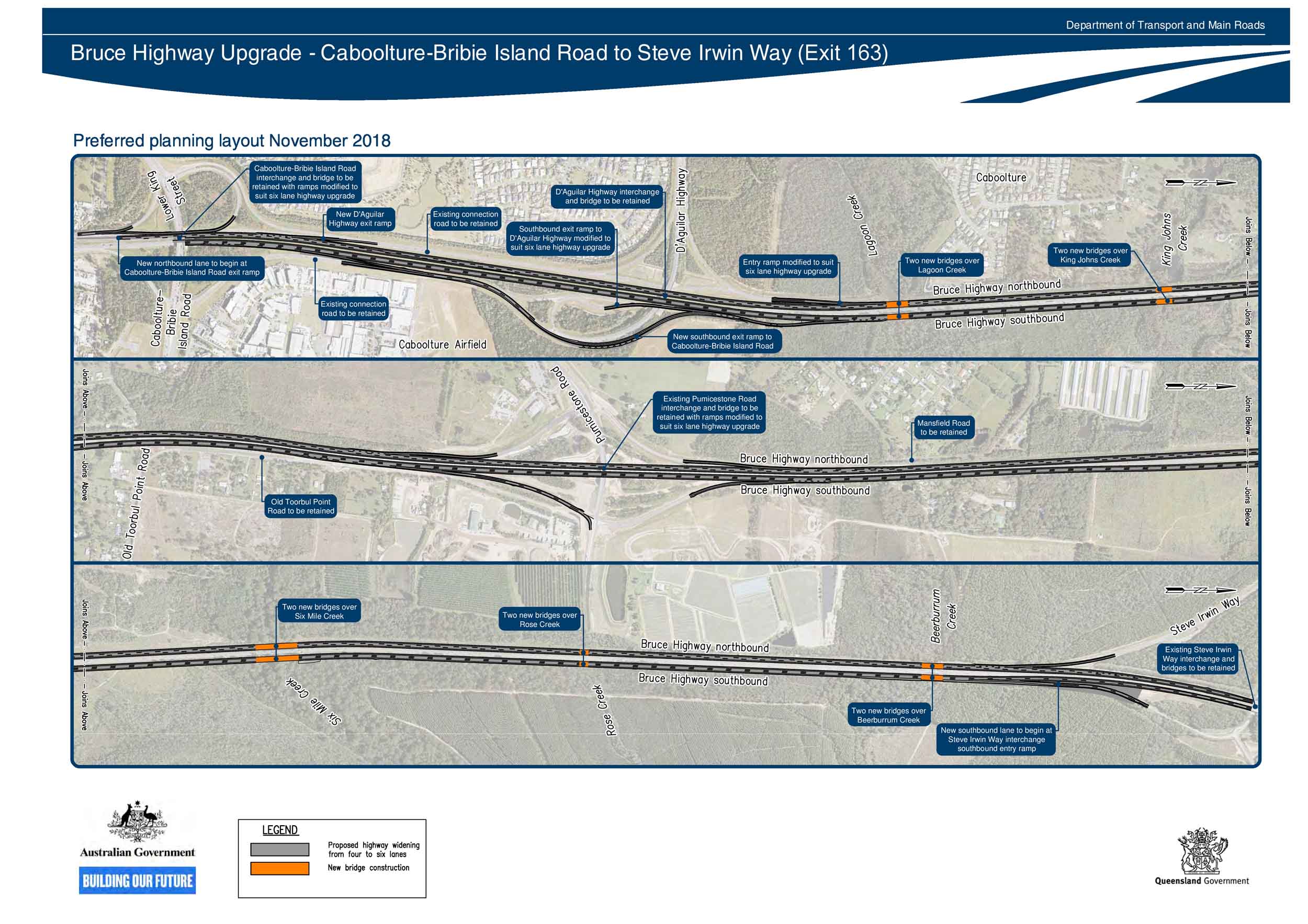 Caboolture and Coast businesses, jobs continue with Bruce Highway early works
Early works on the $662.5 million Bruce Highway upgrade between Caboolture and the Sunshine Coast have started, providing ongoing support for local businesses and jobs.
Queensland-based construction company SGQ will relocate water, power and telecommunications infrastructure to make way for major works, which will support more than 660 jobs, to begin later this year.
Drivers will also see vegetation clearing and public utility services such as Telstra and Energex working along the highway.
Deputy Prime Minister and Federal Infrastructure, Transport and Regional Development Minister Michael McCormack said the jointly funded Bruce Highway Upgrade – Caboolture-Bribie Island Road to Steve Irwin Way (Exit 163) would widen the highway from four to six lanes and include the construction of 10 new, three-lane bridges at five creek crossings.
"Growth in the Moreton Bay and Sunshine Coast regions illustrates the need for infrastructure projects to help manage our growing population," Mr McCormack said.
"This project is part of the Federal Government's record $100 billion infrastructure pipeline which will be crucial in helping our economy recover when we reach the other side of the COVID-19 pandemic."
Queensland Transport and Main Roads Minister Mark Bailey said at this time, it has never been more important to keep Queenslanders in work.
"Our investment in transport and roads is supporting industry to sustain over 21,500 jobs across Queensland. We will do everything we can to make sure these jobs are maintained," Mr Bailey said.
"Nothing is off the table in our response to this crisis, that is why we are about supporting business and jobs, stimulating our economy and making sure that when our community begins to recover that our infrastructure is ready."
Federal Member for Longman Terry Young said once the project is completed, it will reduce travel times and provide capacity for future growth in the region.
"The project will deliver a more efficient and higher quality journey experience for freight, commuter and tourism and recreational traffic," Mr Young said.
The $662.5 million Bruce Highway Upgrade – Caboolture-Bribie Island Road to Steve Irwin Way (Exit 163) is jointly-funded with the Australian Government committing $530 million and Queensland Government committing $132.5 million.
For more information visit www.tmr.qld.gov.au/CBIR2SIW