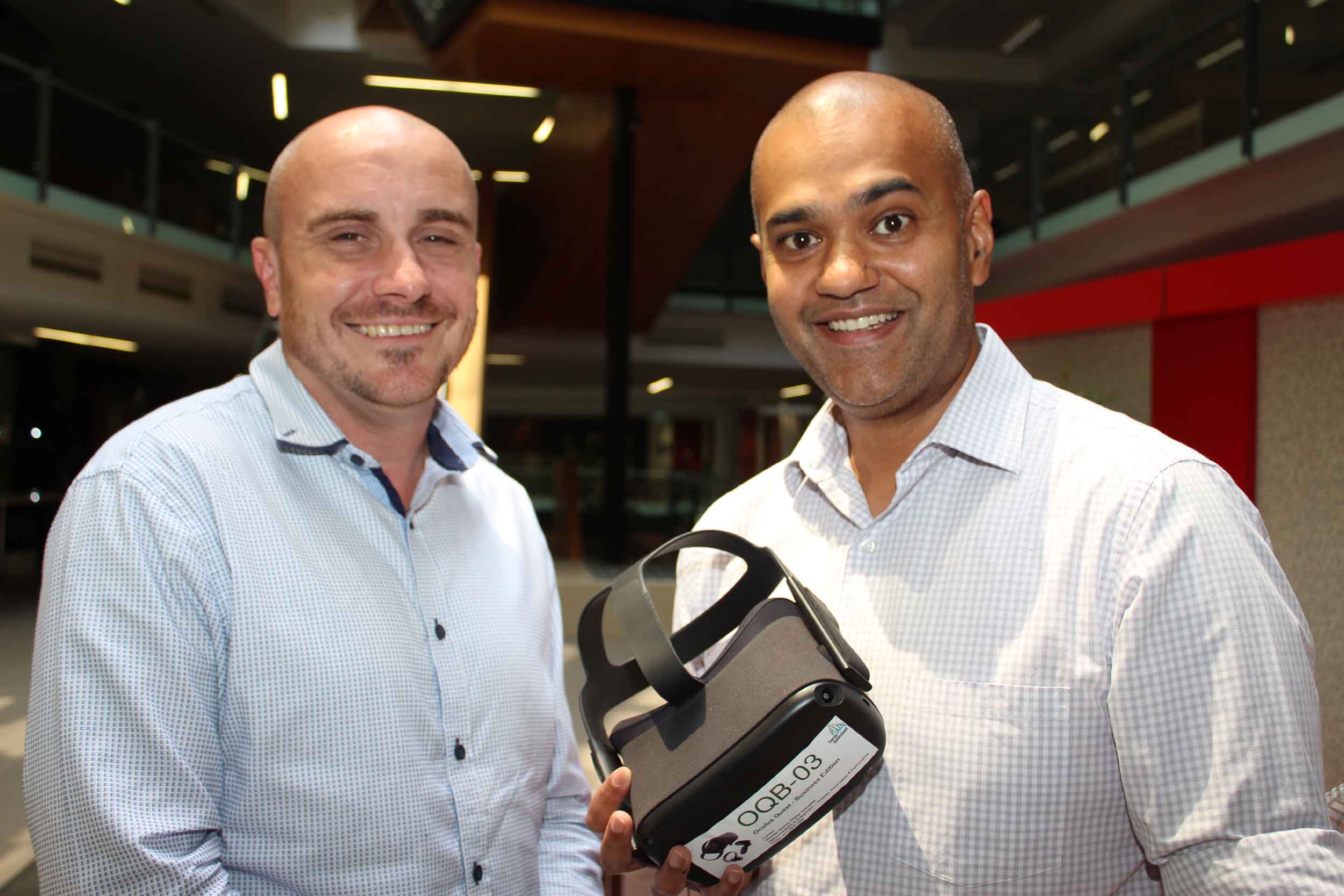 Ergon and Energex share in virtual reality creating a new world of training opportunities
Ergon Energy and Energex are exploring a brave new world in training for their employees across Queensland.
Through the use of virtual reality (VR), we're building a safe, effective and engaging platform from which apprentices and tradespeople can navigate risk-free training scenarios replicating live tasks.
Stewart MacDonald, a Training Solutions Business Manager and Digital Specialist, Noeneel Sharma are the driving force behind the virtual reality training aid which looks set to have far-reaching applications across both organisations.
"Ergon and Energex place the highest of priorities on safety. Hence, the concept of using virtual reality for training in electrical environments was germinated two years ago," Mr. MacDonald said.
"Every day, more than 4,500 of our employees deal with the risks associated with working with electricity. It's a no-brainer to see how important the need is to minimise that risk as much as possible.
"We chose to use polarity testing as the subject to develop our first virtual reality training simulator as there are more than two million connections to our network that will at some point in time require a polarity test.
"As well as training all of our new apprentices in polarity testing, every six months our tradespeople have to undergo a reassessment in it as well.
"The use of VR as training aid, has the real potential of making this more effective, efficient and safe," Mr. MacDonald added.
The benefits of a VR training simulator were quickly realised by parent company, Energy Queensland (EQL) which promptly approved funding to develop a proof-of-concept design.
"Once we got the brief to explore the virtual reality concept, we decided to partner with industry experts to help us with the development of a proof of concept," said Noeneel Sharma, who is part EQL's Digital Feasibility and Enablement group.
"The end result is astounding and has far exceeded our expectations. The feedback we've received from our new apprentices and experienced staff who've used the conceptual VR training aid is that it's very easy to use and extremely engaging.
"However, the really exciting thing is that this is just the beginning. Virtual Reality as a training aid can be used across so many training disciplines across our organisation.
"Even though the proof of concept focused on field-based tasks, there are countless scenarios we can develop for office-based workers as well." Mr. Sharma added.
While the training aid is currently only a prototype, it's hoped that its final development and refinements will one day see it being used in training rooms across Queensland.
The use of virtual reality technology will help Ergon and Energex deliver secure, affordable and sustainable energy solutions safely to all the communities and customers they serve across the state.