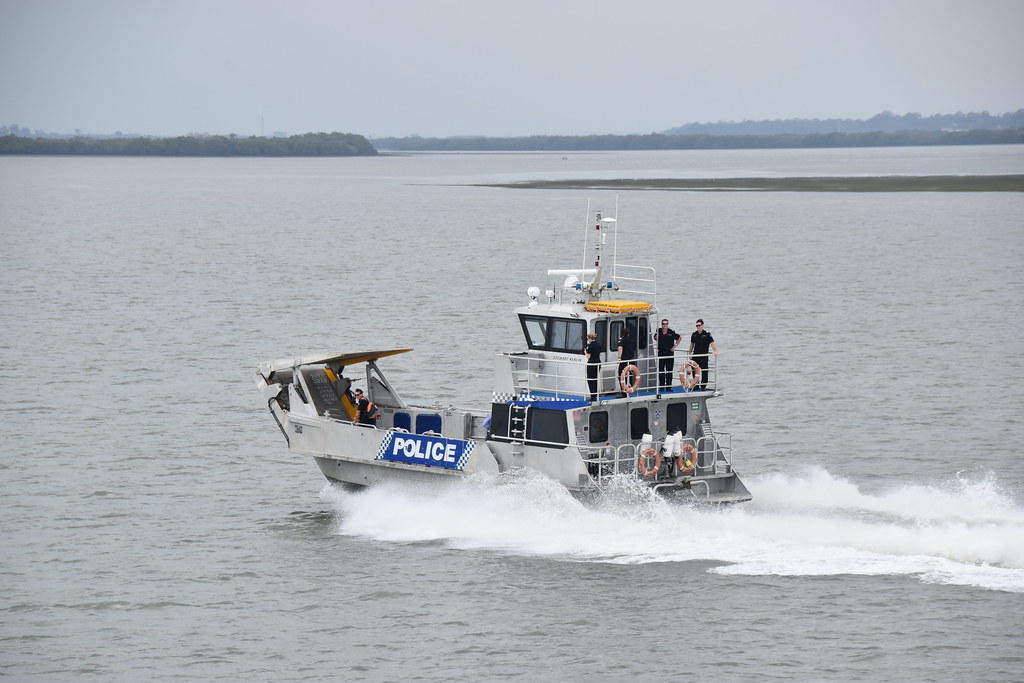 Two new vessels join Water Police fleet after being commissioned in honour of fallen officers
Minister for Police and Minister for Corrective Services, the Honourable Mark Ryan MP, and the Member for Redlands, Kim Richards, joined Commissioner Katarina Carroll for a vessel commissioning ceremony today.
After undergoing sea trials after practical completion, officer crew training, a specific Queensland Police Service 'fit out' and familiarisation, two vessels are now operational and supporting the Water Police in their daily duties.
These vessels have already been used extensively in response to recent search and rescue operations and major weather events.
Responding to the Stradbroke Island bush fires and the provision and transportation of vehicles, police officers and other assets to assist the community of the Southern Moreton Bay Islands are just some of the events that have so far proved the vessels instrumental.
Minister Ryan and Commissioner Carroll joined friends and family of fallen officers for the commissioning ceremony, officially naming these vessels after two of their loved ones.
A 20 metre multiple vehicle high speed barge has now been commissioned as Queensland Police Vessel Stewart Kerlin, after Detective Sergeant Stewart Kerlin who was tragically killed on duty on November 11, 2006.
The Stewart Kerlin will serve the Water Police in the capacity of a high speed barge.
A 10 metre rigid inflatable monohull vessel has also now been commissioned as Queensland Police Vessel Sondra Lena, after Constable Sondra Lena who was tragically killed on duty on April 10, 1992.
The Sondra Lena will be used by the Water Police for their patrol vessel.
Both the Stewart Kerlin and the Sondra Lena will operate out of Redland Bay supporting the Water Police in their daily duties.
Commissioner Carroll said the vessels will continue to enhance the work of the Water Police and serve the community well.
"The Water Police Group provides policing responses to South Moreton Bay and specifically supports police on Russell, Macleay, North Stradbroke, Coochiedmudlo, Karragarra and Lamb Islands," Commissioner Carroll said.
"These two vessels pay homage to Constable Lena and Detective Sergeant Kerlin and allow the Service to maintain their memory and recognise their service and their sacrifice.
"Not only do the vessels serve as a lasting memory of the officers, but they also assist Water Police officers by providing them with the up-to-date and advanced technical support they require to service the community."
Minister Mark Ryan said the day was extremely special for family and friends and for the Water Police.
"These vessels now commissioned in honour of fallen officers Sondra Lena and Stewart Kerlin serve as a fitting commemoration of their sacrifice.
"The vessels will improve the present and future capacity for our Queensland Water Police to continue their operational capabilities and service surrounding communities.
"It was an honour to be a part of the ceremony and I look forward to seeing these vessels continue to be used for the benefit of all," Minister Ryan said.
Redlands MP Kim Richards said the ceremony was confirmation of the commitment made to those who put their lives at risk for the sake of their fellow Queenslanders.
"We must not forget, and we will not forget, the sacrifice of Detective Sergeant Kerwin and Constable Lena.
"These two new Water Police vessels, and the names they proudly bear, are testimony to that commitment.
"And I know how important it is for our Water Police to have the capability to access our unique Redlands Coast islands communities when they need help the most," Mr Richards said.