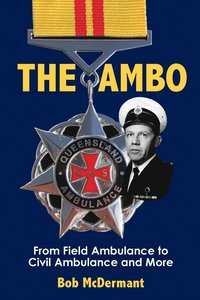 Australia's Oldest First-Time Author: 'Ambo Bob' Publishes First Book At Age 96
Seasons Caloundra resident Bob McDermant launched his first book, The Ambo, a history of his 39-year career in the Queensland Ambulance Service, last week.
Bob was joined by a crowd of 50 people for the launch, including family, friends, fellow Seasons residents and Commissioner of the Queensland Ambulance Service, Russell Bowles.
On being a debut author at the age of 96-and-a-half, Bob admits it's a relief to have his story out in the world.
"I think it's a relief because it shows that if you really want to do something, even if it takes you your whole life, if you accomplish it at the end, that's the big thing," says Bob.
"We've got an Ambulance Service that is probably the best in the world. And I've made so many, many friends. It's absolutely amazing and wonderful, and it's been worth every bit of effort that has been put into it."
When Bob joined the Queensland Ambulance Transport Brigade in 1947, he expected to undergo training for his role as an 'ambo.'
But there was none. To his further dismay, the equipment was antiquated and the procedures were based on a manual that hadn't been updated for 50 years.
Bob's book follows his journey with fellow ambulance officer Arthur Deoberitz as they set out to make changes to the Service by introducing a training program to bring treatment in line with modern medicine. This helped to lay the foundations for the progressive and highly-skilled paramedic service of today.
Commissioner of the Queensland Ambulance Service, Russell Bowles says Bob's book means an incredible amount to the Ambulance Service.
"Once you lose history you can never get it back so to capture this is just so great. A lot of people think that the Ambulance Services was always like it is today, but in the book you see the struggles that Bob went through to put the foundation stones in place for us to have the great ambulance service that we have today."
Bob's son Greg McDermant says that he's proud of his father's achievement and it is proof that it's never too late to achieve a dream.
"I'm incredibly proud of him for having nutted his way through this book and at 96-and-a-half he gets to attend his book launch.
"His little slogan inside the book is 'it's never too late' and that's pretty relevant for him!"