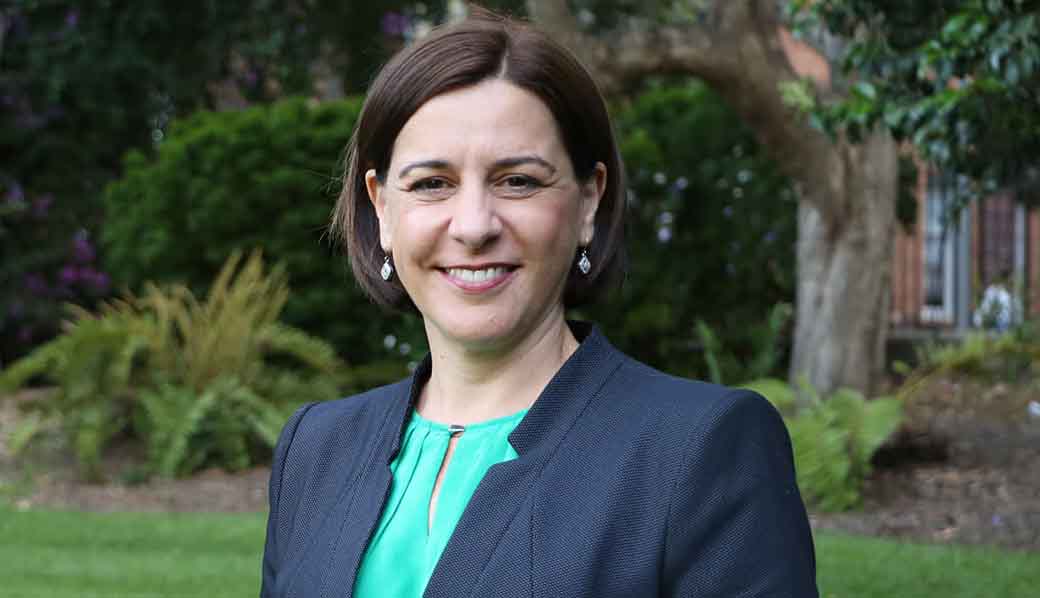 Deb Frecklington : Labor excludes Somerset - again
Member for Nanango, Deb Frecklington says Labor have forgotten the Somerset again, with the area not recognised by Labor Government as a regional or rural area.
Mrs Frecklington said her recent Question on Notice* asking the Premier why the Somerset was excluded from the list of regional areas eligible to participate in Regional Community Forums has been completely ignored.
"After complaints from community members who wanted to represent the Somerset I asked the Premier to explain why the Somerset was not included in Queensland's list of rural and regional areas," Mrs Frecklington said.
"The Premier showed an obvious disregard for the region by completely ignoring my question and providing no reasonable explanation for the Somerset being excluded.
"This is extraordinary, especially when both the Lockyer and Ipswich regions are considered to be regional and rural by the Labor Government.
"It is completely unacceptable this Labor Government doesn't consider the Somerset to be a regional area.
"I would like to point out to the Premier that the Somerset region is a largely rural area and has been drought declared for some time, with many primary producers feeding livestock. People from the Somerset also face many barriers including access to transport, access to health services, road networks in need of upgrade, poor access to telecommunications services and much, much more.
"The Premier is promoting these forums as a way for regional Queenslander's to have their say. I question the Premier's sincerity when she doesn't even understand the Somerset is a regional area which obviously needs to be better understood by this city-centric Government.
"Unfortunately, this isn't the only time the Somerset has been excluded by this Labor Government. The Somerset Regional Council area is also not eligible for Labor's 'Works for Queensland' funding, which is available to almost all other Queensland Councils.
"I call on the Premier to explain to the people of the Somerset why the region it not recognised as being rural or regional," Deb said.
For reference included is Copy of Question on Notice No. 1455 (see question 'f')
Question on Notice No. 1455 Asked on 18 September 2019
Mrs D Frecklington asked Premier and Minister for Trade (Hon. A Palaszczuk)―
QUESTION:
With reference to the Advancing Queensland Regions announcement— Will the Premier outline (a) the budget for hosting regional forums, (b) the annual budget for the two new department offices in Maryborough and Rockhampton, (c) the annual staffing allocation for the Maryborough and Rockhampton offices, (d) the budget for the new Office for Rural and Regional Queensland, (e) the terms of reference for the new Office for Rural and Regional Queensland and (f) why the Somerset local government area was not included?
ANSWER:
Jobs and economic development are the top priority of my government, especially in rural and regional Queensland where communities are battling the impacts of drought, flood and fire.
My government is providing direct assistance to communities affected by natural disasters and investing in infrastructure and services to support jobs in traditional industries and new industries.
People who live in rural and regional Queensland communities are proud innovators and adaptors and my government is listening to their ideas.
Regional Community Forums will provide another way that government can hear directly from local communities about how we can generate even more jobs and investment in regional Queensland.
Up to twenty representatives from each region representing a broad cross-section of the community will be appointed to meet at the first Regional Community Forum on Monday 28 October 2019 in Far North Queensland, North Queensland, Mackay/Isaac/Whitsunday, Western Queensland, Central Queensland, Wide Bay/Burnett/Fraser Coast, Central Queensland and the Darling Downs/South West.
Strong interest in the concept of Regional Community Forums was demonstrated by 330 people expressing interest in becoming a Forum member.
Forums will be supported by the new Office for Rural and Regional Queensland, headquartered in Rockhampton and with regional offices in Cairns, Townsville, Mackay, Rockhampton, Maryborough. Toowoomba and Longreach.
The Office of Rural and Regional Queensland and Regional Community Forums are funded from within the Department of Premier & Cabinet's existing resources.
The Maryborough office will be staffed by one public servant at the Administrative Officer level 7, consistent with the four regional offices at Longreach, Mackay, Toowoomba and Cairns delivered as part of the 2018-19 budget.
The Office for Rural and Regional Queensland will be headquartered in Rockhampton, with a staffing allocation of 4, making a total of 11 staff based in rural and regional Queensland.
Queensland's regions are the engine room of the Queensland economy and my government will relentlessly pursue economic and employment growth in the regions.
Drawing on local knowledge and wisdom, Regional Community Forums will focus on practical initiatives that will support jobs, grow our economy and help our rural and regional communities prosper and thrive.