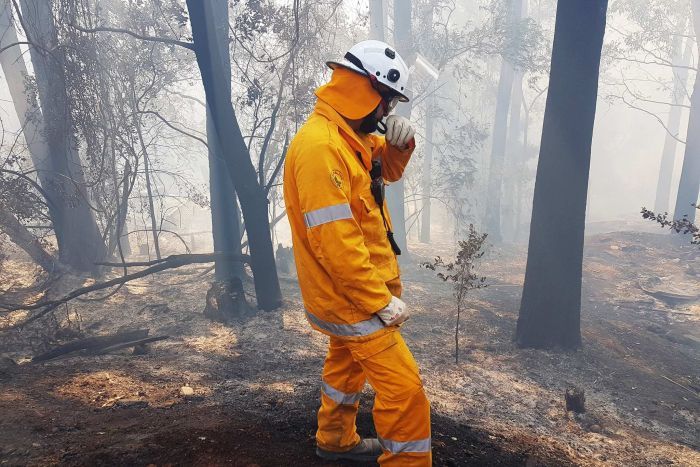 New round of dry conditions this weekend may spell worsening fire conditions
Fire conditions are forecast to worsen again Friday and Saturday when a dry wind is expected to blow across parts of southern Queensland, raising the fire danger rating from "high" to "very high".
Key points:
The Bureau of Meteorology is forecasting fire conditions to improve on Thursday, before deteriorating again on Friday
Temperatures are expected to hit 30C on Friday, as well as next week
Over the weekend, BOM says there will be no rain at all in the whole of Queensland
Dozens of fires are still burning across the state.
While none pose an immediate threat.
Queensland Fire and Emergency Services Deputy Commissioner Neil Gallant said about 100 firefighters were arriving from interstate today to relieve Queensland crews that had been working "day and night for a week" on those fire which still pose a risk of danger.
Lower temperatures, a lighter onshore wind, and increased humidity are expected to bring moisture in the air Thursday allowing for some reprieve.
Bureau of Meteorology (BOM) has indicated a wind change Friday would bring a dry, south-westerly to South East Queensland and temperatures could reach 30 degrees Celsius.
That's going to raise the fire danger rating, at this stage we're anticipating it will be very high, but probably not reaching warning category, with Friday and Saturday  the two worst days.
The winds won't get as strong and it's unlikely our fire danger ratings will get into the category for which we will need to reissue another warning.
Conditions would not become as bad as last Friday, but fires could quickly escalate with any winds being our enemy.
With the very hot, dry weather we've had over the last couple of weeks, all of the vegetation is very, very dry.
Any fires that start with any wind will run quite hard.
Long range forecast shows there will be no rain for the foreseeable future.
It's such a terrible season and we haven't had rain for so long, until it rains every time there's any wind at all and the temperatures go above average, it's time to be concerned.
That is the bottom line.
There was a chance that severe to extreme fire conditions could return next week.
A Fire Ban is in force until 23:59 Sunday 15 September