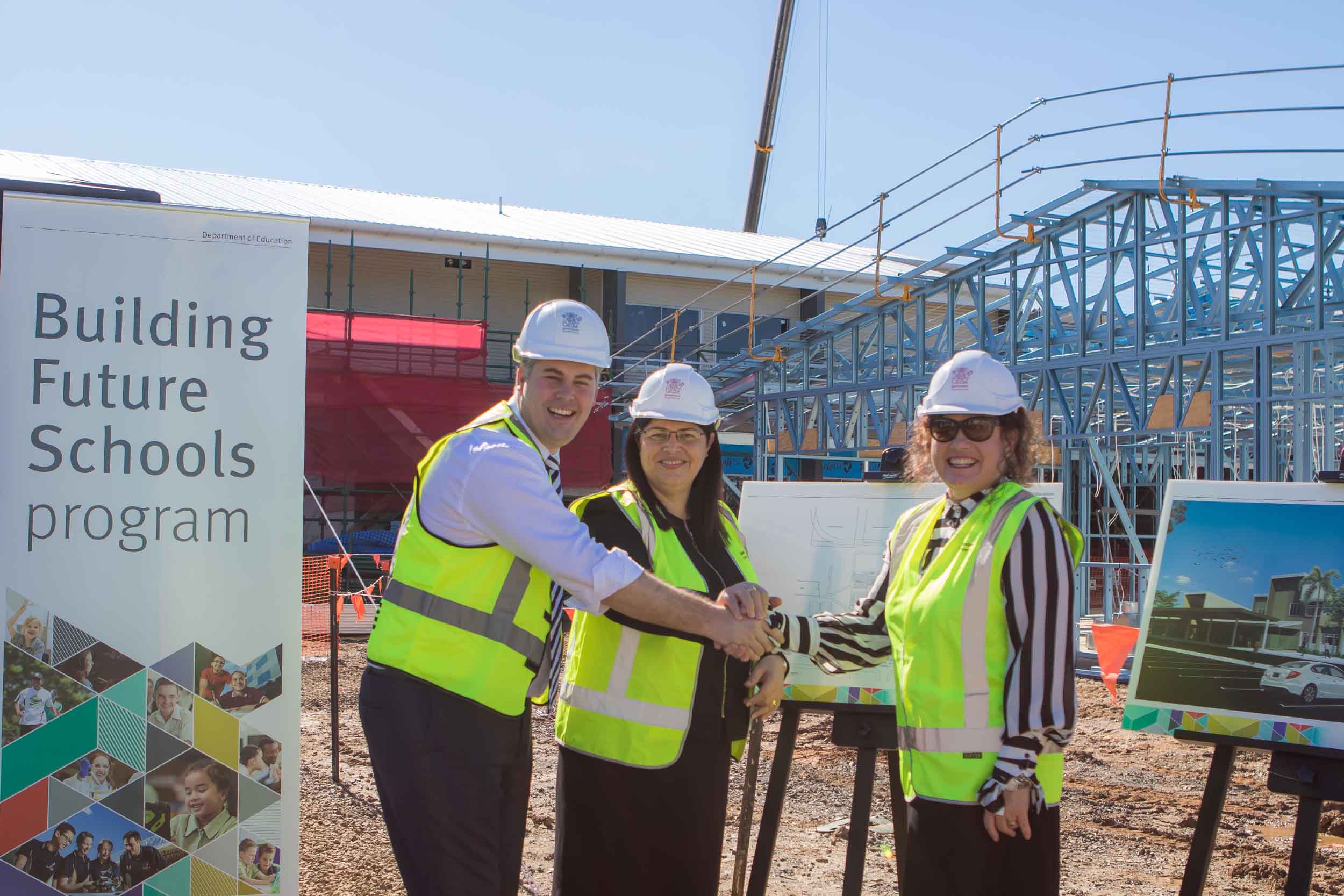 Name chosen for Caboolture's new special school
State Member for Morayfield Mark Ryan and Education Minister Grace Grace have announced that the new $24 million special school in Caboolture will be officially named Lee Street State Special School.
"The name has been chosen following consultation with a wide range of stakeholders, including many parents whose children will attend the school when it opens next year," Mr Ryan said.
"As we promised from the outset, we engaged the community in the process of naming the new school, and the title of Lee Street State Special School was the most popular suggestion."
Mr Ryan said the almost completed state special school will accommodate a growing education need in the Caboolture region.
"Its position here will provide greater opportunities for Year 7 to 12 students and increase capacity for Prep to Year 6 students at the existing special school," he said.
"The Palaszczuk Government has built Lee Street State Special School as enrolment demand at the existing Caboolture Special School has increased considerably and we know growth will continue in this fast-developing region.
"Our goal is to deliver a school that best meets the educational needs of students and aligns with community expectations.
"This investment will ensure our students can access an excellent special school program in a safe and supportive environment, with quality tailored facilities to support their learning."
Foundation Principal, Mrs Kim Kelly, said the new name was decided after a broad ranging community consultation process.
"Using a consultation process that has encouraged the whole school community to participate, the school name has been chosen to reflect not only the location of the school, but also the concept that our students will have pathways to successful post school options," Mrs Kelly said.
"Our leadership team and an enthusiastic interim Parents and Citizens' Association (P&C) have been working to ensure that the school is well prepared for the start of the 2020 school year.
"Our vision is to develop a sense of belonging and pride in our school community so that every student obtains a quality education with clear options for their future.
"Together with students, parents and staff we are committed to working collaboratively to ensure positive outcomes for our students' life choices."
Ms Grace said the building contractor was making great progress on site.
"The contractor, Badge Constructions, has made excellent progress and the school is really starting to take shape," Ms Grace said.
"Stage 1, including the administration block, resource centre, general learning areas, hospitality centre and multi-purpose skills centre, is well underway and landscaping is scheduled to begin shortly.
"Future stages will deliver additional general learning areas and a multi-purpose activity centre."
Ms Grace said the new special school at Caboolture was being funded through the $1.3 billion Building Future Schools Fund.
"Lee Street State Special School is one of eight new state schools set to open across Queensland in 2020," she said.
"This represents an investment of $483 million, supporting up to an estimated 1449 full-time jobs.
For more information on the new Lee Street State Special School, visit: https://qed.qld.gov.au/programs-initiatives/det/building-education/new-schools-for-2020.
For more information visit: www.qld.gov.au/buildingeducation.