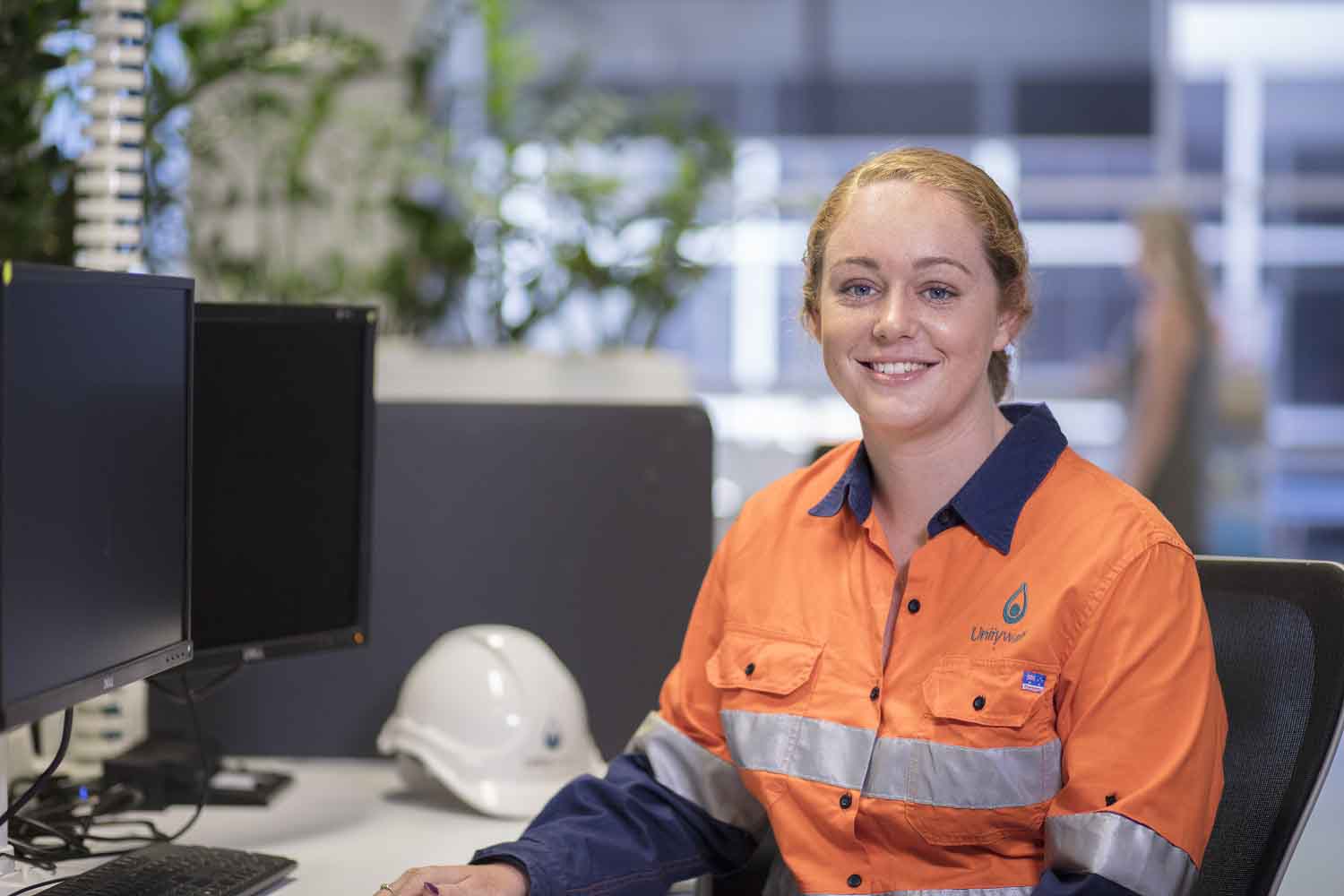 Graduate Samantha narrows the gender gap in engineering : Unitywater
Samantha Guy brings much more than her passion and skill for engineering to her role at Unitywater. Samantha is breaking down industry stereotypes and demonstrating the value of diversity in the workplace.
As an engineering graduate, Samantha has had many opportunities to learn the core functions of a water and sewerage utility, and participate in broader activities that Unitywater performs in the community.
Samantha is now encouraging other engineering students to apply for Unitywater's 2020 Graduate Program.
"The Graduate Program has been eye-opening, an all-encompassing opportunity," Samantha said.
"Unitywater has positioned me to also participate within the wider water industry, beyond just the capacity of my role.
"This has allowed me to connect and engage across many focus areas, helping me to find my passion within the industry. I have felt motivated and inspired by the diverse range of people and organisations which continue to innovate and collaborate with Unitywater.
"I have also had the chance to be actively involved in the community, learning to appreciate the value of the work Unitywater does, both through its service delivery and in the community initiatives we support, such as our sponsorship program and our uVolunteer program, where staff get one day a year to help a community organisation or charity.
"Working in a male-dominated profession was an unexpected aspect to my career choice but Unitywater has shown me the value that diversity brings to an organisation and I have always felt that my opinion matters."
Unitywater Executive Manager People Culture and Safety Kenan Hibberd said applications were now open for the 2020 Graduate Program for engineering students.
"It's a two-year program and this year we have positions for mechanical, electrical, civil, chemical and environmental engineers," Mr Hibberd said.
"We've had some very talented people come through this program and we're pleased to offer the program on an ongoing basis."
Applications close 25 August. To find out more or to apply for the program, visit Unitywater's website: www.unitywater.com/about-us/careers/our-career-pathways