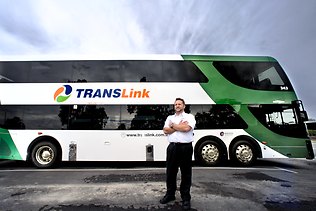 Buses replace trains with Northern Rail line closures for track work this weekend
From the first service on Saturday 24 August until the last service on Sunday 25 August, tracks will be closed on the Caboolture, Redcliffe Peninsula and Sunshine Coast lines.
Timetabled railbuses will replace trains from Northgate to Caboolture, Kippa-Ring and Gympie North stations.  Plan your journey in advance to find your fastest travel time.
Taxis will take customers travelling from Traveston, Cooran or Pomona stations to Nambour or Gympie to connect with replacement buses. The taxis will run to the weekend train timetable and collect customers at the relevant rail bus stop.
Normal services will resume from the first service on Monday 26 August.
Bus services R602 Northgate express to Petrie then express to Caboolture, R605 Northgate all stations to Petrie, R607 Petrie all stations to Caboolture and R608 Petrie all stations to Kippa-Ring will run every 20 minutes.
Service R609 Caboolture all stations to Nambour will run every 30 minutes.
Service R613 Northgate express to Petrie express to Caboolture express to Nambour will run to the normal Sunday timetable.
TransLink also advises passengers who need assistance to catch a bus, to let QR supervisors or TransLink's Call Centre staff know on 13 12 30 anytime
The planned works include raising platforms at the Morayfield, Dakabin and Strathpine stations.
Customers planning to travel by train during the closure were encouraged to use journey planner to find ideal travel times and connections.
For more information, visit the TransLink website or call 13 12 30.