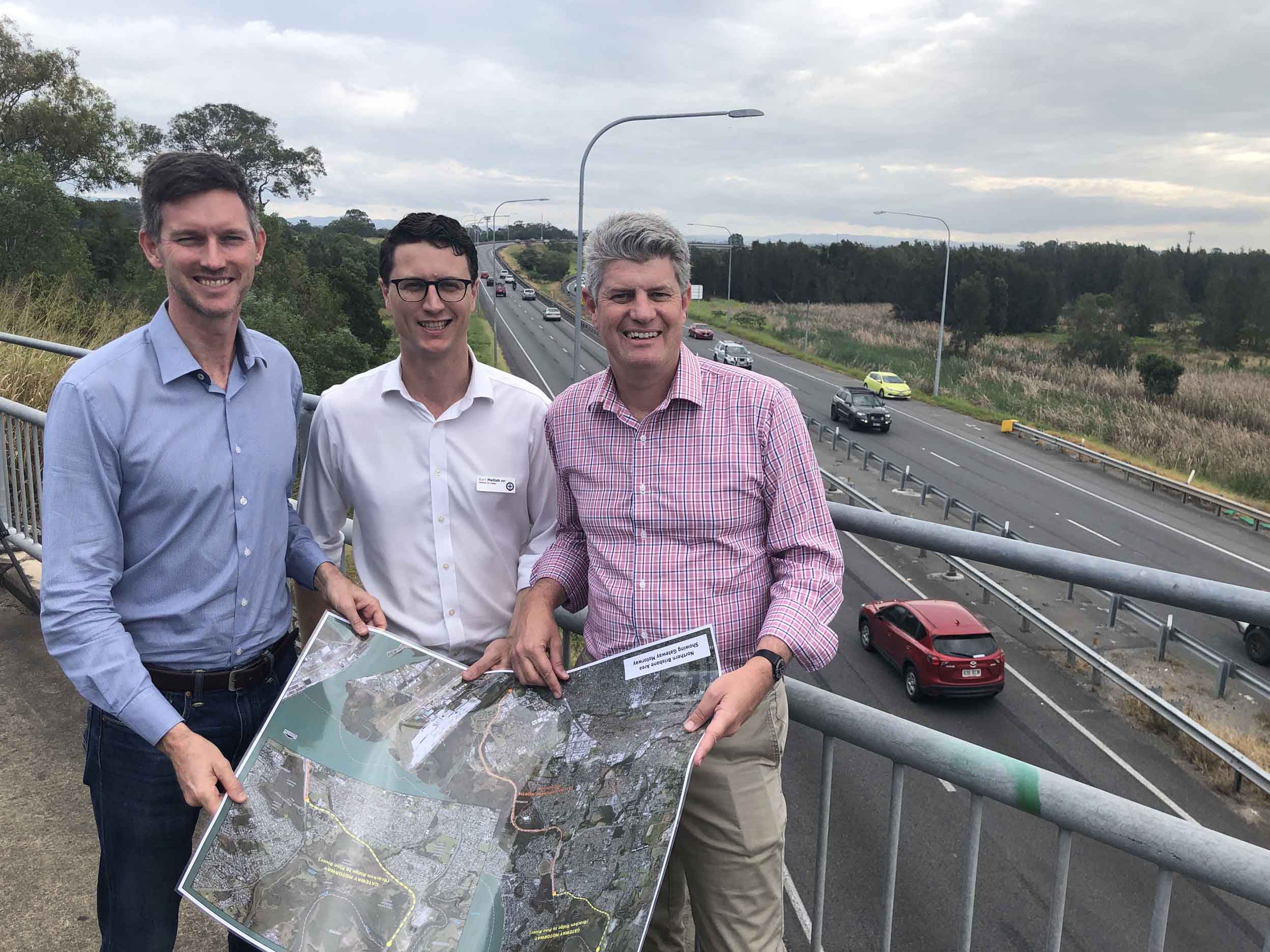 Palaszczuk Government commits to $1 billion northside congestion tackler
The Palaszczuk Government will commit to build the next stage of the Gateway Motorway upgrade on Brisbane's north, targeting congestion in the booming region.
Transport and Main Roads Minister Mark Bailey announced the Palaszczuk Government would commit $200 million to upgrade the motorway from Bracken Ridge to the Bruce Highway merge as part of a $3.13 billion program for the region's roads and transport infrastructure over the next four years.
"This is a job-creating, congestion-tackling budget that will build the next stage of the Gateway Motorway in Brisbane's north," Mr Bailey said.
"The project will replicate the six-lane upgrade of the 11.3km first stage between Nudgee and the Deagon Deviation.
"Stage one saw more than 1,000 jobs created, and I have no doubt this stage will deliver a similar jobs boon for the region.
The $200 million commitment joins an $800 million commitment by the Federal Government to deliver the project on an 80:20 funding basis.
"With funding now confirmed from both the Palaszczuk Government and Federal Government, we can begin a detailed business case and planning to determine timelines for this major $1 billion project.
"The Palaszczuk Government is delivering more than $3.13 billion in roads and transport infrastructure from north Brisbane through to the Sunshine Coast, with major upgrades for the Bruce Highway between Caloundra and the Sunshine Motorway already underway and the duplication from Caboolture to Steve Irwin Way locked in to begin next year.
Other projects, including those jointly-funded with the Federal Government:
$813 million widening of the Bruce Highway, from four to six lanes, between Caloundra Road and the Sunshine Motorway, and upgrading interchanges at Caloundra Road and Sunshine Motorway
$301.3 million building the Maroochydore Road Interchange Upgrade project
$150 million building Deception Bay Road Interchange Upgrade on the Bruce Highway
$79.8 million installing barriers on various sections of the Bruce Highway between Brisbane and Gympie
$30 million upgrade of the Petrie roundabout
$28.8 million intersection and safety improvements on Burpengary-Caboolture Road known as Morayfield Road and Beerburrum Road
$10.4 million intersection signalisation on Caboolture-Bribie Island Road at Old Toorbul Point Road
$7.6 million intersection and safety improvements as part of the Caboolture Connection Road Route Safety Strategy accelerated works
"It's part of our overall $23 billion, four-year roads and transport program for Queensland, which will deliver more than 21,500 jobs."
Member for Sandgate Stirling Hinchliffe said locals were already benefitting from stage one with a significant reduction in congestion, especially during peak hours, and an upgrade from Bracken Ridge to the Bruce Highway merge would provide further relief for motorists.
"Locals want action on this ageing section of the Gateway Motorway and to have a seamless journey whether they're travelling to or from the Bruce Highway," Mr Hinchliffe said.
"This region is a major hub for our growing south east corner and the thousands of freight vehicles that travel from our Brisbane ports, and it's vital we lock in the funding to deliver the roads locals and business need.
"More than 83,000 vehicles are already travel on our northern Gateway Motorway every day, and this our $200 million commitment will help to provide much-needed relief for Brisbane's northside."
Member for Aspley Bart Mellish said alongside the $1 billion Gateway upgrade the Palaszczuk Government would also commit $15 million for the Strathpine Road interchange and $25 million to build Linkfield Road overpass duplication, tackling key congestion on the northside.
"Earlier this year we announced the start of design work to create Australia's second diverging diamond interchange (DDI) at Strathpine Road," Mr Mellish said.
"Through a DDI design, traffic is switched to the other side of the road, eliminating the need to cross the path of oncoming cars or wait for a green light to turn right.
Mr Mellish said project details and timing will subject to further planning and negotiations with the federal government.
"Locals also know just how frustrating rush hour traffic is on Linkfield Road interchange, with vehicles moving in all sorts of directions.
"With this funding contribution, the Palaszczuk Government will be able to start a detailed business case as soon as possible for this overpass.
"We're already taking immediate, interim action to ease traffic pressures on Linkfield Road with the construction of a dedicated left-turn lane for motorists heading north towards the Bruce Highway soon to be underway."