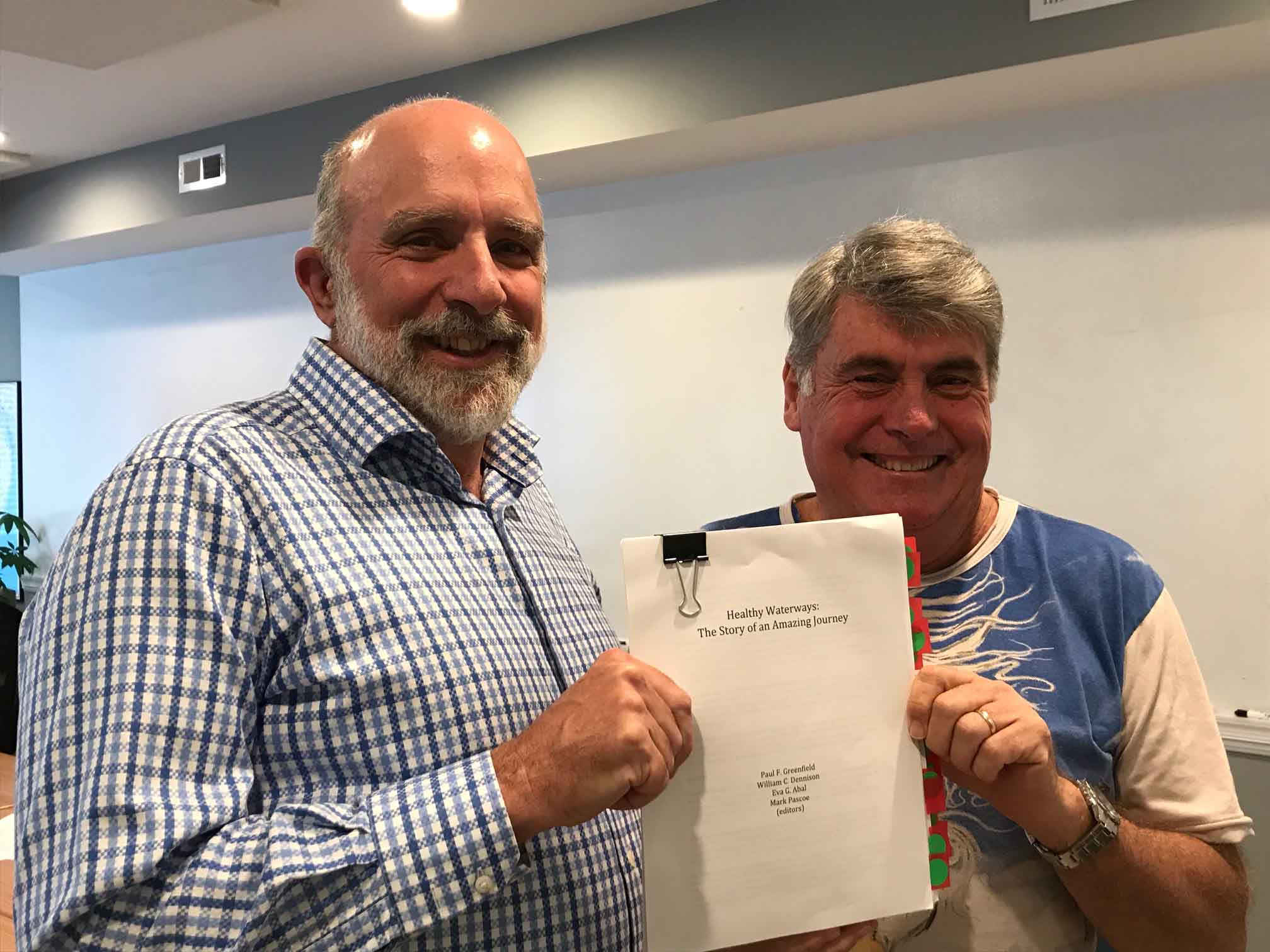 Mayor Allan Sutherland meets world renowned Dr. Bill Dennison on Healthy waterways lessons go global
On Friday Mayor Allan Sutherland met world renowned Dr. Bill Dennison, Professor of Marine Science and Vice President for Science Application at the University of Maryland Center for Environmental Science to review the final version of "Healthy Waterways: The Story of an Amazing Journey" to be launched at River Symposium in Brisbane in October.
"The work we did as part of SEQ Healthy Waterways was not only instrumental in improving the quality of the Bay but ultimately every waterway in SEQ," Cr Sutherland said.
"We could only do that with the collective clout of the Council of Mayors SEQ and today it comes as second nature to encourage our young people to protect rivers, streams, beaches and the Bay.
"This hasn't always been the case and it is important that we have an oral history of the amazing journey to clean up our local ecosystem.
"I am immensely proud to be involved in a book that captures how we preserved and cleaned up Moreton Bay and the on ground efforts of our council and others mean we today have waterways we can all enjoy.
"We were so fortunate to have the scientific expertise of someone like Bill Dennison who is now making his mark on Chesapeake Bay, ten times the size and ten times the population of our area yet with the same challenges."
Following a ten year stint at the University of Queensland in Brisbane, Professor Dennison developed an active Marine Botany group at the University of Queensland with strong links to the Healthy Waterways Campaign for Moreton Bay.
He has applied the lessons from Moreton Bay to Chesapeake Bay.
"I love working with my Australian colleagues and Allan Sutherland's visit was perfect timing for the book we are working on," Dr Dennison said.