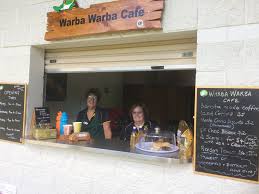 Café with a conscience at CREEC
If you like your coffee with a conscience, then you're in luck!
Moreton Bay Regional Council has today awarded a contract to the Morayfield and District Lions Club to run a social enterprise café at the Caboolture Regional Environmental Centre (CREEC), following a successful nine-month trial with the club.
Councillor for Division 12 Adrian Raedel said the Lions Club had proven it had the right skills and capacity to manage a café at the popular environmental centre.
"The Lions Club has committed to using the funds generated by the café to support the community," Cr Raedel said.
"Just in March and April alone the club raised more than $2000 through the café for early intervention kits for children diagnosed with cerebral palsy.
"As a father, I understand you already have enough on your plate to worry about without these added pressures and I am grateful that we have community organisations like the Lions Club standing by ready to help."
In keeping with the environmental theme, Morayfield and District Lions Club President Mark Bates said the café would "strive to be environmentally responsible and use crockery whenever possible and compostable takeaway coffee cups."
The compostable cups are processed on-site in partnership with the CREEC Community Nursery.
"We also bake everything fresh on site," Mr Bates said, adding the Lions Club had sold more than 412 Monte Carlos and close to 200 scones since the trial began in September.
The café is open from 9am to midday on Mondays, Wednesdays and Fridays. The Lions Club is also hosting a fundraiser for Australia's Biggest Morning Tea on Thursday, 23 May with all money raised going to cancer research.
Just to note the Café is not normally open on Thursday except for special events