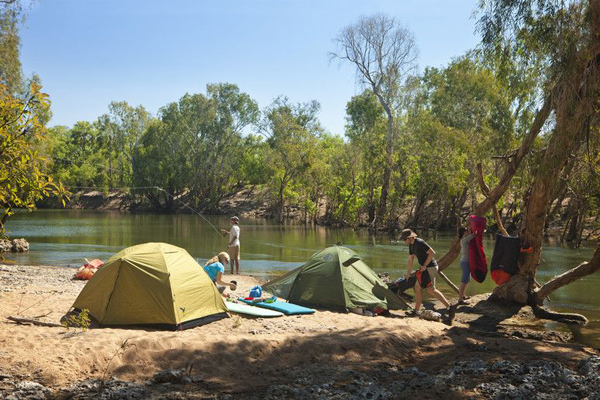 Holiday-goers urged to crack down on safety measures for Easter
Queenslanders are being urged to make safety a priority this Easter school holidays, especially if they're going camping or hiking.
Fire and Emergency Services Minister Craig Crawford said school holidays were a busy time of year for emergency services personnel responding to house fires, road crash rescues and holiday-goers in trouble.
"The excitement of the Easter holidays can make it easy for families to forget about reaching and enjoying their destination safely," Mr Crawford said.
"However, we want Queenslanders to remember the importance of adopting a safety-first attitude when it comes to their holidays.
"This includes taking precautions when you leave your home, driving with caution on the roads and keeping safety in mind while you're enjoying your holiday."
Mr Crawford encouraged campers to take extra care outdoors, especially when extinguishing campfires, and he highlighted the importance of bushwalkers being prepared.
"Bushwalking is a popular activity in the holidays, and those intending on enjoying a trek need to have the right plans and equipment prepared," he said.
"Items such as a first aid kit, thermal blanket, food and water supplies and appropriate footwear are essential for all bushwalkers.
"All hikers should also let someone know where they are planning to go and what time they expect to return."
QFES Commissioner Katarina Carroll urged Queenslanders to make sure their homes were left in a safe condition before they set off on their holiday.
"Whenever you leave the house, especially for an extended period, it's important to make sure you reduce any fire hazards in the home," Ms Carroll said.
"Before you leave, remove any flammable rubbish, store your combustible items properly and make sure you unplug your appliances from the electrical socket to minimise the danger of electrical fires."
Ms Carroll said it was also important for families to focus on reaching their destinations safely.
"Our firies have attended an average of nearly 2,400 motor vehicle accidents in March and April in the past five years," she said.
"We are asking everyone to drive safely on the road, follow the road rules and make plenty of rest stops if you're travelling a long way to avoid driving tired.
"Finally, when you do reach your destination, make sure all members of the family know the address of where you are staying.
"Helping our personnel locate you quickly in the event of an emergency can be the difference between life and death.
"If you are camping on the beach, make sure everyone in the family knows your beach access number because it is important that children are confident enough to pick up a phone and relay your location to Triple Zero (000) operators."