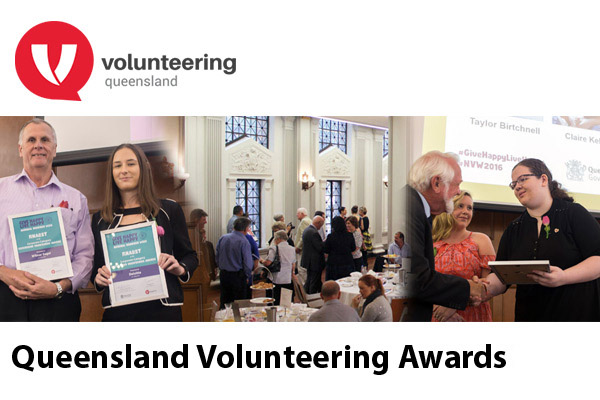 Nominate now for the 2019 Queensland Volunteering Awards
Take 15 minutes out of your day to really brighten up someone else's. We encourage you to nominate the unsung heroes of your community for the recognition they deserve.
Let's honour the volunteers, managers of volunteers, volunteer-involving organisations and businesses with corporate volunteering programs, who have gone above and beyond.
There are many people volunteering across a range of programs in Queensland. We want to showcase their stories, share their experiences and encourage others to join the volunteering movement.
So don't be shy! We want to hear from you! Nominate today!
Our quick and easy nomination forms can be found on our website, with only five or six short questions.
The award categories are:
Volunteer of the Year Award
Youth Volunteering Award
Lifetime Contribution to Volunteering Award
Excellence in Volunteer Management Award
Powerlink Queensland - Volunteering Impact Award (a volunteer program)
Corporate Volunteering Award (an employee volunteering program)
As part of the National Volunteer Week celebrations, everyone you nominate will receive complimentary attendance to the Awards Ceremony on Friday 24 May 2019, 10am - 12noon at Brisbane City Hall, with dignitaries and other community leaders. Nominees will still need to register for the event as there are limited spaces – 200 people capacity.
All nominees will also receive a Certificate of Recognition for their volunteering contributions during National Volunteer Week, 20 – 26 May 2019.
Happy nominating!
https://volunteeringqld.org.au/awards
Nominations extended until Sunday 31 March 2019.
Self-nominations are welcomed and we encourage you to tell your family and friends to be part of these inspiring awards.
If you have any questions, please feel free to contact our team on 3002 7617 or awards@volunteeringqld.org.au