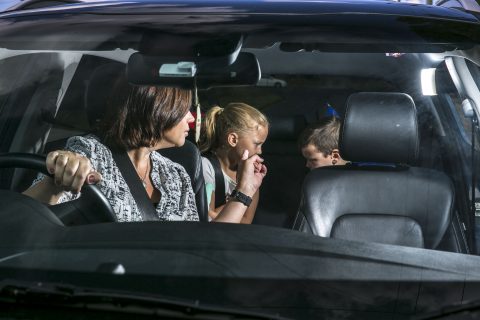 Do you have someone who likes to remove their seatbelt?
When driving your safety and the safety of your passengers is paramount.
The wearing of your seatbelt is such a simple task but for some families it can be a constant battle to get their passenger to wear or keep their seatbelt on.
This can be very distracting and obviously very dangerous for the driver, passengers, other road users and pedestrians.
It can become frustrating and to save the argument people become complacent.
So what can you do if you have a Houdini in the family?
Police would like to advise motorists that there are devices out there that may be able to assist you which prevent children removing their arms from their car seats straps or unbuckling.
They are simple and easy to fit with some targeting child car seats and others your normal seat belts.
Children who remove their arms from car seat straps can have an unobtrusive 'H' type strap placed across the straps preventing them from doing so.
Being a police officer who has photographed traffic accidents I have seen a young child thrown from their car seat after having their arms out of the straps.
It happens much easier than you think and can have devastating results.
If you have an un-buckler in the family then there are aftermarket electronic devices that can activate an alarm on your smart phone if someone has unbuckled allowing you to pull over quickly to rectify the situation.
The alarm sounds and does not require you to look at your phone.
There are also other devices that can be fitted over the seat belt release button which prevent the seat belt buckle from being disengaged either on purpose or by accident.
These can be useful for children and the elderly who like to escape from the binds of their seat belt.
There are also other products out there for children and adults with special needs or physical disabilities who may require a more specific type of seat or restraint.
If your child has a physical disability that prevents them from using a compliant child restraint or seatbelt you should discuss this with your doctor who may be able to provide a certificate authorising that your child should not wear a seatbelt and provide instruction on how they should be safely transported.
This also applies to children who have a temporary medial condition that may prevent them from wearing a seat belt in the prescribed manner.
However police urge you to please do your research and ensure that the device complies with the Australian standards before purchase.
| | | |
| --- | --- | --- |
| Product | Australian Standard No. | Further Requirements |
| Child Restraint (car seats, boosters etc) | AS/NZS 1754:2004 |   |
| Aftermarket Accessories | AS/NZS 8005:2013 |   |
| Car seats or car seat modifications for persons with disabilities or medical conditions | AS/NZS 4370:2013 | To use a restraint under this standard you will need to obtain a prescriber's certificate. A prescriber's certificate may be issued by a medical practitioner (general practitioner or specialist), occupational therapist, psychologist, physiotherapist or biomedical engineer. For exemptions and  more information on how to obtain a certificate click here. |
A printable Queensland Child Restrain Guide can be found here.
---