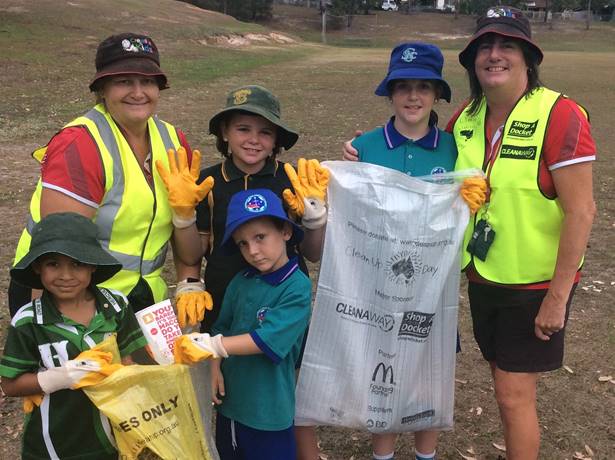 Clean Up Australia Day removed 3.1 tonnes from Moreton Bay
Armed with bags and gloves in hand, more than 4,905 locals rolled up their sleeves and scoured the Moreton Bay's beaches, parks, roads, nature reserves and sporting complexes on Clean Up Australia Day.
Moreton Bay Regional Council Mayor Allan Sutherland said the efforts of local volunteers was phenomenal, and he thanked everyone who pitched in and lent a hand.
"To the amazing local volunteers who collected more than 3.16  tonnes of litter from 133 locations across the Moreton Bay Region, we thank you," Mayor Sutherland said.  
"That's a whopping 88 wheelie bins full of destructive litter removed from our local environment. Of course it should never have been there in the first place but thanks to these volunteers 2.57  tonnes will be appropriately processed as general waste with 590kgs of the clean up going to be recycled.
"Our volunteers even uncovered some unexpected items including, a camp toilet, 6 x shop displays still wrapped, a bag of shoes, a shattered ceramic bowl, and a love letter in a bottle written in Italian. A large python was also reported and relocated from a childrens playground in Arana Hills.
"I can't understate the difference that your time, energy and effort has made to our local environment, parks, waterways and nature spaces."
Asset Construction & Maintenance Spokesperson, Cr Adam Hain, said while Clean Up Australia Day was a great opportunity to ensure the Moreton Bay Region was looking its best, it was also a vital awareness raising tool about the damaging effects of litter.
""Littering and illegal dumping costs the community millions of dollars each year, has a negative impact on our recreational use of public areas, and pollutes our environment.
"There is more than 5 trillion plastic pieces floating in our oceans, and it is estimated that ocean plastics kill millions of marine animals each year. Scientists also estimate plastics will take up to 450 years to biodegrade, with some believing they never breakdown.
"It is more important than ever to put your rubbish into a bin and not contribute to the harmful impacts of these materials on our local and global environment."
With waste bins provided in public places and foreshores, weekly waste collection services, and subsidised waste disposal for residents at 12 local waste facilities, there's really no reason to litter or dump unwanted items.
Photo above : Wade Eri, Regina Carlton, Taylor Cameron, Leo Johnson, Ripley Nunn and Joy Smith.