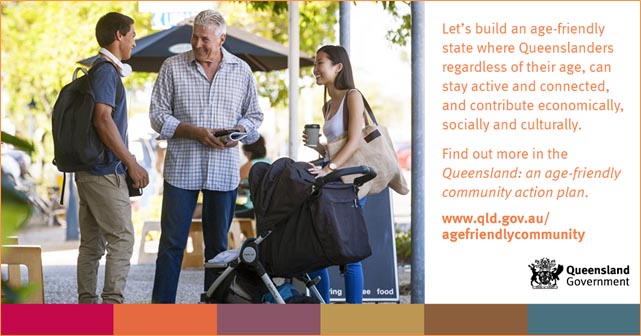 Age-friendly workshops roll out across Queensland
The first of 13 regional age-friendly workshops has been held by the Palaszczuk Government on the Sunshine Coast today (8 February) to help make communities across the Queensland more inclusive and accessible for people of all ages.
Assistant Minister for Veterans' Affairs and Assistant Minister of State Jennifer Howard attended the workshop which was held at the Lake Kawana Community Centre.
"Our aim is to ensure Queensland seniors feel valued, respected and actively engaged in their community," Ms Howard said.
"The best way to do that is to assist local communities to develop and implement inclusive approaches that reflect the diversity of older people.
"This is just one part of our vision to build thriving communities right across Queensland.
"It's also about bringing the Queensland: an age-friendly community plan to life."
Representatives from Chambers of Commerce, The University of the Third Age, staff from the University of the Sunshine Coast, neighbourhood centres, and community groups comprised the first workshop's attendees.
"These people have all been involved in creating age-friendly communities in the past, and we value their contribution and experience," Ms Howard said.
"Our government has also created resources to help build a greater understanding of what an age-friendly community really means.
"These resources, including the Age-friendly Communities Good Practice Review and the Age-friendly Toolkit, will be the focus of the 13 regional workshops."
The Age-friendly Communities Good Practice Review provides contemporary examples of successful age-friendly community work around Australia, as well as overseas. The Age-friendly Toolkit serves as a practical guide to assist local councils, communities and businesses in developing local age-friendly initiatives.
"These workshops highlight the benefits of age-friendly initiatives and touch on the missed opportunities that can occur as a result of not pursuing age-friendly avenues," Ms Howard said.
"Any organisation—be it a not-for-profit, a business or a government agency—can be part of creating an age-friendly community.
"I strongly encourage everyone to visit our Queensland: an age-friendly community website to access valuable resources like the Age-friendly Toolkit."
For more information on Queensland: an age-friendly community, visit: https://www.communities.qld.gov.au/seniors/queensland-age-friendly-community