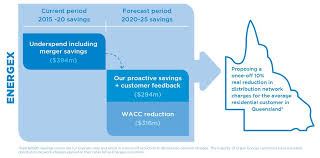 Queensland households to benefit from Ergon Energy and Energex investment plans
Queensland households are set to save $58 on their electricity bills over the next year, due to a 10.3 per cent reduction in electricity distribution network charges.
Ergon Energy and Energex have included the reduction in their regulatory proposal plans tabled with the Australian Energy Regulator (AER) this week (31 January).
Ergon Energy and Energex are part of the Energy Queensland Group which is 100% owned by Queenslanders.
Energy Queensland Chief Executive Officer David Smales said the average residential electricity customer in Queensland will receive the 10.3% real reduction in distribution network charges from 2019-20 to 2020-21 on their existing tariffs.
"Our investment plans for Ergon Energy and Energex do not contain a single dollar more than is absolutely necessary to deliver safely, and efficiently, to our communities into the future," he said. 
"This material once-off reduction is in addition to the on average 7% annual reductions that have been delivered every year to date since 2015.
"Customers may also see further savings if they choose to opt-in to one of our new cost reflective tariffs, including tariffs that we have started developing since the release of our draft regulatory proposal plans and which are the subject of ongoing consultation."
Mr Smales said Energy Queensland's board, management team and employees lived and worked in communities throughout Queensland.
"As a result we are all acutely aware that electricity affordability is a major concern from a cost of living perspective," he said.
"The many conversations we have had with Queenslanders have reinforced our core purpose – communities and customers clearly want us to 'safely deliver affordable, secure and sustainable energy solutions'.
"Our investment plans that we have tabled today with the AER are not just about how we will operate the electricity networks during the next five-year regulatory period from 2020 to 2025, but also well beyond that into the future, targeting savings for our customers."
Mr Smales said to help take the pressure off electricity prices, Ergon Energy and Energex would continue to drive down the cost of distributing electricity across Queensland.
"We continue to look for ways to make electricity more affordable across our networks, and to advocate for the reforms needed for a bright energy future for all Queenslanders," he said.
"We will continue to engage our communities and customers, as the AER now goes about making its revenue determinations for our distribution services in the future.
"We are passionate in our belief that an ongoing open dialogue is fundamental to creating real long-term value for all of Queensland's communities and customers."
For a copy of the Regulatory Proposals for Energex and Ergon Energy visit www.talkingenergy.com.au