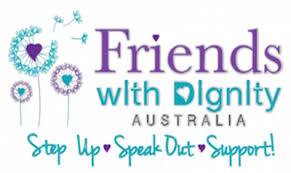 Friends With Dignity Little Friends Scholarship Round Four Applications OPEN NOW!
Friends With Dignity is a national Not-For-Profit organisation providing assistance to men, women and children who have been displaced by domestic and family violence.

We are pleased to announce that Friends With Dignity has launched its fourth round of bi-annual monetary scholarships to children who have faced/facing Domestic and Family Violence throughout Australia.
Normally all Friends with Dignity programs are on a referral basis only from Support Organisations and Refuges, however the Little Friends Scholarship Program is open to everyone and affords Parents the opportunity to submit an application to support their children personally.
Applications are open now and close Sunday 24 February 2019 and require a co-signatory (with the parent/guardian) by either a GP, Paediatrician, School Principal, School Counsellor or Support Worker to support the Application.
Can you please forward the attached Scholarship Program Outline and Application to the relevant personnel within your network that may engage with a family facing Domestic and Family Violence, so they can also have access to this vital information.
It is not a requirement that children are currently living in Refuge.
We would appreciate it if you could please share the content of this email on your Facebook page, and with anyone who you feel would be interested.
You can find all the latest information regarding our Little Friends Scholarship Program at our Facebook event page: Little Friends Scholarships Round Four.
THE LITTLE FRIENDS SCHOLARSHIP
Our Little Friends Scholarship has been established to ensure all children have the ability to either further their education and/or be able to participate in extra-curricular activities that they may not be able to pursue due to the financial impact of Domestic and Family Violence within their family environment.
Anyone interested to apply for the Little Friends Scholarship Program can visit: http://www.friendswithdignity.org.au/little-friends-scholarship to download an application form.
Again, round four applications are open now and close on Sunday 24 February 2019.
If you, your workplace, or someone you know wish to donate to the Friends With Dignity Little Friends Scholarship program, the Little Friends Scholarship Community Fund website can be found at MyCause: https://www.mycause.com.au/page/179288/little-friends-scholarship-community-fund.