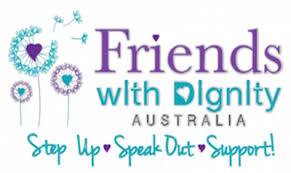 Friends With Dignity Launches Emotional Campaign In Support Of Its Little Friends Scholarship Program
Australian Charity of the Year 2018, Friends With Dignity has launched an emotional campaign in support of its Little Friends Scholarship Program.
The not-for-profit organisation has started posting videos to its Facebook page of volunteers reading heartfelt applications received throughout three rounds of the scholarship program.
The program, which is an Australian-first, awards bi-annual monetary scholarships to children throughout Australia who have faced, or are facing, domestic or family violence.
"The purpose of the 20 Stories In 20 Days campaign is to open the eyes of the general public to the ongoing trauma these children have faced, even years after the initial abuse," said Friends With Dignity Director and Chief Financial Officer, Julia McKenna.
The educational and extra-curricular scholarships help to cover a variety of expenses from helping kids attend camp and after-school activities with their peers, to providing uniforms.
The first three rounds of the program have seen a total of 68 scholarships awarded, with a minimum of 40 scholarships on offer in round four.
"Our 20 Stories In 20 Days campaign is an opportunity to give a voice to people who often go unheard," said Friends With Dignity Director and Chief Executive Officer, Manuela Whitford.
"We want to share some of their stories that touched our hearts, and made the selection of who was more worthy so very difficult."
The nationwide domestic and family violence support charity responded to requests from the community wanting to contribute to their Little Friends Scholarship program by launching the Little Friends Scholarship Community Fund in round three, allowing the general public to also help children in need.
"Donations to the Little Friends Scholarship Community Fund can be large or small. All funds received will be pooled together in $500 amounts (the size of a scholarship), and all donations over $2 are tax deductible," said Friends With Dignity Director and Chief Operations Officer, Zoe Scharenguivel.
"We would like to attract more people to apply for the scholarships, and also more donations from the community and corporates so we can grant even more children the ability to shine in their own right, either through furthering their education or participating in extra-curricular activities.
"The need within our communities is so large - the more assistance we can receive in raising funds, the more children can be assisted and know an entire community is behind them and wanting only the best for them."
Anyone interested to apply for the Little Friends Scholarship Program can visit: http://www.friendswithdignity.org.au/little-friends-scholarship to download an application form. Round four applications are now open and close on the 24th of February, 2019.
The Little Friends Scholarship Community Fund website can be found at MyCause: https://www.mycause.com.au/page/179288/little-friends-scholarship-community-fund.
The 20 Stories In 20 Days campaign can be found at: http://www.facebook.com/friendswithdignity.