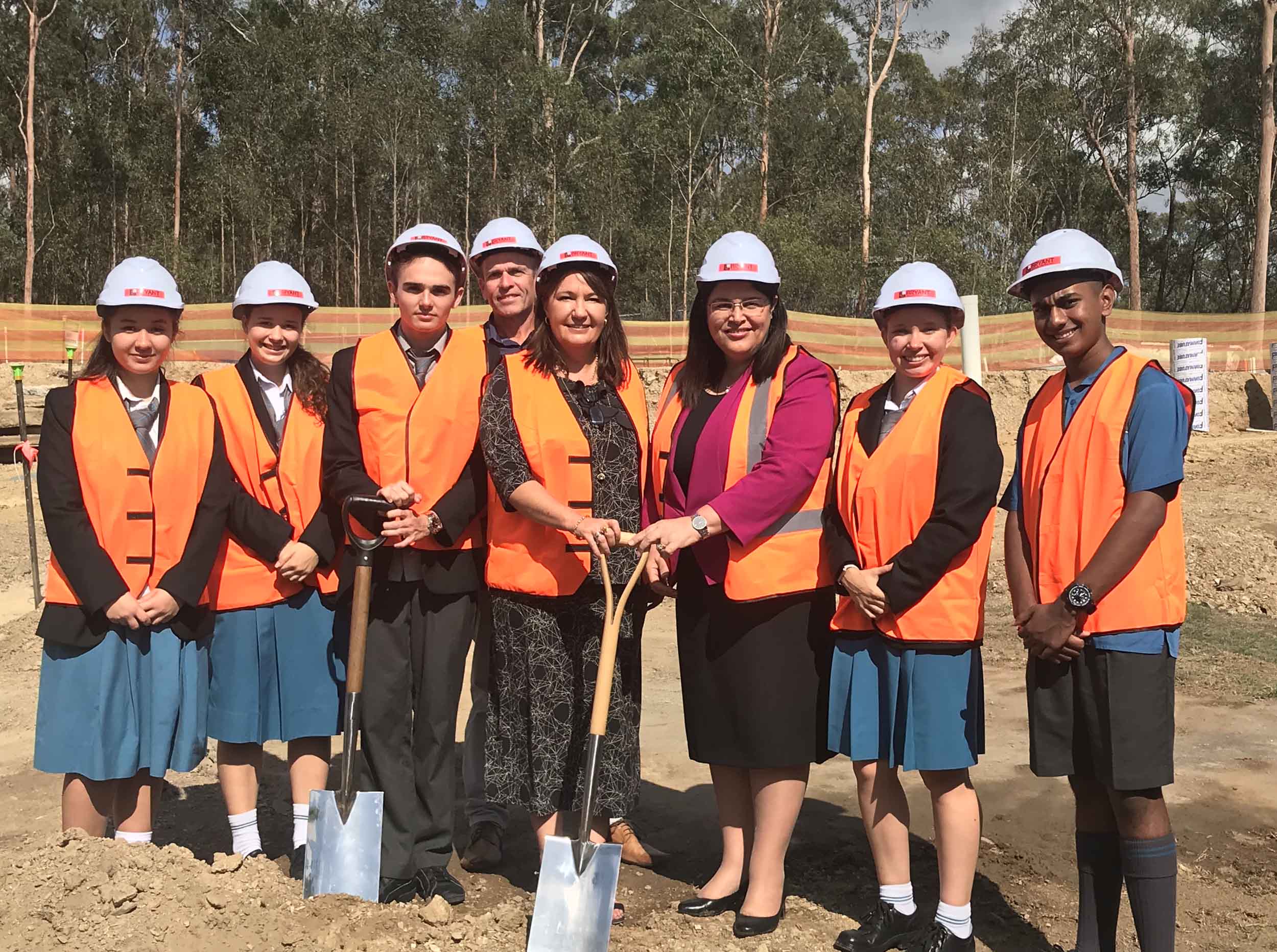 Albany Creek State High School one step closer to $6 million learning centre
A $6 million two-storey learning centre being built at Albany Creek State High School will ensure the school can cater for the learning needs of its students well-into the future.
Education Minister Grace Grace turned the ceremonial first sod on the site of the centre today. The project is expected to support around 16 full-time jobs during construction.
"When finished, this new building will include four general learning areas, two flexible learning spaces, a robotics lab, two covered outdoor collaborative learning spaces, a development area and amenities, as well as associated storage, data and prep rooms," Ms Grace said.
"The inclusion of new offices, and a staffroom equipped with a kitchen will also cater for the school's growing teacher population.
"With flexible spaces that can accommodate classes in a range of diverse subject areas, along with an open undercroft space, the new learning centre is an important investment in the future of this growing school."
Ms Grace said the project would be delivered as part of the Palaszczuk Government's 2020 Ready program, which was delivering the infrastructure needed to manage the increased student population in high schools resulting from the introduction of Prep in 2007.
"Jobs are Annastacia Palaszczuk's number one priority. We're taking action across the state to boost our economy and ensure that it's Queenslanders that benefit. As Education Minister, that means making sure schools are 2020 ready by building the infrastructure we need," she said.
"With the original half-cohort of Prep students set to graduate from high school at the end of 2019, we will have — for the very first time in 2020 — six full year levels of students in Queensland state secondary schools."
Albany Creek State High School Principal Janelle Amos said the new learning centre was designed to be responsive to the changing learning needs of students and flexible teaching practices.
"This centre will provide shared and modern learning spaces for all subject areas to match the modern curriculum offered to our students," Ms Amos said.
"The entire school community is looking forward to this new multi-purpose building, which will support our students to pursue their passions in mathematics, science, robotics, and the creative arts."
Ms Grace said the Palaszczuk Government had a proven track record of delivering world class facilities and infrastructure projects for Queensland schools.
"In 2018–19, we are delivering an overall infrastructure investment program across the state valued at more than $923 million," she said.
"This investment is helping to drive the Queensland economy by supporting an estimated 2676 full-time jobs, through the delivery of important infrastructure projects right across the state.
"The Palaszczuk Government is proud to be investing in local school infrastructure in our state schools to support teaching and learning. We recognise the importance of this work to create productive and stimulating learning environments while supporting jobs and the local economy."