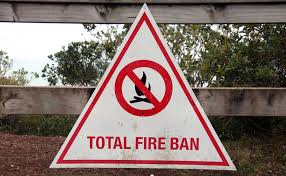 Hot, dry conditions force long weekend Local Fire Ban for Bribie & Moreton Islands
Queensland Fire and Emergency Services (QFES) will impose a local fire ban for Bribie Island, Moreton Island, North Stradbroke Island and South Stradbroke Island over the Australia Day long weekend, ahead of forecast dry and hot conditions.
This ban would take effect from 0001hrs Friday 25 January and was expected to continue until 2359hrs on Monday 28 January.
Rural Fire Service (RFS) Brisbane Regional Manager Wayne Waltisbuhl said while the decision to impose a local fire ban was not taken lightly, it was essential to protect people in bushfire-prone areas. 
 "We know these spots are very popular among campers and we are imposing a local fire ban to ensure everyone can have a safe and enjoyable long weekend," Mr Waltisbuhl said.
"Brisbane has seen very little rainfall in recent months, so the ground is dry and vegetation will burn easily if a bushfire breaks out, especially given current weather conditions."
Mr Waltisbuhl said the ban would not apply to barbecues but would prohibit lighting of any open fires, including campfires.
"Fires contained in a properly constructed, enclosed barbecue are still permitted, as are gas cookers, provided they are not left unattended," he said. 
"Residents who are planning to do some work around the house over the long weekend are still permitted to use machinery and equipment, but we ask everyone to be extra vigilant and have suitable equipment on hand to extinguish any fire that may start.
"One spark is all it takes to start a bushfire that can pose a threat to properties and lives.
"We don't want to see a repeat of the recent fires on North Stradbroke Island and Bribie Island, which had a significant impact on those communities and also led to smoke affecting the greater Brisbane area."  
Queensland Parks and Wildlife Service (QPWS) also warned fires in fire rings or fire places were not permitted in these National Parks or Recreation Areas. 
Queensland Police Service (QPS), rangers from QPWS and campground managers will be patrolling camp areas to ensure campers are following the local fire bans.
For more information about fire bans, visit the Rural Fire Service website: https://www.ruralfire.qld.gov.au/ .