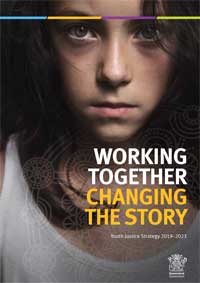 Youth Justice Strategy changing the story for young people
The Palaszczuk Government has today released Queensland's first Youth Justice Strategy outlining ways to keep communities safer and reduce youth reoffending across the state.
Minister for Child Safety, Youth and Women Di Farmer said the strategy Working Together Changing the Story 2019-2023 provides an evidence-based framework that will deliver initiatives proven to reduce offending, reduce reoffending and address the over-representation of Aboriginal and Torres Strait Islander young people in the youth justice system.
"The safety of our community is paramount, and Queenslanders have the right to feel confident that they are safe," she said.
"The community expects young people to be accountable for their actions, and so do we.
"The community also doesn't want to see young people reoffending.
"Evidence shows that by placing young offenders in detention, they are more likely to re-offend.
"We can't continue to keep doing the same things over and over and expect a different result.
"We need to do what works.
"Initiatives like Transition 2 Success have shown some really promising results, where 75% of young people who complete a T2S program did not reoffend within six months.
"Fifty-nine percent of young people who completed a restorative justice conference also did not reoffend within six months.
"This strategy is about changing the story for our young people and our community.
"It provides a framework that will strengthen prevention, intervention, restoration and rehabilitation, including a focus on engaging families and communities. 
"It will lay the foundation for an Action Plan based on initiatives that work to the number of young people offending and on remand." 
More than 80% of young people in detention in Queensland are on remand, well above than the national average of 61%.
Ms Farmer said the Strategy is based on the 'four pillars' recommended by Mr Bob Atkinson AO APM in his Report on Youth Justice.
The four pillars are: intervene early, keep children out of court, keep children out of custody and reduce reoffending.
"Many of the young people who are held on remand instead of being bailed are there because they don't have a safe home to go to," Ms Farmer said.
"That's why we are investing almost $17 million over three years to support young people charged, or at risk of being charged with offences, so we can keep them out of detention and divert them toward more positive activities."
One of the key elements of the Strategy is to ensure strong engagement with Aboriginal and Torres Strait Islander communities to support them to come up with their own solutions.
Ms Farmer said change would require everyone to play a part in supporting and influencing the lives of children and young people.
"Change will take time, but there are lots of positive things happening right now that we can build on to improve the outcomes for families, communities and our young people," she said.
"I would really like to thank and pay tribute to the many other agencies, experts, community leaders, young people and the general public who took part in consultations that have led to this strategy, and to the 20 members of the reference group who gave so freely of their time and experience in guiding the development of the document."
The Action Plan will be developed in the first half of 2019 to give effect to the vision outlined in the Strategy.
The Strategy can be found here: https://www.csyw.qld.gov.au/youth-justice/youth-justice-strategy