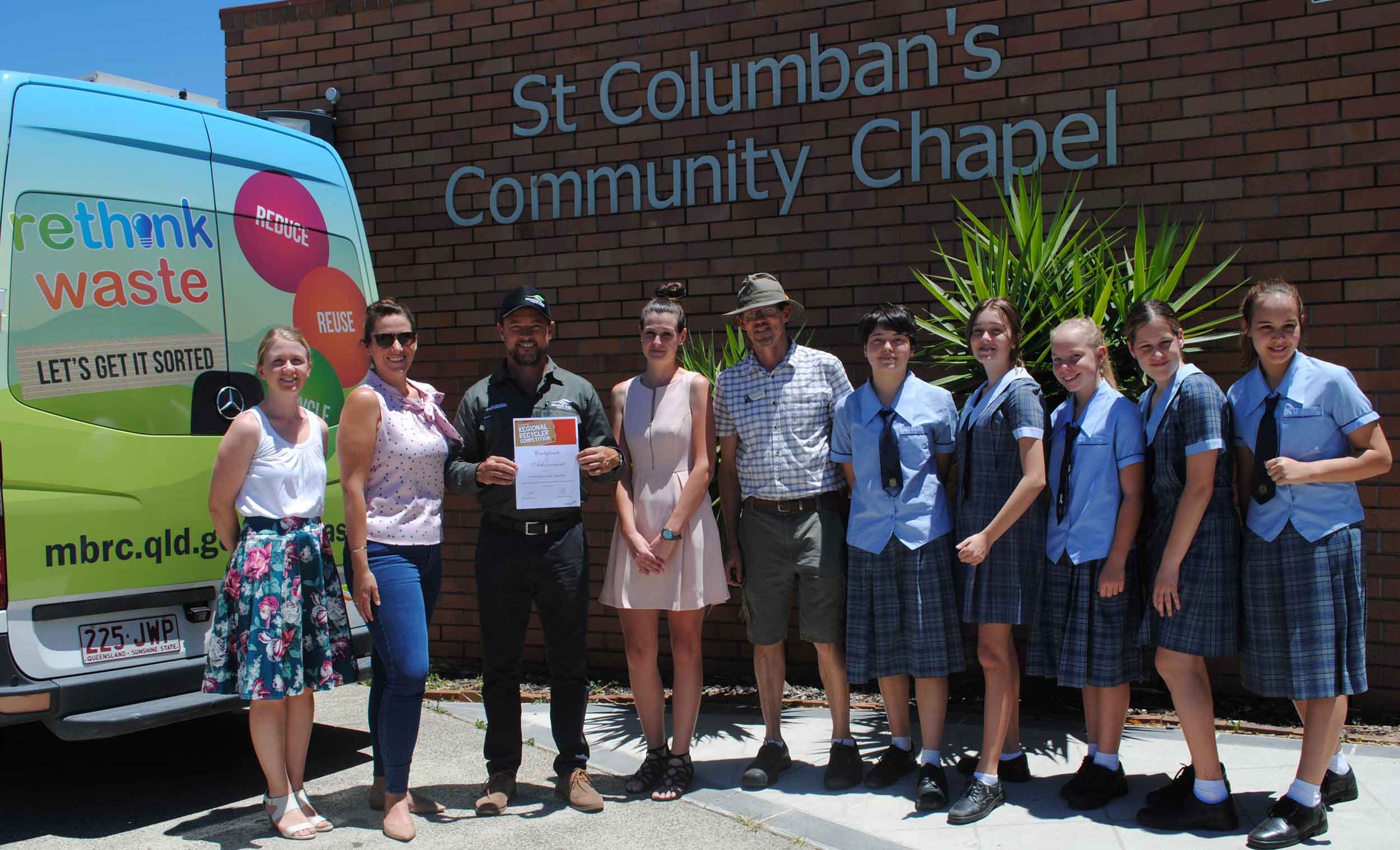 Say no to ziplock bags in schools part 2
An impressive campaign to scrap ziplock bags from school has earned Mount Samson State School the title of Regional Recycler Champions for 2018.
Mayor Allan Sutherland announced that the students of Year 3B were the winners of the $2,500 award for their 'Zero Ziplock Bags' challenge, which found alternative solutions to packaging tuckshop lunch orders.
"These kids are amazing, not only are they protecting the environment but their research shows they're also saving the school money, so I'm thrilled to make this announcement in the month of National Recycling Week 2018," the Mayor said.
"The school now promotes brown paper bags and reusable containers, removing 6000 plastic ziplock bags each year from the environment and raising the issue in their school for better environmental choices in the future.
"By replacing the plastic single-use disposable product with planet friendly lunch wrappers, students chose a sustainable alternative, placing less strain on our beautiful environment.
"That's an amazing achievement for such a young group of people, who will no doubt grow up to become thoughtful leaders in our community.
"In fact I think other schools should look at their single use plastic items being disposed daily such as ziplock bags, single portion wrappers or straws and replicate this successful program.
"Caring for our environment is everyone's responsibility and it's heartening to see local children, the next generation, showing this level of initiative."
As part of the 2018 challenge students could come up with any solution they liked in the form of avoidance behaviors', reducing or reusing schemes or recycling measures.
The condition was that it could not be a type of plastic that was already accepted in recycling bins so plastics such as straws, chip packets, shrink or bubble wrap, plastic cutlery, yoghurt/food pouches, laminated items, polystyrene cups/plates/packaging fitted the criteria.
Councillor for Division 11 Darren Grimwade congratulated Mount Samson State School for their efforts stating the award showed how we could all play a part in creating a better environment.
"I'm so proud of our kids for being able to channel their innovativeness to highlight the importance of recycling by developing a concept that put a spotlight on the issue," Cr Grimwade said.
"With single use plastic waste increasing each year, research estimates there is more than 5 trillion plastic pieces floating in the oceans.
"It is unknown how long plastics will take to completely degrade, with estimates from 20 years for a plastic shopping bag and harder plastics taking from 450 years to never really disappearing from our environment."
Goodstart Early Learning Centre Redcliffe, Ashmole Rd and St Columban's College Caboolture each received Highly Commended awards ($500) for implementing programs to reduce and avoid using plastics that generate more waste for disposal, and that may contribute to litter at the school.
The year 7-9 Student Environment Committee from St Columban's launched a campaign to ban the Plastic Straw following a litter and school bin audit while Goodstart Early Learning Centre looked at ways to reduce plastic as part of their day-to-day activities such as replacing plastic bag food covers and substituting laminated art, photos and information to display inside picture frames.
Mayor Sutherland said the annual Regional Recycler Competition is part of council's ongoing Community Waste Minimisation Program, which has engaged more than 210 early learning centres, primary and secondary schools, Day Care centres and Outside School Hours Care in the region.
The program was recognised state-wide in 2016, taking out the 'Community Award' at the Premier's Sustainability Awards.
"Through school-based initiatives like these, we're planting the green seed early and ensuring that our youngest residents are helping overall recycling efforts, which just last year saw 33,000 tonnes of kerbside waste recycled and over 43 per cent of the total waste generated was recycled or diverted from landfill," Mayor Sutherland said.
Photo above: Cr Hain with Teachers and Coordinators of the Environment Committee (L to R) Natalie Bressan,Natalie Devine, Brendan Walsh
Photo below : Cr Winchester with Mynette (Director), Mason, Isla, Kate and Scarlett from Goodstart Early Learning Centre Redcliffe Student members of the Environment Committee(L to R) Mistaya Richards, Carrera Garcia, Tiara Brown, Greah McInnes and Mia Johnson