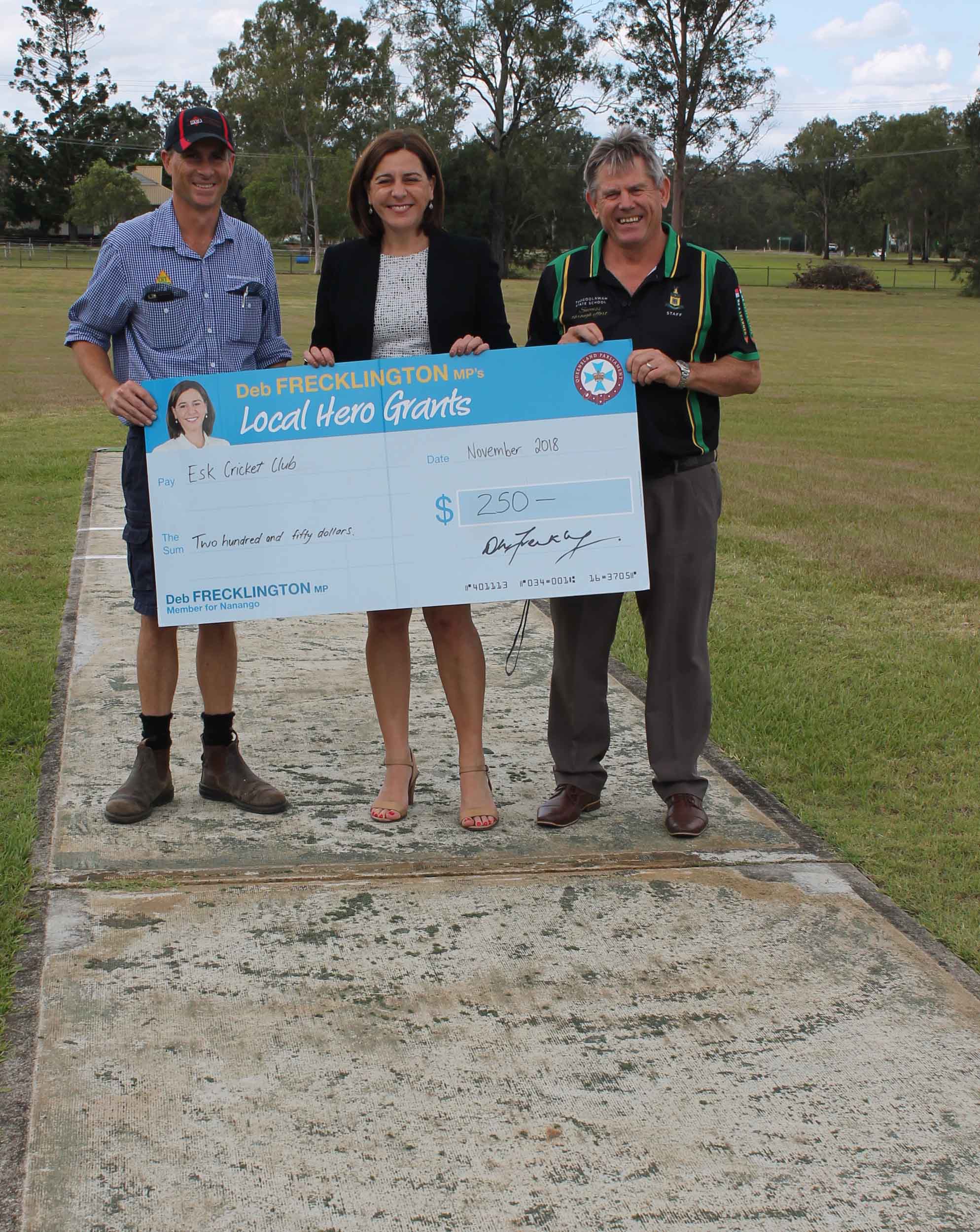 Esk Cricket Club are Local Heroes
Member for Nanango, Deb Frecklington has proudly presented one of her Local Hero Grants to the Esk and District Cricket Club to help them purchase equipment and re-surface their home-ground cricket pitch in Toogoolawah.
Mrs Frecklington presented the grant to the club's president, Anthony Buchanan, and Toogoolawah State School Principal, Gary Hutchinson.
"During the bushfires around Toogoolawah in September, the artificial turf covering the cricket pitch at Toogoolawah State School was blown away when an emergency helicopter landed on the school oval," Mrs Frecklington said.
"The Esk Cricket Club junior teams use this cricket pitch for their home games, but rules for junior cricket state that the pitch must have an artificial turf cover and games cannot be played on a concrete surface.
"The club wrote to me seeking some assistance to help them repair the pitch and I was really happy to help with one of my Local Hero Grants.
"The Esk Cricket Club has seen some ups and downs, but they currently have an Under 10's team and a combined Under 13's team with Helidon so they are keen to enjoy a good summer of cricket and grow their members," Deb said.
The other successful applicants for Round 7 of Deb's Local Hero Grants include:
Nanango State School P&C to assist students who may not be able to afford uniforms, stationery etc
Summer Millard to help her attend the Athletics Australia Track & Field Championships in Sydney in early 2019
Cherbourg Hornets to help purchase shirts for the women's senior team
Esk and District Cricket Club to help purchase equipment and repair the cricket pitch.
Round 8 of Deb's Local Hero Grants is now open with applications closing 31 March 2019. If you would like to apply, please go to the website at www.debfrecklington.com.au or contact the Nanango Electorate office on 4190 7100 for the guidelines.
ENDS…
Photo: Member for Nanango, Deb Frecklington, presented a Local Hero Grant to the President of Esk & District Cricket Club, Anthony Buchanan and Toogoolawah SS Principal, Gary Hutchinson