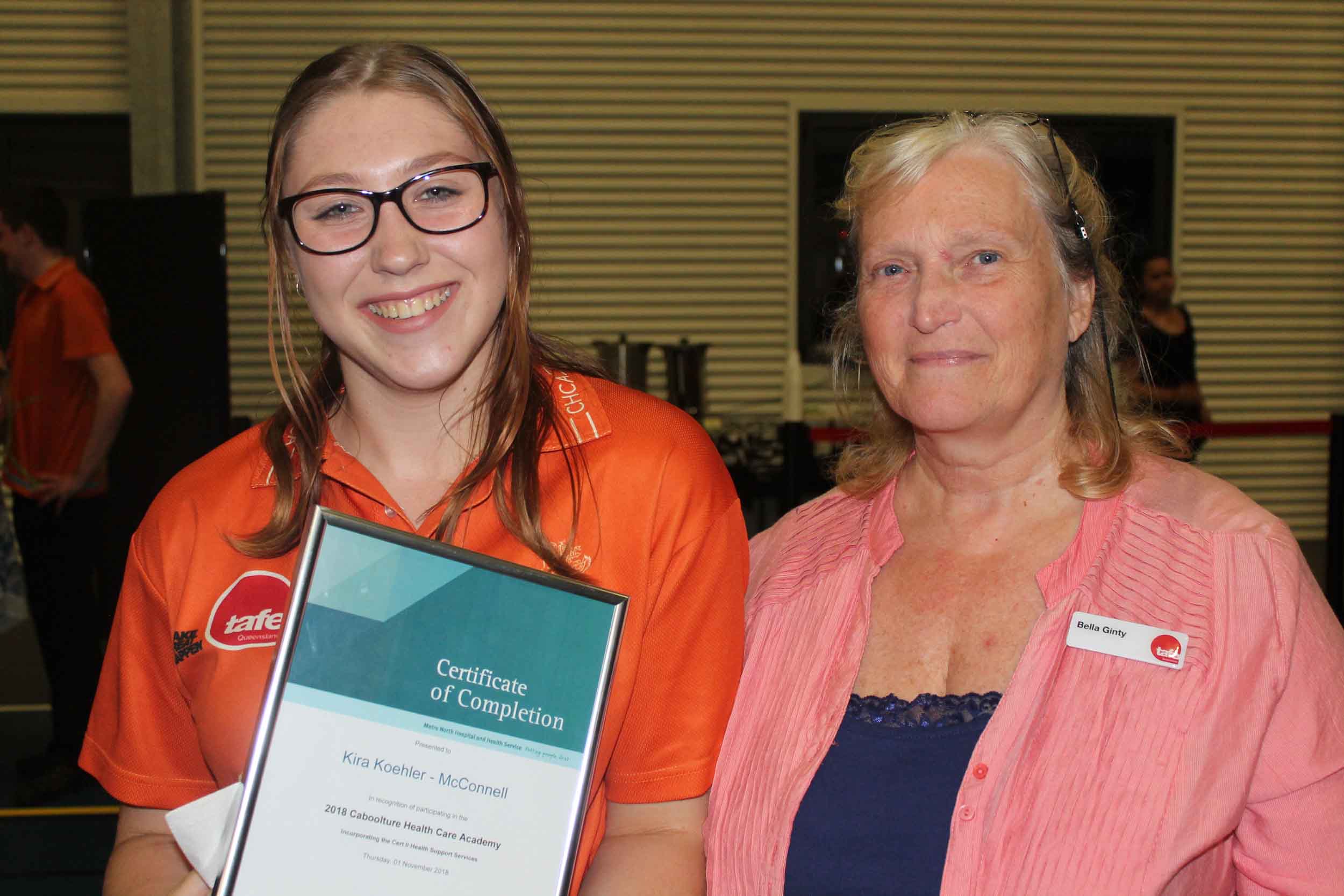 Caboolture Health Care Academy and School Based Traineeship graduations as Caboolture Hospital giving kids a dose of local medicine
Caboolture Hospital is helping to tackle youth unemployment in the Moreton Bay region with two innovative training programs developing the next generation of health care workers.
Minister for Police and Corrective Services and State Member for Morayfield Mark Ryan said 49 Moreton Bay school-leavers were now ready to take on careers in the health industry, after graduating last month from the Caboolture Health Care Academy and Metro North School-Based Traineeship programs.
Mr Ryan congratulated the young graduates for their commitment to achieving successful results, in addition to their regular senior school studies, work, sporting and social commitments. 
"More than 220 students have graduated from the Metro North School Based Traineeship and Caboolture Health Care Academy programs since traineeships started in 2005," Mr Ryan said.
 
"Almost 80 per cent of graduates since 2012 employed at the end of their studies are still working within the Metro North health service, which is an outstanding result."
 
The two programs represent a unique and innovative partnership between the Australian Training Company and TAFE Queensland Brisbane (Caboolture Campus) and Metro North HHS hospitals and health facilities, with students training across a range of facilities including Redcliffe, Caboolture and Kilcoy hospitals.
 
"These programs are delivering terrific young workers into a range of health services in the Moreton Bay region, where they can make a real difference in their own, local community," Mr Ryan said.
 
The intake of students increased this year across various streams including nursing, administration, allied health, operations and food services, with a further increase planned for 2019.
 
"Given the extraordinary technological advancements we are seeing right across the industry, this next generation of workers will revolutionise patient care into the future.".
 
Caboolture Hospital Executive Director Dr Lance Le Ray said programs like these give young people a dose of local medicine, through exceptional training coupled with hands-on experience.  
 
"Workforce trends suggest that one in four Queensland jobs will be in the health industry over the next five years, so it makes sense that Caboolture Hospital is leading the way by investing in this next generation of workers, to meet this growing demand," Dr Le Ray said.
 
"Initiatives like these are a terrific example of how communities can work together to tackle youth unemployment, while taking strategic steps to future-proof the health industry and address growing demand," he said.
 
The Caboolture hospital has also trialled an Internship Program this year, linked to the Caboolture Health Care Academy.
 
"Three interns received a 12-month full-time contract with Food Services and Operational Services after leaving school to help them continue to develop and grow into future health care workers.
 
"I am very pleased to be able to support these programs and I look forward to seeing more graduating students in the health workplace in the months and years ahead," Dr Le Ray said.
 
For further information about the Caboolture Health Care Academy and Metro North School Based Traineeships, send an email to Caboolture.Engage@health.qld.gov.au
Pictured above: Kira Koehler-McConnell and Bella Ginty TAFE Queensland Brisbane Caboolture Campus teacher