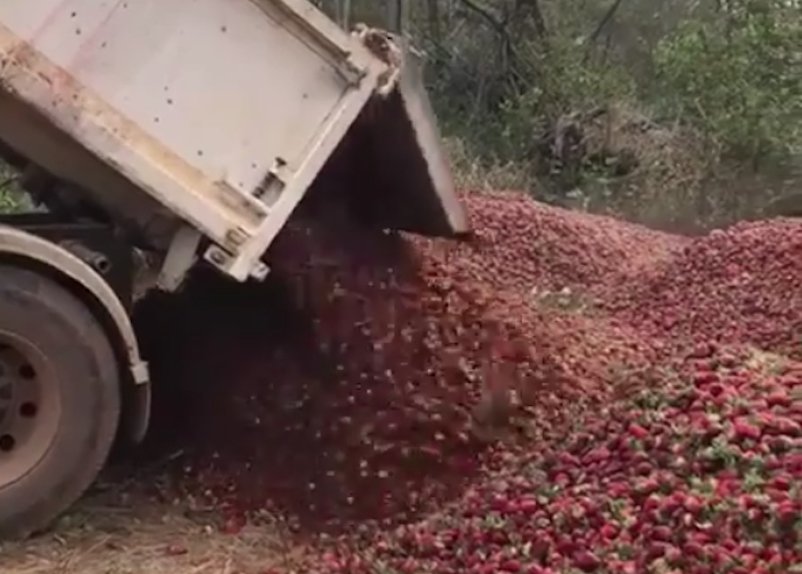 The heartbreak of strawberries being dumped by the truckload
The heartbreaking impact of the crisis was demonstrated in a video from Donnybrook Strawberries, an early victim of the Queensland crisis, which has now been forced to dump ripe strawberries by the truckload.
Stephanie Chheang, whose mother and stepfather built up the business, posted the video on Facebook saying her family lost it all within three days.
"My mum Leena Lee Cufari and my step dad has worked years to build the empire they're sitting on now, they put all their money and effort in to build such a successful business," she wrote.
"They work hard to make the money for our family and to have these selfish individuals destroy it is just so upsetting."
She said her mother works through the night managing the shed with 250 employees packing strawberries.
"This will not stop my family from doing what they do best, if anything they're going to do better," she wrote.
"I thank everyone who supports us and all the other farmers who were affected by this horrible issue. We thank you from the bottom of our hearts."
Here's the heartbreaking video.
Today Queensland Premier Annastacia Palaszczuk announced a $1 million support fund for strawberry farmers saying the state was the victim of an "ugly, calculated and despicable crime".
Farmers are now buying $20,000 metal detectors in a bid to ensure the fruit is leaving their farms uncontaminated.
Six brands of strawberry punnets – Berry Licious, Berry Obsession, Donnybrook, Oasis, Love Berry and Delightful Strawberries – have now been recalled nationally, and while Aldi has begun to restock the fruit, strawberries remain off the shelves at Coles.