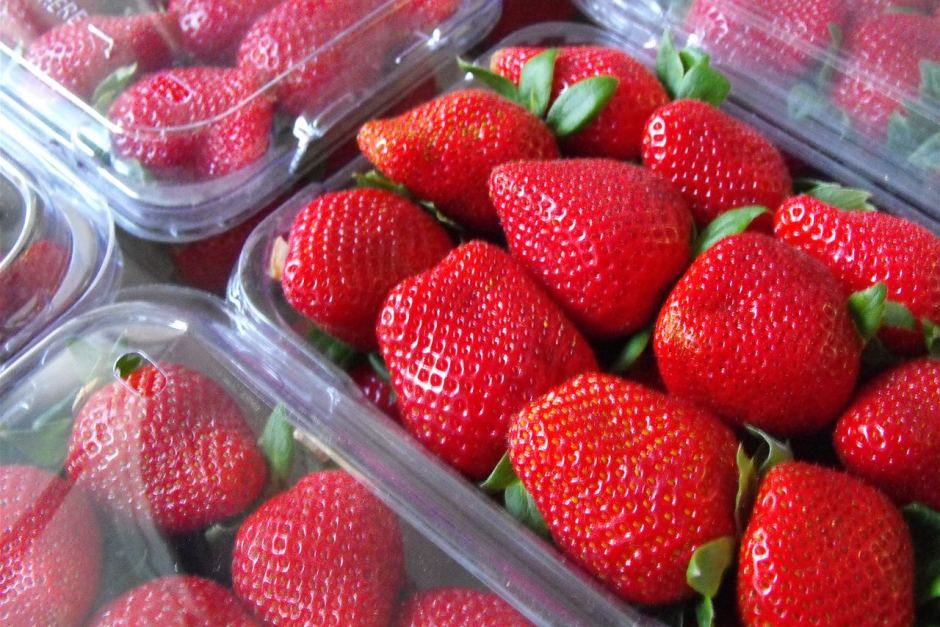 Strawberry farmers domino effect kick starts reply in support
One of the biggest suppliers of quality fresh Queensland strawberry's are located  in the Greater Caboolture region right up through the Sunshine Coast Hinterland.
They factor a large slice of the states GDP and are showcased in leading supermarkets for consumers to enjoy and it is a consumers right to enjoy the fruits of success in a unfettered uncontaminated manner with trust of quality.
The speed at which this contamination episode has exploded has sent shock waves not just locally, nationally but also internationally with more contaminated strawberry punnets have now been found as the federal government expressed its disappointment after the needle crisis saw local fruit pulled off international shelves.
More cases have emerged in Western Australia and South Australia after New Zealand's two largest food distributors — Foodstuffs and Countdown (owned by Woolworths)— this morning announced they were stripping shelves of Australian strawberries as a precaution.
Australia's Health Minister Greg Hunt has also ordered the food safety watchdog to investigate Queensland's handling of the issue.
Australia produces some of the best strawberries in the world and the call by peak bodies and the federal Government is to  not to turn their backs on our farmers
The Federal Minister Greg Hunt has announcement the food safety watchdog would be investigating the handling of the strawberry contamination matter.
The Minister went on to say "The Morrison Government is moving quickly to tackle any concerns by ordering Food Standards Australia and New Zealand to investigate the issue urgently, in addition to state and territory efforts to ensure any criminal actions are uncovered and prosecuted".
"This is a very vicious crime and it's a general attack on the public, and it's also an attack on a specific industry," Mr Hunt told reporters.
He said while it was primarily a problem for the states, he had asked his department to request Food Standards Australia New Zealand make an "immediate appraisal" of the situation.
Its understood that so far there have been 10 cases across the country as police investigate the sabotage which has now spread to six brands across five states and the ACT.
Berry Obsession, Berry Licious and Donnybrook Berries have recalled their strawberries nationwide and Coles supermarkets have pulled all strawberries from their shelves as a precaution. Woolworths pulled some of its brands.
Aldi has just decided to put a selection of strawberries back on its shelves after they recently pulled them.
The contamination of fruit sold by Delightful Strawberries, Love Berries and Oasis is also being investigated.
More instances of needles being found inserted in the fruit has sparked suspicion of copycat behaviour.
The hunt to find those responsible for the needles is being led by Queensland Police.
The state's Premier Annastacia Palaszczuk has also announced a $100,000 reward for any information that leads to an arrest. Police believe the needles were deliberately planted "to injure somebody".
Queensland Premier Annastacia Palaszczuk announced the reward on the weekend, saying whoever is responsible is putting the state's $160 million strawberry industry at risk.
Nationals MP Andrew Broad says the culprits should be jailed.
The Nationals MP went on to say "The low-life scum who think it's somehow funny to chuck needles in strawberries I think should be chucked in jail as soon as they're identified," .
The fall out is being felt in the strawberry industry as the Queensland government considers financial assistance packages for growers.
Queensland Agriculture Minister Mark Furner has met with strawberry growers — who are nervous about their future — due to the rising instances of contamination.
Vice-president of the Queensland Strawberry Growers Association, Adrian Schultz, says what started with a single "act of commercial terrorism" has now brought a multimillion-dollar industry to its knees, with jobs beyond the growers now likely to be lost.
Mr Furner says industry-specific assistance packages are being considered but no plan will be made until an understanding of the "complete effect" of the sabotage is understood.
Strawberries Australia Inc Queensland spokesman Ray Daniels hoped customers would continue to buy berries.
"We produce 800,000 punnets a day and seven needles were found. You've got more chance of winning lotto than being affected," he said.
Queenland Oppsition Leader Deb Frecklington urged the public to support growers and continue to buy strawberries, just be vigilant and "chop them up".
"As a community we must do everything we can to help our farmers," she tweeted.
There are approximately 150 strawberry growers in Queensland, producing up to 15,000 tonnes of fruit per season – around 60 million punnets of strawberries.
The criminal contamination of strawberries could attract a jail term of up to 10 years.
These are the brands affected by this event
Berry Obsession
Berry Licious
Love Berry
Donnybrook Berries
Delightful Strawberries
Oasis
Mal's Black Label
Pinata
This is what you should do in the event you find a needle in your fruit
Anyone who suspects they may have swallowed a needle should call 13 HEALTH (13 43 25 84) or contact their GP.
If you have information that could help police contact Crime Stoppers on 1800 333 000.
If you find a needle in a strawberry punnet contact police on 131 444.
This is what you should do in support of the hard working farmers.
The supermarkets have pulled the suspected contaminated strawberry's from shelves, the watchdog is investigating in concert with police.
The strawberrys on the shelves now are being declared of quality and you should be able to shop with confidence that the strawberry's you purchase are free of contamination.
There will be a number of events in Queensland to kick start the fightback from the public to rejuvenate the industry that will be announced shortly