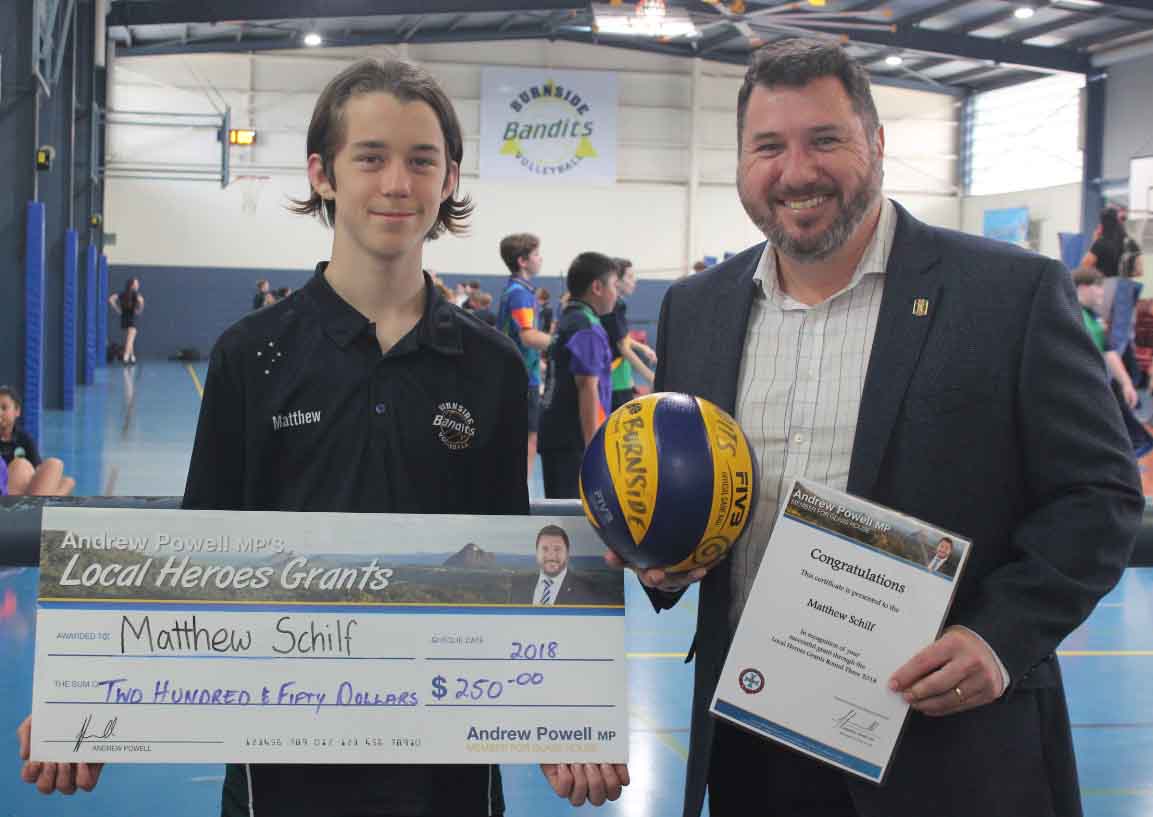 Glass House Local Heroes Painting, Running, Spiking and Speaking their way to Success!
Member for Glass House Andrew Powell is excited to announce the winners of the third round of his 2018 'Local Heroes' grants. Four lots of $250 are available for individuals or groups in the electorate, four times a year, and Mr Powell is incredibly pleased with the quality of this round's applications. So pleased in fact, that he has awarded the cash prizes to a total of six recipients this round.
The winners of round three were the Woodford A P & I Association Inc, the Woodford Scouts, Mikaela Hewitt-Filian, Twin Cedars over 50s Lifestyle Village, Matthew Schilf of the Burnside Bandits Volleyball team and the Kenilworth Arts Council.
The Woodford A P & I Association, better known as the Woodford Show Society, are using their grant to purchase a wind sock for the Woodford Showgrounds, as there have been numerous occasions where the football field or the main arena itself has been used for emergency helicopter landings. The wind sock will help pilots to safely land, which will in turn help to keep all the users of the Showgrounds safe.
The Woodford Scouts applied for a Local Heroes grant to purchase a microphone. Scout leaders Peter (Seagull) and Kaitlyn (Raksha) emphasized that the microphone was for the older scouts to use to learn the art of public speaking and to help gain confidence. For Seagull and Raksha, the microphone is all about educating the youth on how to find their voice in a public setting.
Eleven-year-old rugby player Mikaela Hewitt-Filian is using her $250 to help fund a trip out to Chinchilla, where she will be competing in the State Girls U12 Rugby League Championships. This is a humungous success for Mikaela, as this is her very first season playing Rugby League! The next step could be State Selection! Watch this kid!
Meanwhile, the Twin Cedars over 50s Lifestyle Village recently made a group decision to apply for one of Andrew's Local Heroes grants to put towards a defibrillator. Thankfully, the defibrillator is a preventative measure, not a reactive one. The next step is for a handful of village members to receive training but here's hoping they never need to use it.
Another youthful success story is Eudlo-local Matthew Schilf of the Burnside Bandits Volleyball team at Burnside State High School. Matthew is in Grade 8 and has already been selected as part of the Queensland Academy of Sport emergent talent squad which trains at Mountain Creek High School every Thursday night. Matthew also plays soccer for the Woombye Snakes Football Club and has been a member for the past seven years.
Last but certainly not least, the wonderful ladies at the Kenilworth Arts Council will be using the funding from their Local Heroes grant to contribute towards a prize for one lucky winning artist at the Kenilworth Artfest. The Artfest will be held from the 28th September through to the 1st October so make sure you add it to your calendar now.
"There is still one final round of grants up for grabs in my Local Heroes grants this year. Head over to my website at http://www.andrewpowell.com.au to apply," Mr Powell concluded.