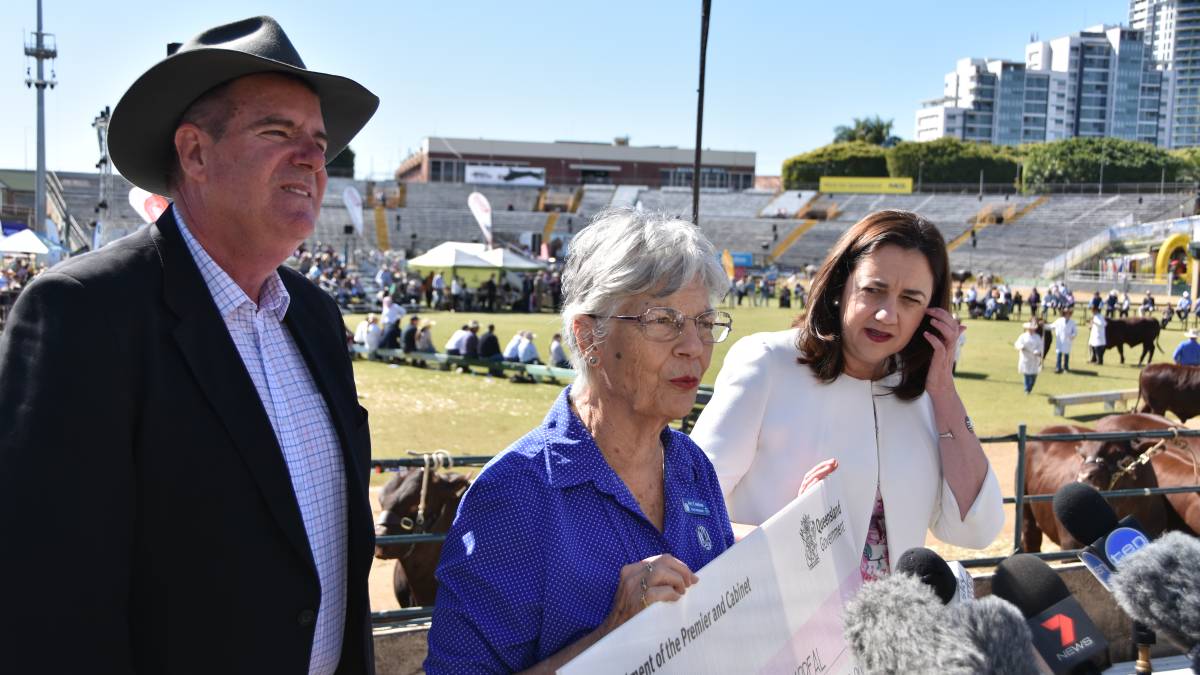 The Premier Launches Queensland Drought Appeal with $100,000 contribution to the QCWA
Premier Annastacia Palaszczuk has today launched the Queensland Drought Appeal to help support people in regional parts of the state who have been affected by drought.
Ms Palaszczuk today joined Minister for Agricultural Industry Development Mark Furner and Queensland Country Women's Association (QCWA) State President Joy Coulson at the Ekka cattle judging to make the announcement.
"My Government recognises the terrible impact that this prolonged drought has had on people in Queensland," Ms Palaszczuk said.
"With more than half of the state in the grip of a devastating six-year drought, I had no hesitation in lending my support to the campaign.
"Today the Queensland Government has contributed $100,000 to kick off the Queensland Drought Appeal.
"I urge all Queenslanders to dig deep and get behind our regional and rural communities that are currently being affected by the drought."
Mr Furner said all money raised will go to the QCWA to be spent on the ground to assist those who live in drought-stricken communities.
"While our farmers do it tough throughout this drought, that has a direct flow on effect to many other businesses in rural and regional communities.
"The big dry has hit the economic returns of hard-working Queenslanders in those areas, placing them under severe financial and emotional stress.
"In this financial year the state government committed $34.2 million through the Drought Assistance Package and $4.9 million for rural specific mental health programs.
"This appeal is a way that those of us who live in our cities can help our country cousins."
Mrs Coulson said the QCWA will administer the proceeds of the appeal.
"QCWA is overwhelmed by the generosity shown by Premier Annastacia Palaszczuk.
"We will ensure we do our upmost to get funds out to those in need struggling through Queensland's drought affected areas.
"We will endeavour to support all local businesses in these communities through distribution of accounts payable and vouchers," Mrs Coulsen said.
Requests for assistance of up to $5000 will be considered and funds will need to be used in the local area to purchase food or fodder.
Ms Palaszczuk said donations can be made online at www.qlddroughtappeal.com.au or at any local CBA branch by asking to donate to the "QCWA Qld Drought Appeal".
"I thank the Commonwealth Bank for making its network of branches available to help receive donations," Ms Palaszczuk said.
"Telstra have also provided the ability for television viewers and spectators at the Ekka to donate from their smart phones by texting the word drought to 0484 200 200.
"No donation is too small. Every dollar will help."
"Broadcast partner the Seven Network, will host a 7 News Special: The Queensland Drought Appeal, live from regional Queensland on Saturday 1 September at 7pm to highlight the stories of our farmers.
"Shane Webcke will embark on an outback tour of towns hard hit by the drought and share his journey during nightly news broadcasts to promote the Queensland Drought Appeal."
The appeal will remain open for at least three months.
All donations of $2.00 or more to the appeal are tax deductible.
Online Donations:       www.qlddroughtappeal.com.au
SMS donations:           SMS drought to 0484 200 200
At the Ekka:                 CWA Tea Room John McDonald Stand