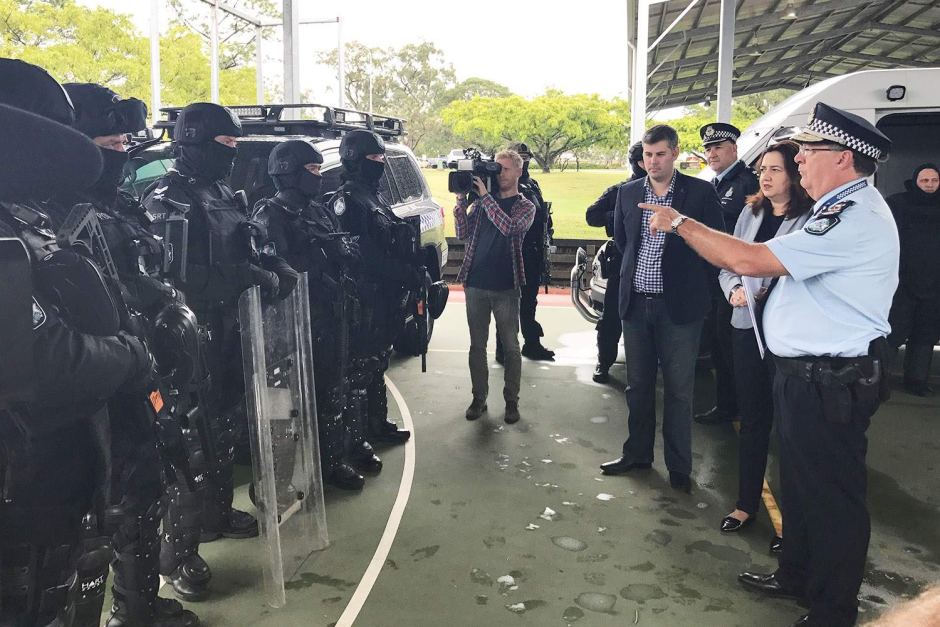 Cross River Rail partnership to boost counter-terrorism training in Queensland
A partnership between police and the Cross River Rail Delivery Authority (CRRDA) will help to boost the counter-terrorism capability of specialist and frontline officers across Queensland.
Police Minister Mark Ryan said police would soon use a former government building to take part in a series of training exercises before it is demolished to make way for Cross River Rail.
"Specialist police will use the building in order to continue refining their ability to swiftly and effectively respond to a terrorism incident or threat," Minister Ryan said.
"Officers involved in the training will test and practice a range of their skills including command, situational appreciation, tactical responses, application of intelligence systems, bomb detection and negotiation.
"This training will not only enhance the response of individual officers and teams to a terrorism threat, it also enhances the response capability of the entire organisation."
This comes as the new Security and Counter-Terrorism Command (SCTC) – dedicated solely to overseeing the Queensland Police Service's (QPS) counter-terrorism capability – is now fully operational.
Police Commissioner Ian Stewart said the SCTC had hit the ground running, and was working with specialist groups and frontline officers to prepare for, prevent and respond to terrorist attacks in Queensland.
"The Security and Counter-Terrorism Command stood up on July 1 and is overseen by the Deputy Commissioner Crime, Counter-Terrorism and Specialist Operations Steve Gollschewski and led by Assistant Commissioner Peter Fleming," Commissioner Stewart said.
"The Command itself is divided into three groups, each with distinct responsibilities including investigating links to terrorism, conducting threat assessments, identifying persons of interest, partnering with business and industry to build resilience, developing training, running training exercises and shaping counter-terrorism strategies and initiatives.
"With the addition of this new command, the QPS has never been better-positioned to prepare for, prevent and respond to threats of terrorism and each of its officers and staff are absolutely committed keeping the people of Queensland safe."
In addition, the development of the $46.7 million world-class Counter-Terrorism and Community Safety Centre at Wacol has also reached a new milestone, with Paynter Dixon awarded the tender to refurbish the heritage listed Jacaranda and Silky Oak Houses at the facility.
The refurbishment is scheduled to start once the design works are finalised.
"The refurbishment works will provide workplace accommodation and facilities for training personnel and should be completed by late this year," Minister Ryan said.
"The centre will be a combination of new structures and the refurbishment of heritage-listed buildings will take three years to complete.
"Paynter Dixon is an Australian owned and operated company with extensive experience in delivering restored heritage buildings and high-quality office accommodation fit-outs."
Once completed, the facility will include indoor firearms ranges, a scenario village and specialist training areas and be co-located with the police driving skills section to enhance training on the growing issue of vehicle attacks such as those recently seen overseas.
Minister Ryan said these three initiatives were proof of the Palaszczuk Government's commitment to keeping Queenslanders safe from terrorism.
"We are delivering a comprehensive and dedicated capability for preventing, preparing for and responding to terrorism in Queensland," Minister Ryan said.
"These initiatives are on top of our already significant investments in counter-terrorism capability including $16.2 million over four years to increase surveillance and intelligence analytical capabilities, dedicated online investigation and counter-terrorism human source teams and counter-terrorism training.
"As well, at the last election we committed $53.8 million over the next four years with ongoing funding for 85 new counter terrorism specialists.
"We will continue to deliver the funding and resources our police need to keep the people of Queensland safe."