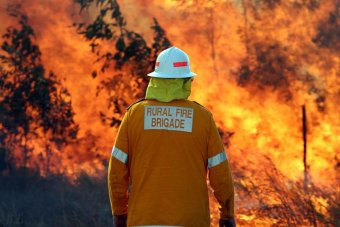 Last-minute prep a must ahead of traditional start of Queensland's bushfire season
Fire and Emergency Services Minister Craig Crawford today (Tuesday) inspected bushfire response capabilities in the Sunshine Coast region – a major hotspot in recent years – ahead of the official start of the 2018 season.
Speaking in Maleny, which will be the base for a new $3 million fit-for-purpose fire and emergency response complex, Mr Crawford urged all Queenslanders to finalise their bushfire preparations.
"August 1 is the traditional start of the bushfire season in Queensland and is an important reminder to everyone to make sure they are ready if a bushfire strikes," Mr Crawford said.
"This year's season is particularly concerning, given some parts of the state are already very dry and experiencing significant bushfire activity.
"All households should have a Bushfire Survival Plan and make sure they remove flammable material, such as dry grass and leaf litter, from around the home.
"Motorists need to plan ahead if travelling through bushfire-prone areas and ensure they have an alternative route in case roads are blocked."
Mr Crawford said the Palaszczuk Government committed more than $1 million in its record $702 million 2018-2019 QFES Budget towards the new Maleny complex, promised during the election campaign, which will accommodate the local Rural Fire Service (RFS), State Emergency Service (SES) and Auxiliary Fire and Rescue Service.
"This new complex will be an important addition to fire and emergency response efforts on the Sunshine Coast, which has been one of Queensland's major bushfire hotspots in recent years," Mr Crawford said.
"It is almost one year since the intense bushfire at Caloundra, which burnt 700 hectares over three days, forced people to evacuate their homes and threatened lives and properties."
Rural Fire Service Assistant Commissioner Tom Dawson said firefighters had been working hard in the lead-up to bushfire season to reduce the risk.
"Queensland Fire and Emergency Services (QFES) and its partner agencies have carried out hazard reduction burns across the state and staged community information events to get communities ready for bushfire season," Mr Dawson said.
"But dry conditions and high fuel loads in certain areas mean the window to act is closing fast. The Lockyer Valley, large areas of central Queensland and the Somerset, Scenic Rim and Wide Bay Burnett regions are already very dry.
"Put simply, it means people cannot afford to be complacent."
Mr Dawson said the public should work with firefighters to reduce the impact of this year's bushfire season.
"Firefighters are prepared, but they need the community to be proactive," Mr Dawson said.
"Mowing the lawn, clearing gutters and ensuring there is clear access into and out of properties in the event of a fire, are all steps that can be taken around the home.
"Anyone conducting burns needs a permit from a local fire warden for burns greater than two metres in any direction. These simple and effective measures will complement the work of firefighters on the ground and help protect the community this bushfire season," he said.