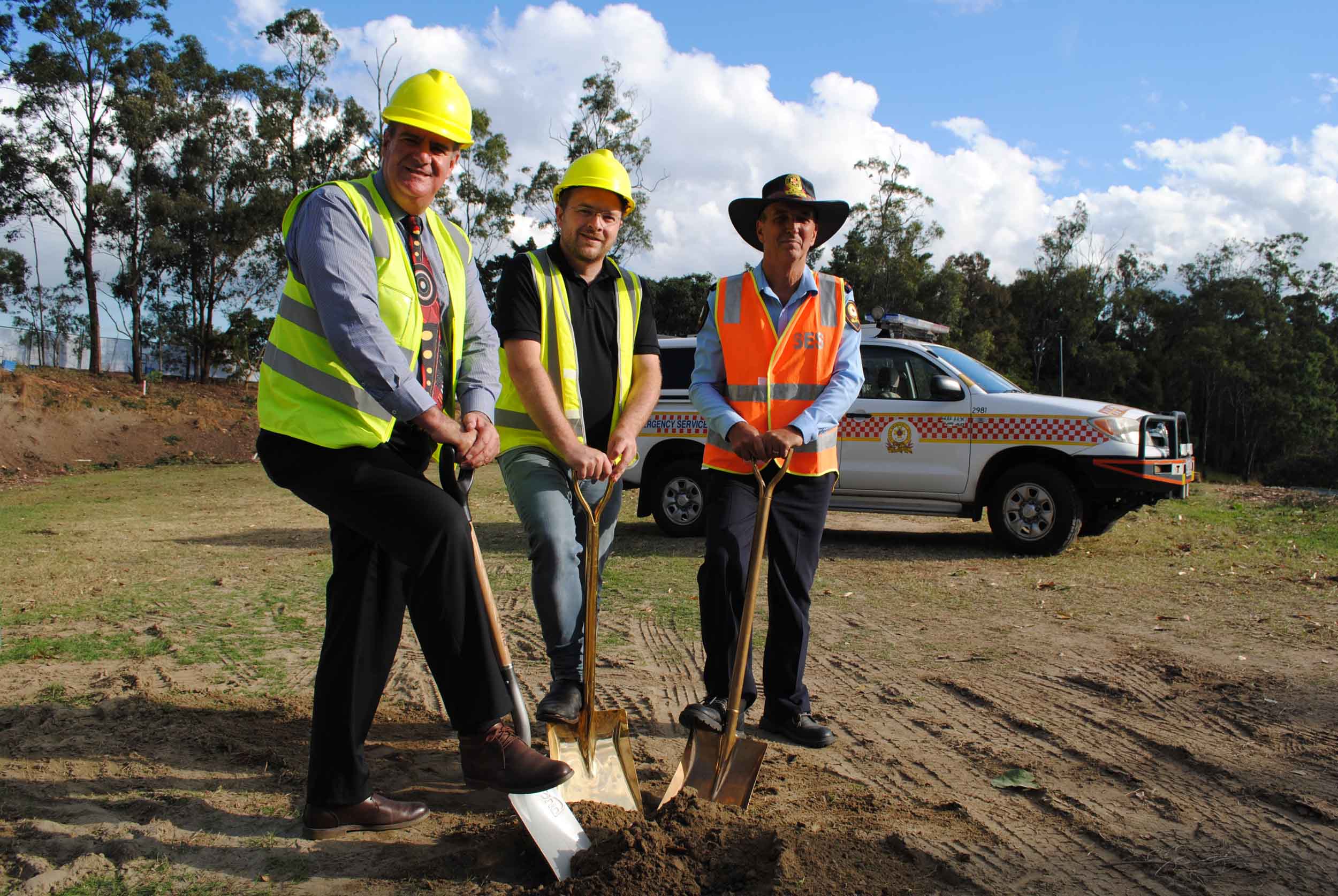 Works begin on new $2 mill Bunya SES hub
Moreton Bay Regional Council has commenced construction on the new SES depot at Bunya.
Local Disaster Management Group Deputy Chair and Division 10 Councillor Matt Constance joined Member for Ferny Grove Mark Furner MP and SES volunteers on Friday, June 29 to mark the start of works at James Drysdale Reserve.
"There's no doubting the work our SES vollies put in during times of severe weather, which is why council has begun construction on a new 390m2 administration centre and training facility to support their work on the ground and in our community," Cr Constance said.  
"This new facility will replace the 1980s two-storey brick home, which currently serves as the local SES' homebase, and will help to accommodate their growing numbers.
The Arana Hills SES group currently has 60 volunteers and services communities from The Hills District in the south to Mount Glorious in the west and Kobble Creek in the north.
"Our local SES are always looking for new volunteers, and this milestone is also a great reminder about signing up to volunteer ahead of the upcoming storm season.
"If you've ever been interested in volunteering, head to council's website [www.moretonbay.qld.gov.au/ses] to find out more about what's involved and to sign up.
The new facility is a joint initiative of Moreton Bay Regional Council and the Queensland Government.
Cr Constance acknowledged the state government's $1 million contribution towards the project through the Local Government Grants and Subsidies Program.
"It's a great result for our community and for our local SES volunteers."
Mark Furner MP, The Member for Ferny Grove said, "The Palaszczuk Government is proud to invest in this new SES facility. The men and women who volunteer for the SES are tireless workers who provide such a tremendous service to our community.
"The new facility will provide an excellent location for training, storage and all local activities.
Construction is expected to be complete mid-2019, weather permitting.
Photo above : Cr Constance, Mark Furner and SES Moreton Bay Local Controller Henk van den Ende