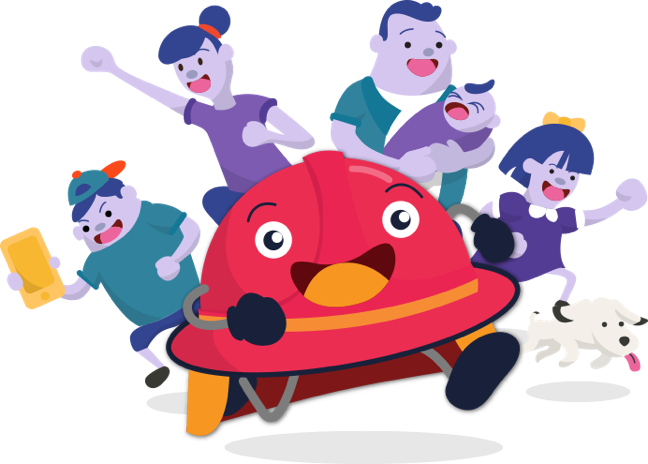 QFES urges all Queenslanders to join the state's biggest ever fire drill
As the countdown to Queensland's Great Escape enters its final days, Queensland Fire and Emergency Services (QFES) is encouraging families to mark the June 22 event in their calendars and join in the fun of the state's biggest ever fire drill.

QFES Commissioner Katarina Carroll said the state-wide event was a great way for families to come together to plan, prepare and practise their Home Fire Escape Plan.

"Queensland's Great Escape is a chance for your whole family to do something fun together that ultimately could save lives in a house fire," Ms Carroll said.

"This event has been created with families, and particularly children, in mind. 

"We have developed an interactive website that has a fun video game feel, and a new QFES character, called Red, who's ready to take your kids on a fire safety adventure.

"You're encouraged to visit the site ahead of the event and also jump on the QFES Facebook page to register your family's interest in taking part."

Ms Carroll said the unpredictable nature of fires and the fact the state has entered its peak period for house fires meant it was vital families had finalised their Home Fire Escape Plan and knew what to do in an emergency.

"We are called to house fires year round but traditionally there is an increase during the winter months," she said.

"That makes now the perfect time to ensure your escape plan is ready.

"Draw your plan on a sheet of paper, try to have two ways out of every room, such as a window and a doorway, and pick a meeting place outside the home like a letter box.

"Smoke alarms are an important part of any escape plan, so push the test button on yours to ensure they work and that everyone knows the sound they make.

"Do a trial run of your escape, teach your kids to check doors for heat before opening. Do you have pets or family members to check on? If so, who will be responsible for that? 

"Have you practiced your escape in the dark with the lights out? What will you do if your main route out of the home is blocked?
"These are practical steps you can take to prepare for an emergency, so mark the date in your calendar and join us this Friday at 6pm for the state's biggest ever fire drill."

Ms Carroll said the event could also be used to ensure your home is winter fire safe.

"It's no coincidence that Queensland's peak period for house fires is when temperatures drop and we turn to appliances such as heaters and electric blankets to keep warm," Ms Carroll said.

"We urge you – if you haven't already done so – to check your appliances for cords that are frayed or exposed and repair or get rid of damaged items before using them.

"Keep flammable materials like clothes and curtains at least one metre from heaters.

"QFES also offers free home fire safety visits called Safehome that involve a firefighter coming to your home to help identify fire and safety hazards.

"If you would like to book one of these visits call 13 QGOV (13 74 68) or visit www.qfes.qld.gov.au/."  

Visit www.qfes.qld.gov.au/fireescape/fireescapeplan/ for information on Queensland's Great Escape.