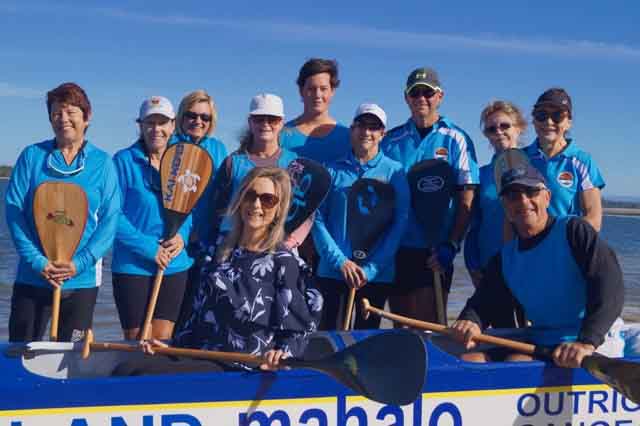 More than $70K in council community grants for Bribie, Caboolture and surrounds
Local community groups across Bribie Island, Caboolture and surrounds will share in more than $70,000 in the second round of Moreton Bay Regional Council's Community Grants Program for 2017/18.
Councillor for Division 1 Brooke Savige said funding of more than $5000 would enable the Bribie Island Movement and Strength Club to develop a website and acquire a new laptop and television.
"The club provides the community with a range of programs and classes including weightlifting and gymnastics; so this funding will really enable staff to continue on with that great work and create opportunities to get more people involved in getting active," Cr Savige said.
"I am also pleased to announce a funding grant of $2000 to enable the Bribie Island Mahalo Outrigger Canoe Club Inc. (BIMOCC) to acquire a second outrigger canoe.
"This grant will assist the club's goal to teach more people how to paddle in the pristine waters of Pumicestone Passage."
Councillor for Division 3 Adam Hain said he was excited to announce $2500 for the Homestead Youth Talent Expo 2018 to provide young singers and musicians from all over the region a platform to perform.
"The Homestead Country Music Association Inc. has been going strong for more than 20 years so this funding will help support musicians and singers to achieve their musical aspirations," Cr Hain said.
"I am also really excited to announce more than $2900 in Community Grant Funding for the Multicultural Association of Caboolture and Surrounds Inc.
"Caboolture is home to people from lots of different cultural backgrounds including Indonesian, so this funding will enable the group to promote Indonesian culture, music, arts and food with the rest of the community, through Indonesian Independence Day celebrations in Moreton Bay.
Division 12 Councillor Adrian Raedel said he was excited to announce more than $9000 for the Woodford Agricultural Pastoral and Industrial Association Inc. to undertake a kitchen upgrade.
"The association, which is made up of entirely volunteers, works really hard to produce the Woodford Show every year entertaining families and children with an array of activities, shows, rides and competitions," Cr Raedel said.
"So I am really pleased we can give back to them through council's community grants program so they can carry on their great work to benefit the community."
Division 2 Councillor Peter Flannery said Global Care Caboolture had been successful in securing $5000 for a Global Care Community Free Fun Day while Deception Bay Gateball Club would receive more than $1900 for a Laptop (and bag), Wi-Fi dongle external hard drive and printer.
"I can't wait to see these projects, events and initiatives brought to life to not only benefit our local community, but also to keep them connected and active for years to come," Cr Flannery said.
The Abbey Museum of Art and Archaeology will receive $8800 as part of council's ongoing partnership with the Queensland Government through the Regional Arts Development Fund (RADF), to allow the team to develop a video to showcase the history of the Abbey Museum and Beachmere Area Network Group Inc. will receive $4520 from the Regional Arts Development Fund to hold an exhibition focusing on the local region, landscape, culture and heritage.
The Regional Arts Development Fund is a partnership between the Queensland Government and Moreton Bay Regional Council to support local arts and culture in regional Queensland.
The Queensland Government, through Arts Queensland, is contributing $2.08 million to the 2017-18 RADF partnership across 59 councils statewide.
A further $21,000 in RADF funding will also be shared across a number of groups to benefit the region - including more than $11,000 for InsideOutside Theatre Company to develop an interactive sensory theatre program incorporating workshops and performances to introduce theatre to young people with disabilities in schools and organisations as well as continuing productions in the region; $5000 for Deadlee Maardars Association Inc. to develop dance, visual art, storytelling and boomerang throwing across primary schools in the region and more than $7000 for Owen Van Larkins to help the community through music in Moreton Bay.
 Other community groups to receive funding under this round of grants include:
Parkinsons Queensland Inc. - $3734 for a Parkinson's Awareness 'A Picnic In the Park' event.
11th Light Horse Caboolture Troop and Military Museum Inc. - $4364 for an electrical upgrade
Pamanyungan Elders Alliance Inc. - $1749 to upgrade the organisation's current website
11th Light Horse Caboolture Troop and Military Museum Inc. - $1,100 to develop a website for the organisation.
Koala Action Inc. - $5000 to rehabilitate and restore a 5000m2 section of the riparian corridor of Burpengary Creek at the Caboolture Regional Environmental Education Centre (CREEC).
Bribie Island and District Neighbourhood Centre Association Inc. - $2000 for an interactive whiteboard
Greek Orthodox Archdiocese Of Australia Consolidated Trust - St Andrew's Bribie Island Retreat and Recreation Centre - $2000 for a badminton/volleyball system and portable soccer goal
Caboolture Sports Club Ltd (for rugby Union and Touch Football Clubhouse) - $15,000 for clubhouse redevelopment design and approval
Council's Community Grants Program, which is offered in two rounds each year, is comprised of six grant categories that aim to develop and support organisations and individuals to positively contribute to the region's community wellbeing, environmental sustainability, economic prosperity and cultural life.
Cr Savige, Cr Hain, Cr Raedel and Cr Flannery congratulated all successful applicants and encouraged other community groups and individuals interested in applying for the next round of the Community Grants Program to visit council's website for more information.
Applications for the first round of the 2018-19 program will open on July 1, 2018.
For more information on council's Community Grants Program visit www.moretonbay.qld.gov.au/grants
Photo Above: Cr Savige with the Bribie Island Mahalo Outrigger Canoe Club members John Marsh (Head Coach), Stacey Olson (Secretary) Raelene Marsh, Sandy Field, Lyn Joyce, Julie Hood, Brody Winton, Pat Fegan, Zena Taylor, CC Wilson (President)
Photos Below (Left) Cr Raedel with Koala Action Inc.'s Vanda Grabowski , (Centre) Cr Hain with Siti Constance and Yulia Palmer from the Indonesian community and (Right) Cr Flannery with Beachmere Area Network Group Inc. members Karen Harris, Mary Brown, Christine Dillon and Maree Donovan.