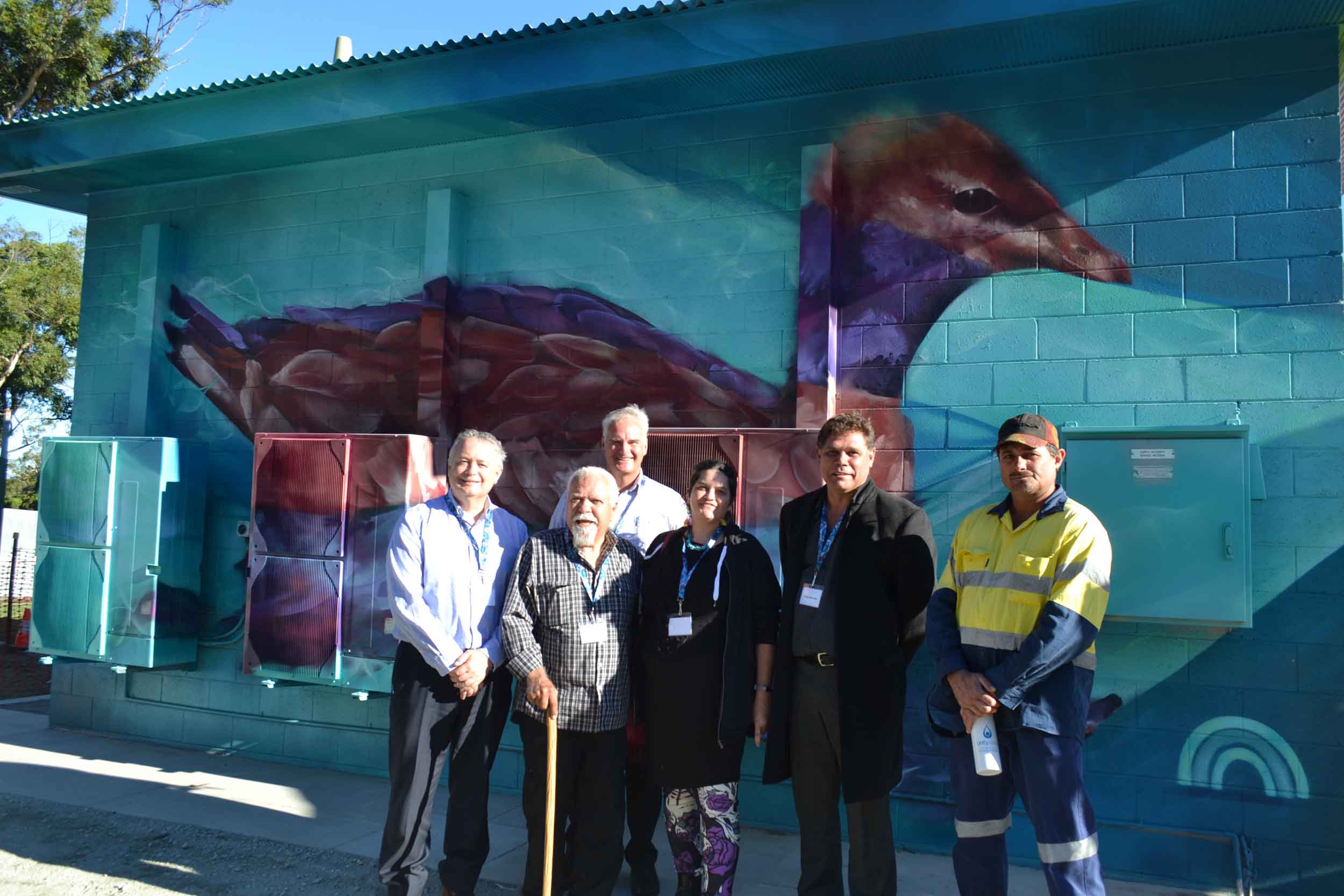 Community artwork celebrates Indigenous heritage: Unitywater
Coinciding with National Reconciliation Week, Unitywater officially launched its Reconciliation Action Plan (RAP) today with a traditional ceremony and community artwork celebration.
A new pump station at Duck Holes Creek in Caloundra has been given a bright and contemporary facelift through a highly creative and collaborative community artwork process involving local Aboriginal emerging artists.
Unitywater Executive Manager Customer Delivery Rob Dowling said local artist Bianca Beetson was commissioned to work together with members of the Kabi Kabi community to design and paint the public artwork.
"The community artwork project is one of a number of initiatives outlined in our Reconciliation Action Plan which formalises our commitment to provide opportunities for Aboriginal and Torres Strait Islander people and celebrate their culture in the areas where we operate," Mr Dowling said.
Mr Dowling said the cultural heritage of Duck Holes Creek was significant as it was one of the last functioning Aboriginal camps on the Sunshine Coast.
"It was still operating in the early to mid-1900s," Mr Dowling said.
"During World War II, most Aboriginal residents of Bribie Island and Pumicestone Passage were restricted to this area, to enable the US forces to fully occupy the island."
Artist Bianca Beetson said the artwork process was as much about working with the local indigenous community as it was about improving the appearance of an important visible asset.
"The design reflects the ancient and sacred connection of indigenous people to the Duck Holes Creek area and the Sunshine Coast region more broadly," Ms Beetson said.
The newly painted pump station is part of a major $13.6 million pipeline upgrade of the sewage transport system connecting Caloundra to Aroona.
The new pipeline will be connected to existing pipelines and pumping stations which transport sewage to the Kawana Sewage Treatment Plant.
For more information about the project, go to www.unitywater.com and search for Caloundra and Mountain Creek Sewerage Upgrade.