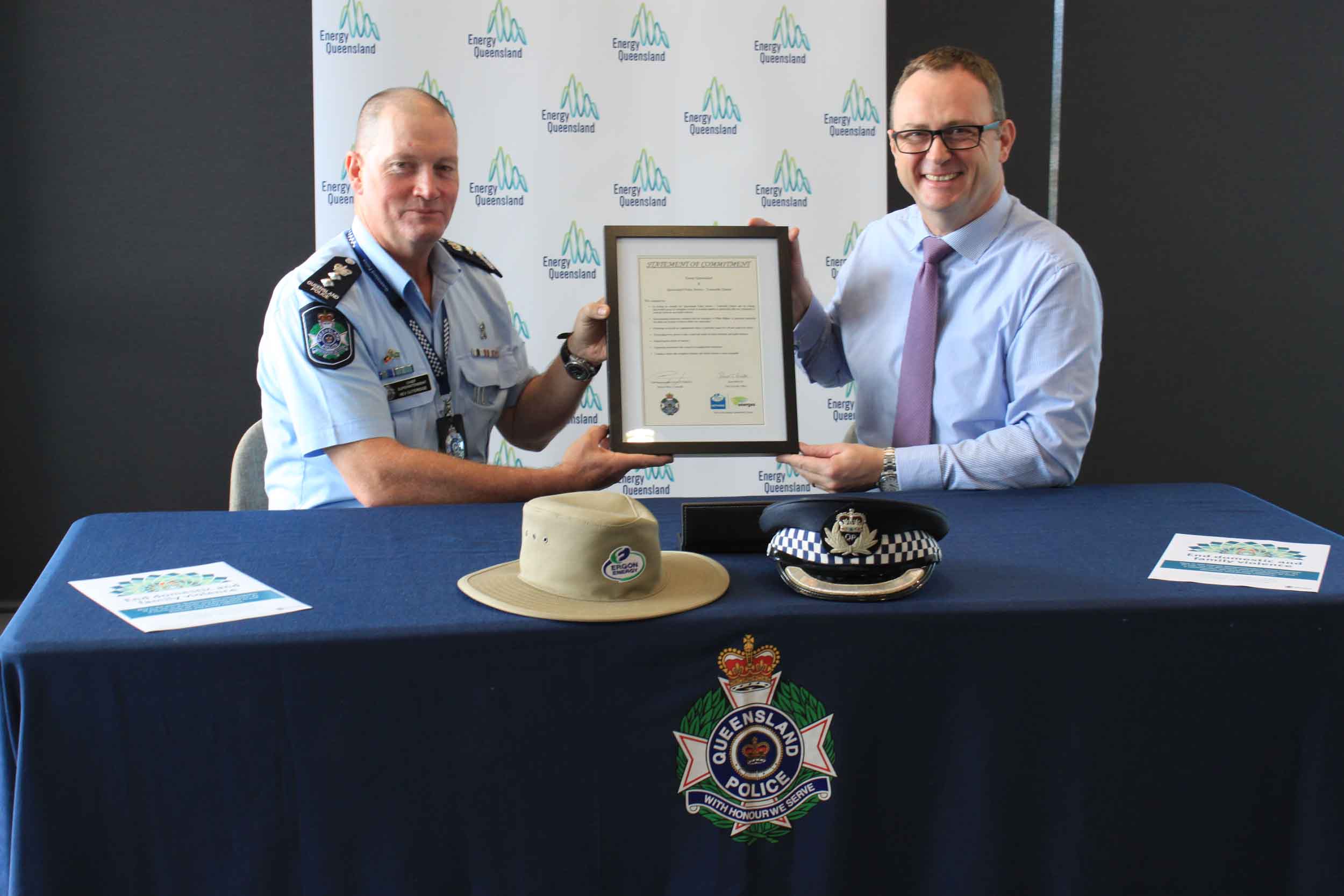 Energy Queensland joins powerful partnership against violence
Energy Queensland and the Queensland Police Service have joined forces in the campaign against domestic and family violence.
Energy Queensland's Chief Executive Officer David Smales and Townsville's Chief Superintendent Kevin Guteridge have signed a Statement of Commitment to working in partnership with the community to eradicate domestic and family violence. "As an organisation, we have made it clear that domestic and family violence is everyone's business and abuse of any kind should not be tolerated – in the workplace, at home or in the community," Mr Smales said.
Chief Superintendent Guteridge said there was no better time for the organisations to present a united front than Domestic and Family Violence Prevention Month. "Domestic and family violence is arguably the most significant burden on modern society as it directly destroys families. "Every Queenslander has a role to play in eradicating domestic and family violence from our community and partnerships such as that between the Queensland Police Service and Energy Queensland are critical in reminding everyone of that obligation," Chief Superintendent Guteridge said.
Energy Queensland supports employees affected by domestic and family violence with the provision of unlimited leave, access to free 24/7 counselling services and a network of trained contacts within the business. "We want our people to know that their workplace is a safe place and we will do whatever we can to support their mental, physical and emotional wellbeing," Mr Smales said. "We also encourage our people to stand up and speak up against domestic and family violence at events like White Ribbon Day."
These events have presented an opportunity for guest speakers from the Queensland Police Service to share their frontline experiences with Energy Queensland employees and shed light on an issue that has far-reaching effects. "We do not want the victims of domestic and family violence to suffer alone, and in silence. "We can start by raising awareness of the extent of the problem in our community, the warning signs, support services and prevention programs. page 2 "Ultimately, we need to stand together in promoting a culture of respect – for self and others," Mr Smales said.
"While the awareness of domestic and family violence has never been stronger, it takes more than awareness to address the crisis," Chief Superintendent Guteridge said. "Unity in denouncing domestic violence will do much in encouraging the cultural change that is required – particularly with perpetrators."
Please note: The Energy Queensland group of companies includes Ergon Energy's network and retail businesses, Energex and Yurika.
Photo above : EQL and QPS photo - Kevin Guteridge and David Smales